Australian Service Personnel, Photograph Albums, NSW Citizens Bushmans Contingent, Contents
Topic: AAC-Photo Albums
Australian Service Personnel
Photograph Albums
NSW Citizens Bushmans Contingent, Contents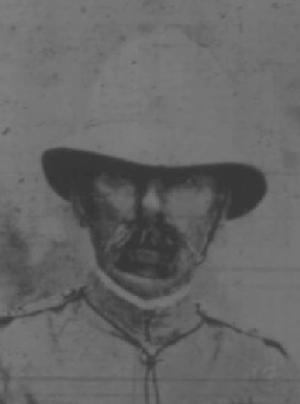 Lieutenant Colonel Henry Parke AIREY
The NSW Citizens Bushmans Contingent Album contains the photographs of nearly all the men who were listed as having embarked for service to South Africa with this unit. Other men are listed who did not embark but had their photographs included in the publication.
The New South Wales Citizens Bushmans Contingent embarked from Sydney, New South Wales on 28 February 1900 and returned on 11 June 1901.
These photographs were extracted from the Sydney Mail, 3 March 1900, pp. 506 - 516.
The album may be accessed here:
Notes about the Collection
:
* The quality of the pictures vary due to the nature of the original medium which was microfilm. The page images came directly from a microfilm image and so tend to be blurry and grainy. That can't be helped but the images are presented as best as possible.

* The original images appeared in the Sydney Mail, 3 March 1900, and consequently the art of newspaper picture publishing was not as sophisticated as today. So the original source was poor in the first place.

* Compounding this was the poor collation of the collection by the Sydney Mail, which has resulted in photographs being duplicated, faded and illegible copy or poorly named and so rendering the image of the soldier as unidentified. Throughout the album, the duplications are identified. In addition, at the end of the album, unidentified pictures are placed followed by those identified but who did not embark with the NSW Citizens Bushmans Contingent.

* The presentation of each entry is as follows:

All men - listed with their rank on embarkation, their first names if known or if unknown, the initials followed by the family name which is capitalised. Each name is linked to the photograph entry in the album.

Officers - Since they were not issued with a Service Number, they have been listed in order of rank.

Other Ranks - Listed in order of Service Number.

An alphabetical listing of Family Names follows the page lisings.

* As additional photographs come into our possession from other sources, they will be added to Pages 49 and beyond. The names will be also added to the alphabetical listing.
Listings per Album Page
Page 1:

Lieutenant Colonel Henry Parke AIREY

Captain Thomas Alfred MACHATTIE

Lieutenant Arthur E Montague BATTYE

Lieutenant Charles Scarvall CAPE

Lieutenant John Ellesmere WESTGARTH

Lieutenant Thomas Henry R ROUSE

Page 2:

Lieutenant Thomas Lane MULLINS

Second Lieutenant Charles CORNWALL

Second Lieutenant Henry Bertram CHRISTIE

Second Lieutenant Henry Richardson POCKLEY

Second Lieutenant Richard Essington ZOUCH

Second Lieutenant Thomas Joseph LYNCH

Second Lieutenant Thomas Mitchell MOORE

2 Trooper Ernest Edward BRIGDEN

Page 3:

2 Trooper Ernest Edward BRIGDEN

7 Trooper Alfred Charles WHERRATT

9 Trooper Charles Joseph HURTZ

11 Lance Corporal Alfred POUNCEBY

13 Trooper Joseph William BARNES

14 Sergeant Charles Hafed Conrad DRUITT

Page 4:

16 Corporal William Nivison KELMAN

17 Trumpeter Alfred Herbert MCKOY

19 Trumpeter Arthur Thornton BROWN

21 Trumpeter Rupert de Lacey PEEK

22 Trumpeter William Henry MANKEY

23 Trumpeter George William PRESTON

24 Trumpeter Abert Edward MASON

25 Trooper Arthur Thomas NEVILLE

Page 5:

26 Trooper Fergus Stewart FRATER

29 Trooper Frederick William MARKS

30 Trooper Frank Lomas DAVIDSON

32 Lance Corporal Henry Otto BOHLSEN

34 Trooper James Daniel DUFF_Pic 260

34 Trooper James Daniel DUFF_Pic 403

Page 6:

36 Trooper Arthur Hilton FARNELL

38 Trooper Richard William Peard BURROW

39 Lance Corporal Thomas Reuben Hamilton GIBB

40 Sergeant John Barber SPROAT_Pic 353

40 Sergeant John Barber SPROAT_Pic 447

41 Trooper John Theodore BRUNNING_Pic 7

41 Trooper John Theodore BRUNNING_Pic 34

Page 7:

50 Trooper Leslie William ROSEN

51 Trooper James Thomas STRUCK

52 Trooper Beresford Frederick CAMPBELL

Page 8:

54 Trooper Sydney James TAYLOR

55 Farrier Sergeant John WHITE

61 Trooper John Carlton AITCHESON

64 Trooper John William HEWITT

67 Corporal George Reginald MCGUINNESS

Page 9:

70 Trooper Albert John EASTAUGHFFE

71 Trooper Edward Christopher ANDERSON

73 Trooper James Edmund Rowland CLARKE

76 Trooper Claude Malcolm MCPHEE

77 Corporal Lionel George MACARTHUR

Page 10:

79 Trooper John Archibald STOPPELBEIN

85 Trooper Robert George DAVENPORT

86 Trooper William Joseph CUMMINGS

Page 11:

88 Trooper William Paul MCLEAN

89 Trooper John Edward Henry EASTCOTT

91 Trooper William Edmund CORBETT

95 Trooper Charles Peter Stanislaus SLOEY

96 Trooper William Francis HUNT

97 Corporal Thomas Evans KEENE

98 Trooper Charles James MANSERGH

99 Corporal Edwin James MORROW

Page 12:

104 Trooper Daniel Peter MEEHAN

106 Sergeant Erskine North RAYMOND

108 Trooper Angus McLeod BUCHANAN

109 Trooper Joseph Michael CUSACK

110 Trooper Frederick John MURRAY

112 Trooper Hedley Vicars DOWE

Page 13:

113 Trooper Wilfred Stuart PATEMAN

115 Corporal Fitzroy Augustus BUCKLETON

117 Trooper George Tindall TURNER

118 Trooper Osman Frederick Hume MIDDLETON

120 Trooper William Wallace BUNTON_Pic-75

120 Trooper William Wallace BUNTON_Pic-299

126 Trooper George Henry RALSTON

127 Trooper George Henry Flood GIBSON

Page 14:

129 Lance Corporal James REYNOLDS

130 Lance Corporal Harold Edwin MCCULLOUGH

132 Sergeant George Henry WHEELER

134 Trooper Henry Arthur ALPHEN

136 Trooper Jack Andrew BURR_Pic 371

136 Trooper Jack Andrew BURR_Pic 451

138 Trooper Oswald Victor WATSON

140 Transport Sergeant Buckwell Lionel WENTWORTH

Page 15:

142 Trooper Sidney Charles EVANS

150 Lance Corporal Frank P NANCE

Page 16:

153 Trooper Ernest BINGHAM_Pic 100

153 Trooper Ernest BINGHAM_Pic 464

154 Trooper Lewis Perryman MARSHALL

156 Trooper Herbert William WADDELL

157 Trooper Harry Alfred HUDSON

159 Trooper William Alfred TOUGH

160 Trooper William Henry GLISSAN

162 Trooper Frederick Hutchinson WYSE

Page 17:

163 Trooper George Arthur COBBY

166 Trooper John Eyres MILLIGAN

167 Trooper Vernon George ANDERSON

168 Trooper William Frederick ROWLAND

173 Trooper Ferdinand Francis DUVAL

174 Corporal James Reuben DE LORE

175 Trooper William Joseph KING

Page 18:

177 Trooper Francis William DUVAL

179 Trooper Walter Hearns BALDWIN

181 Trooper Edward Michael DUFFY

189 Sergeant John Henry PAYNE_Pic 68

189 Sergeant John Henry PAYNE_Pic 367

Page 19:

190 Trooper William Wallace MACDONALD

194 Corporal Hurtle E DE MESTRE

196 Lance Corporal Ernest William REECE

201 Trooper Arthur Percy Briton GREY

Page 20:

203 Trooper William Myles AYRE

206 Trooper Joseph Charles CORDWELL

208 Trooper Frederick William TYRELL

209 Trooper William Edward HOLMES

210 Trooper Wilfred Valentine RUDDER

211 Trooper Walter Davidson HOME

212 Trooper James Edward BODKIN

213 Trooper Arthur Joseph NEICH

214 Trooper William Joseph BOOTH

Page 21:

217 Corporal Roderick MACKINNON_Pic 141

217 Trooper Roderick MACKINNON_Pic 59

220 Sergeant William Joseph KERR

221 Trooper Frederick VON HAMMER

223 Trooper George Edward Mitchell WOODLEY

Page 22:

227 Trooper Charles Lewis CARTWRIGHT

228 Trooper Duncan Kennedy MCINTYRE

229 Trooper Percy William CORDEROY_Pic 223

229 Trooper Percy William CORDEROY_Pic 356

230 Trooper Albert Henry CHANDLER

232 Trooper Harold Rome TREATT

235 Squadron Quartermaster Sergeant John Leonard SHAYLER_Pic 142

Page 23:

235 Squadron Quartermaster Sergeant John Leonard SHAYLER_Pic 392

237 Lance Corporal Adam PARKES

239 Sergeant Godfrey George GEARY

240 Trooper Henry George PUTNEY

242 Trooper Frederick Egerton Pigon WEAVER

244 Trooper Henry Francis BURNE

246 Trooper Neil Patrick GILLIES

247 Trooper Thomas Wilson SERGEANT

Page 24:

248 Trooper William James WATSON

249 Lance Corporal Gilbert LEGH

251 Trooper Albert Edward QUICK

252 Trooper John Frederick SADLER

253 Trooper Frederick Theodore WITTS

255 Trooper William Albert WISE

256 Sergeant Clive Condor WESTON

Page 25:

260 Trooper Patrick Albert RYAN

261 Trooper Charles Eastaway HUNT

262 Trooper Henry George STEVENS

263 Trooper John Andrew WILLMOTT

264 Trooper Harry Stewart MACDONALD

266 Trooper Mark Faucett STOREY

268 Trooper Edward Alexander SMITH

269 Trooper Charles BIDDLECOMBE

Page 26:


272 Trooper Richard William SPRAGGS

273 Trooper Joseph Arthur PORTER

274 Trooper Christopher Owen FORBES

275 Squadron Quartermaster Sergeant John Nathaniel WALTON

276 Corporal Horace C Philip WATERS

277 Trooper Arthur Henry FORTESCUE

278 Trooper William Antill MCPHERSON

279 Corporal Arthur Frederick FITZHARDINGE

280 Lance Corporal Percival Fyam CORTIS_Pic 149

Page 27:

280 Lance Corporal Percival Fyam CORTIS_Pic 456

283 Trooper William James GREGORY

285 Trooper Thomas Henry Cyril DRUITT

286 Trooper Albert Owen TINDALE

288 Trooper Frederick Clement DRUITT

289 Trooper Charles Edward KELLEHER

Page 28:

291 Trooper William Miller MUIR

292 Trooper Alexander Henry MILLER

296 Trooper Frank Herbert HOLDEN

297 Trooper William Richard COX

298 Trooper William James POUND

300 Trooper John Andrew GLENNON_Pic 322

Page 29:

300 Trooper John Andrew GLENNON_Pic 389

301 Trooper William Scott MEARES

302 Trooper Charles Frederick Holes MONK

306 Trooper Henry Roderick REID

307 Trooper Oscar Patrick STAUNTON

309 Trooper Archibald James MIDDLETON

Page 30:

314 Squadron Sergeant Major Oswald Bruce RYRIE

315 Orderly Room Sergeant Charles Macken SHERRIFS

318 Trooper Aubrey George RATTEN

319 Corporal Reginald Naylor CADDEN

322 Lance Corporal Mavon John MAY

323 Corporal Percy Henry COBCROFT

324 Lance Corporal James AITKEN

Page 31:

328 Trooper Leslie FERGUSON_Pic 119

328 Trooper Leslie FERGUSON_Pic 404

329 Trooper Charles Frederick FOSTER

331 Trooper William Alfred MALING

332 Trooper Richard James MORRIS

333 Lance Corporal Edward Brown CHESHER

Page 32:

336 Corporal Arthur Peter EGAN

337 Trooper William Joseph O'CONNELL

338 Trooper John Campbell ROBERTSON

339 Sergeant John Ernest MULLAMPY

342 Trooper Arthur Frederick BATTYE

344 Sergeant George William DAVIDSON

346 Trooper James Joseph COLLINS

Page 33:

348 Trooper Frederick MCSPADDEN

351 Trooper Frederick W BENTLEY_Pic 105

351 Trooper Frederick W BENTLEY_Pic 374

352 Trooper Frederick G BULLOCK

356 Trooper Herbert Charles MONK

357 Trooper Thomas Edward WOOTTEN

Page 34:

360 Trooper Reginald Montagu SMITH

362 Trooper Ralph Seymour Arthur BILLSBOROUGH

363 Trooper Charles Lawrence STOKES

365 Trooper Charles RITCHIE_Pic 326

365 Trooper Charles RITCHIE_Pic 396

Page 35:

369 Trooper Sydney Francis RHALL_Pic 268

369 Trooper Sydney Francis RHALL_Pic 388

370 Trooper Sydney Alfred MARTIN

374 Trooper Richard Stanley VIGORS

377 Trooper Ewart Aaron AYSHFORD

379 Sergeant Henry George F AIREY

Page 36:

380 Lance Corporal Henry James Drepas MAIR

382 Trooper John Rendell STREET

383 Trooper Francis Ernest JENSEN

Page 37:

393 Trooper Robert Edward STEVENSON

394 Trooper Robert Patrick Quinn BOYD

396 Trooper John Theodore BRETT

398 Trooper Benjamin Joseph QUIGLY

400 Trooper Bertie John THOMSON

403 Trooper George Henry CHOWN

404 Lance Corporal Samuel HEATH

405 Trooper Angus NICHOLSON_Pic 123

Page 38:

405 Trooper Angus NICHOLSON_Pic 434

406 Trooper Thomas Patrick MIDDLEMUS

407 Trooper Roland John EGGLETON

408 Trooper Frederick Charles RUSSELL

410 Trooper George Frederick COX

411 Trooper John Patrick CAREY

413 Lance Corporal Alexander William MAIR

414 Lance Corporal Charles ANDREWS

Page 39:

416 Trooper James Richard HOCKING

417 Trooper Philip Penrose CUMMINS

418 Trooper Edward Augustus CUMMINS

421 Trooper Reginald Venables JAMES

423 Trooper Robert Joseph DARCEY

424 Corporal Charles Richard Campbell LLOYD

425 Trooper Alfred James MCGOWAN

427 Trooper Thomas Neville GUNTER

Page 40:

434 Trooper Edwin Patrick HICKEY

436 Trooper Gustave LIBBESSON_Pic 308

436 Trooper Gustave LIBBESSON_Pic 380

439 Trooper Arthur Ernest HAYES

Page 41:

441 Sergeant Richard John HOLMES

442 Corporal Frederick DOWNING

444 Trooper Thomas Morris MCWILLIAMS

445 Farrier Sergeant Benjamin TOWNER_Pic 305

445 Farrier Sergeant Benjamin TOWNER_Pic 383

446 Farrier Sergeant Martin Joseph GRACE

448 Trooper George Frederick DUNCAN

450 Farrier Sergeant Frederick William STEWART

Page 42:

458 Squadron Quartermaster Sergeant Felix James BROINOWSKI

461 Trooper William Johnstone GRAHAM

462 Trooper William Martin HUGHES

464 Trooper James William JACKSON_Pic 272

Page 43:

464 Trooper James William JACKSON_Pic 272

468 Trooper William Francis MCCUSKER

469 Trooper Francis Richard Homer MANNSER

471 Trooper John William MCGRATH

472 Trooper Archibald Patrick MOONEY

Page 44:

477 Trooper Joseph Henry PAYNE

480 Trooper William Edward John THORPE

482 Trooper Ernest Robert SMALLHORN

483 Trooper William John SUTHERLAND

484 Trooper William Matthew WALSH

485 Trooper Thomas Henry WALTHER

494 Trooper John Joseph FITZPATRICK

Page 45:

500 Trooper Daniel Cooper GREEN

501 Trooper Frederick Vincent NICHOLLS

502 Trooper Alexander William ALLEN

503 Trooper Thomas Edward WOODS

507 Trooper William Knibb JEFFREY

508 Squadron Sergeant Major James MITCHELL

510 Trooper Percy Arnold HAYBITTLE

Page 46:

514 Trooper Henry JONES_Pic 344

514 Trooper Henry JONES_Pic 391

517 Trooper Richard Thomas WALKER

520 Trooper Ignatius Loyola SMITH

522 Trooper Walter Charles DODD

533 Trooper Harry Horace DAVIS

Page 47:

Page 48:

Trooper Basil Brookes WRENFORD

Page 49:

53 Trooper Patrick John FOWLER

Page 50:

7 Trooper Alfred Charles WHERRATT

3 Trooper Frederick William STANTON

100 Trooper Albert Edward ONUS

Page 51:

238 Trooper William Timbrel TROTMAN

188 Trooper Frederick William MCKINNON

197 Sergeant Sidney Thomas NICHOLSON

152 Corporal Walter Laishley SPIER

198 Lance Corporal Herbert DAVIS

Page 52:

139 Trooper Leslie Thomas Anderson DENNIS

178 Trooper Samuel Jones LAWER

155 Trooper George William AITCHESON

171 Trooper Alexander Kenneth ALSTON

207 Trooper Charles John MANSER

Page 53:

Trooper Frederick Charles GRAY

461 Trooper William Johnstone GRAHAM

Second Lieutenant Arthur William HUTTON

290 Corporal George Robert MCKINNON

Page 54:

305 Trooper William Andrew PARR

419 Corporal Duncan Campbell OSBORNE

481 Trooper William John THOMSON

Page 55:

476 Trooper Harold Athleston PERROTT

528 Trooper Charles Andrew GARDNER

399 Trooper Granville Thomas COOPER

371 Trooper Arthur Francis SPRING

530 Squadron Sergeant Major Henry PEARCE

Page 56:

397 Sergeant Dennis Joseph BARRETT

460 Trooper Thomas Francis GUNNING

452 Trooper George Thomas BAKER

345 Trooper Victor Herman Herbert DUFFY
Alphabetical Listing
379 Sergeant Henry George F AIREY

Lieutenant Colonel Henry Parke AIREY

155 Trooper George William AITCHESON

61 Trooper John Carlton AITCHESON

324 Lance Corporal James AITKEN

502 Trooper Alexander William ALLEN

134 Trooper Henry Arthur ALPHEN

171 Trooper Alexander Kenneth ALSTON

71 Trooper Edward Christopher ANDERSON

167 Trooper Vernon George ANDERSON

414 Lance Corporal Charles ANDREWS

203 Trooper William Myles AYRE

377 Trooper Ewart Aaron AYSHFORD

452 Trooper George Thomas BAKER

179 Trooper Walter Hearns BALDWIN

13 Trooper Joseph William BARNES

397 Sergeant Dennis Joseph BARRETT

Lieutenant Arthur E Montague BATTYE

342 Trooper Arthur Frederick BATTYE

351 Trooper Frederick W BENTLEY_Pic 105

351 Trooper Frederick W BENTLEY_Pic 374

269 Trooper Charles BIDDLECOMBE

362 Trooper Ralph Seymour Arthur BILLSBOROUGH

153 Trooper Ernest BINGHAM_Pic 100

153 Trooper Ernest BINGHAM_Pic 464

212 Trooper James Edward BODKIN

32 Lance Corporal Henry Otto BOHLSEN

214 Trooper William Joseph BOOTH

394 Trooper Robert Patrick Quinn BOYD

396 Trooper John Theodore BRETT

2 Trooper Ernest Edward BRIGDEN_Pic 19


2 Trooper Ernest Edward BRIGDEN_Pic 20


458 Squadron Quartermaster Sergeant Felix James BROINOWSKI

19 Trumpeter Arthur Thornton BROWN

41 Trooper John Theodore BRUNNING_Pic 7

41 Trooper John Theodore BRUNNING_Pic 34

108 Trooper Angus McLeod BUCHANAN

115 Corporal Fitzroy Augustus BUCKLETON

352 Trooper Frederick G BULLOCK

120 Trooper William Wallace BUNTON_Pic 75

120 Trooper William Wallace BUNTON_Pic 299

244 Trooper Henry Francis BURNE

136 Trooper Jack Andrew BURR_Pic 371

136 Trooper Jack Andrew BURR_Pic 451

38 Trooper Richard William Peard BURROW

319 Corporal Reginald Naylor CADDEN

52 Trooper Beresford Frederick CAMPBELL

Lieutenant Charles Scarvall CAPE

411 Trooper John Patrick CAREY

227 Trooper Charles Lewis CARTWRIGHT

230 Trooper Albert Henry CHANDLER

333 Lance Corporal Edward Brown CHESHER

403 Trooper George Henry CHOWN

Second Lieutenant Henry Bertram CHRISTIE

73 Trooper James Edmund Rowland CLARKE

163 Trooper George Arthur COBBY

323 Corporal Percy Henry COBCROFT

346 Trooper James Joseph COLLINS

399 Trooper Granville Thomas COOPER

91 Trooper William Edmund CORBETT

229 Trooper Percy William CORDEROY_Pic 223

229 Trooper Percy William CORDEROY_Pic 356

206 Trooper Joseph Charles CORDWELL

Second Lieutenant Charles CORNWALL

280 Lance Corporal Percival Fyam CORTIS_Pic 149

280 Lance Corporal Percival Fyam CORTIS_Pic 456

410 Trooper George Frederick COX

297 Trooper William Richard COX

187 Trooper John Melville CRAYFORD

86 Trooper William Joseph CUMMINGS

418 Trooper Edward Augustus CUMMINS

417 Trooper Philip Penrose CUMMINS

109 Trooper Joseph Michael CUSACK

423 Trooper Robert Joseph DARCEY

85 Trooper Robert George DAVENPORT

30 Trooper Frank Lomas DAVIDSON

344 Sergeant George William DAVIDSON

533 Trooper Harry Horace DAVIS

198 Lance Corporal Herbert DAVIS

174 Corporal James Reuben DE LORE

194 Corporal Hurtle E DE MESTRE

139 Trooper Leslie Thomas Anderson DENNIS

522 Trooper Walter Charles DODD

112 Trooper Hedley Vicars DOWE

442 Corporal Frederick DOWNING

14 Sergeant Charles Hafed Conrad DRUITT

288 Trooper Frederick Clement DRUITT

285 Trooper Thomas Henry Cyril DRUITT

93 Trooper George Alfred DUBERLY

34 Trooper James Daniel DUFF_Pic 260

34 Trooper James Daniel DUFF_Pic 403

181 Trooper Edward Michael DUFFY

345 Trooper Victor Herman Herbert DUFFY

448 Trooper George Frederick DUNCAN

173 Trooper Ferdinand Francis DUVAL

177 Trooper Francis William DUVAL

70 Trooper Albert John EASTAUGHFFE

89 Trooper John Edward Henry EASTCOTT

336 Corporal Arthur Peter EGAN

407 Trooper Roland John EGGLETON

142 Trooper Sidney Charles EVANS

36 Trooper Arthur Hilton FARNELL

328 Trooper Leslie FERGUSON_Pic 119

328 Trooper Leslie FERGUSON_Pic 404

279 Corporal Arthur Frederick FITZHARDINGE

494 Trooper John Joseph FITZPATRICK

274 Trooper Christopher Owen FORBES

277 Trooper Arthur Henry FORTESCUE

329 Trooper Charles Frederick FOSTER

53 Trooper Patrick John FOWLER

26 Trooper Fergus Stewart FRATER

528 Trooper Charles Andrew GARDNER

239 Sergeant Godfrey George GEARY

39 Lance Corporal Thomas Reuben Hamilton GIBB

127 Trooper George Henry Flood GIBSON

226 Trooper William John GIDDINS

246 Trooper Neil Patrick GILLIES

300 Trooper John Andrew GLENNON_Pic 322

300 Trooper John Andrew GLENNON_Pic 389

160 Trooper William Henry GLISSAN

446 Farrier Sergeant Martin Joseph GRACE

461 Trooper William Johnstone GRAHAM_Pic 525


461 Trooper William Johnstone GRAHAM_Pic 416


Trooper Frederick Charles GRAY

500 Trooper Daniel Cooper GREEN

283 Trooper William James GREGORY

201 Trooper Arthur Percy Briton GREY

460 Trooper Thomas Francis GUNNING

427 Trooper Thomas Neville GUNTER

510 Trooper Percy Arnold HAYBITTLE

439 Trooper Arthur Ernest HAYES

404 Lance Corporal Samuel HEATH

64 Trooper John William HEWITT

434 Trooper Edwin Patrick HICKEY

416 Trooper James Richard HOCKING

296 Trooper Frank Herbert HOLDEN

441 Sergeant Richard John HOLMES

209 Trooper William Edward HOLMES

211 Trooper Walter Davidson HOME

157 Trooper Harry Alfred HUDSON

462 Trooper William Martin HUGHES

261 Trooper Charles Eastaway HUNT

96 Trooper William Francis HUNT

9 Trooper Charles Joseph HURTZ

Second Lieutenant Arthur William HUTTON

464 Trooper James William JACKSON_Pic 272

464 Trooper James William JACKSON_Pic 272

421 Trooper Reginald Venables JAMES

507 Trooper William Knibb JEFFREY

383 Trooper Francis Ernest JENSEN

514 Trooper Henry JONES_Pic 344

514 Trooper Henry JONES_Pic 391

97 Corporal Thomas Evans KEENE

289 Trooper Charles Edward KELLEHER

16 Corporal William Nivison KELMAN

220 Sergeant William Joseph KERR

175 Trooper William Joseph KING

178 Trooper Samuel Jones LAWER

249 Lance Corporal Gilbert LEGH

436 Trooper Gustave LIBBESSON_Pic 308

436 Trooper Gustave LIBBESSON_Pic 380

424 Corporal Charles Richard Campbell LLOYD

Second Lieutenant Thomas Joseph LYNCH

77 Corporal Lionel George MACARTHUR

264 Trooper Harry Stewart MACDONALD

190 Trooper William Wallace MACDONALD

Captain Thomas Alfred MACHATTIE

217 Trooper Roderick MACKINNON_Pic 59

217 Corporal Roderick MACKINNON_Pic 141

413 Lance Corporal Alexander William MAIR

380 Lance Corporal Henry James Drepas MAIR

331 Trooper William Alfred MALING

22 Trumpeter William Henry MANKEY

469 Trooper Francis Richard Homer MANNSER

207 Trooper Charles John MANSER

98 Trooper Charles James MANSERGH

Trooper Joseph MANSFIELD_Pic 553


Trooper Joseph MANSFIELD_Pic 467


29 Trooper Frederick William MARKS

154 Trooper Lewis Perryman MARSHALL

370 Trooper Sydney Alfred MARTIN

24 Trumpeter Abert Edward MASON

322 Lance Corporal Mavon John MAY

130 Lance Corporal Harold Edwin MCCULLOUGH

468 Trooper William Francis MCCUSKER

425 Trooper Alfred James MCGOWAN

471 Trooper John William MCGRATH

67 Corporal George Reginald MCGUINNESS

228 Trooper Duncan Kennedy MCINTYRE

188 Trooper Frederick William MCKINNON

290 Corporal George Robert MCKINNON

17 Trumpeter Alfred Herbert MCKOY

88 Trooper William Paul MCLEAN

76 Trooper Claude Malcolm MCPHEE

278 Trooper William Antill MCPHERSON

348 Trooper Frederick MCSPADDEN

444 Trooper Thomas Morris MCWILLIAMS

301 Trooper William Scott MEARES

104 Trooper Daniel Peter MEEHAN

406 Trooper Thomas Patrick MIDDLEMUS

309 Trooper Archibald James MIDDLETON

118 Trooper Osman Frederick Hume MIDDLETON

292 Trooper Alexander Henry MILLER

166 Trooper John Eyres MILLIGAN

508 Squadron Sergeant Major James MITCHELL

302 Trooper Charles Frederick Holes MONK

356 Trooper Herbert Charles MONK

472 Trooper Archibald Patrick MOONEY

Second Lieutenant Thomas Mitchell MOORE

332 Trooper Richard James MORRIS

99 Corporal Edwin James MORROW

291 Trooper William Miller MUIR

339 Sergeant John Ernest MULLAMPY

Lieutenant Thomas Lane MULLINS

110 Trooper Frederick John MURRAY

150 Lance Corporal Frank P NANCE

213 Trooper Arthur Joseph NEICH

25 Trooper Arthur Thomas NEVILLE

501 Trooper Frederick Vincent NICHOLLS

405 Trooper Angus NICHOLSON_Pic 123

405 Trooper Angus NICHOLSON_Pic 434

197 Sergeant Sidney Thomas NICHOLSON

337 Trooper William Joseph O'CONNELL

100 Trooper Albert Edward ONUS

419 Corporal Duncan Campbell OSBORNE

237 Lance Corporal Adam PARKES

305 Trooper William Andrew PARR

113 Trooper Wilfred Stuart PATEMAN

189 Sergeant John Henry PAYNE_Pic 68

189 Sergeant John Henry PAYNE_Pic 367

477 Trooper Joseph Henry PAYNE

530 Squadron Sergeant Major Henry PEARCE

21 Trumpeter Rupert de Lacey PEEK

476 Trooper Harold Athleston PERROTT

Second Lieutenant Henry Richardson POCKLEY

273 Trooper Joseph Arthur PORTER

11 Lance Corporal Alfred POUNCEBY

298 Trooper William James POUND

23 Trumpeter George William PRESTON

240 Trooper Henry George PUTNEY

251 Trooper Albert Edward QUICK

398 Trooper Benjamin Joseph QUIGLY

126 Trooper George Henry RALSTON

318 Trooper Aubrey George RATTEN

106 Sergeant Erskine North RAYMOND

196 Lance Corporal Ernest William REECE

306 Trooper Henry Roderick REID

129 Lance Corporal James REYNOLDS

369 Trooper Sydney Francis RHALL_Pic 268

369 Trooper Sydney Francis RHALL_Pic 388

365 Trooper Charles RITCHIE_Pic 326

365 Trooper Charles RITCHIE_Pic 396

338 Trooper John Campbell ROBERTSON

50 Trooper Leslie William ROSEN

Lieutenant Thomas Henry R ROUSE

168 Trooper William Frederick ROWLAND

210 Trooper Wilfred Valentine RUDDER

408 Trooper Frederick Charles RUSSELL

260 Trooper Patrick Albert RYAN

314 Squadron Sergeant Major Oswald Bruce RYRIE

252 Trooper John Frederick SADLER

247 Trooper Thomas Wilson SERGEANT

235 Squadron Quartermaster Sergeant John Leonard SHAYLER_Pic 142

235 Squadron Quartermaster Sergeant John Leonard SHAYLER_Pic 392

315 Orderly Room Sergeant Charles Macken SHERRIFS

95 Trooper Charles Peter Stanislaus SLOEY

482 Trooper Ernest Robert SMALLHORN

268 Trooper Edward Alexander SMITH

520 Trooper Ignatius Loyola SMITH

360 Trooper Reginald Montagu SMITH

152 Corporal Walter Laishley SPIER

272 Trooper Richard William SPRAGGS

371 Trooper Arthur Francis SPRING

40 Sergeant John Barber SPROAT_Pic 353

40 Sergeant John Barber SPROAT_Pic 447

3 Trooper Frederick William STANTON

307 Trooper Oscar Patrick STAUNTON

262 Trooper Henry George STEVENS

393 Trooper Robert Edward STEVENSON

450 Farrier Sergeant Frederick William STEWART

363 Trooper Charles Lawrence STOKES

79 Trooper John Archibald STOPPELBEIN

266 Trooper Mark Faucett STOREY

382 Trooper John Rendell STREET

51 Trooper James Thomas STRUCK

483 Trooper William John SUTHERLAND

54 Trooper Sydney James TAYLOR

400 Trooper Bertie John THOMSON

481 Trooper William John THOMSON

480 Trooper William Edward John THORPE

286 Trooper Albert Owen TINDALE

159 Trooper William Alfred TOUGH

445 Farrier Sergeant Benjamin TOWNER_Pic 305

445 Farrier Sergeant Benjamin TOWNER_Pic 383

232 Trooper Harold Rome TREATT

238 Trooper William Timbrel TROTMAN

117 Trooper George Tindall TURNER

208 Trooper Frederick William TYRELL

374 Trooper Richard Stanley VIGORS

221 Trooper Frederick VON HAMMER

156 Trooper Herbert William WADDELL

517 Trooper Richard Thomas WALKER

484 Trooper William Matthew WALSH

485 Trooper Thomas Henry WALTHER

275 Squadron Quartermaster Sergeant John Nathaniel WALTON

276 Corporal Horace C Philip WATERS

138 Trooper Oswald Victor WATSON

248 Trooper William James WATSON

242 Trooper Frederick Egerton Pigon WEAVER

140 Transport Sergeant Buckwell Lionel WENTWORTH

Lieutenant John Ellesmere WESTGARTH

256 Sergeant Clive Condor WESTON

132 Sergeant George Henry WHEELER

7 Trooper Alfred Charles WHERRATT

7 Trooper Alfred Charles WHERRATT

55 Farrier Sergeant John WHITE

263 Trooper John Andrew WILLMOTT

255 Trooper William Albert WISE

253 Trooper Frederick Theodore WITTS

223 Trooper George Edward Mitchell WOODLEY

Trooper Frederick Talbot WOODS

503 Trooper Thomas Edward WOODS

357 Trooper Thomas Edward WOOTTEN

Trooper Basil Brookes WRENFORD

162 Trooper Frederick Hutchinson WYSE

Second Lieutenant Richard Essington ZOUCH
Further Reading:
New South Wales Citizens Bushmans Contingent
New South Wales Citizens Bushmen's Contingent, Roll of Honour
Australian Service Personnel, Photograph Albums
Battles where Australians fought, 1899-1920
---
Citation:
Australian Service Personnel, Photograph Albums, NSW Citizens Bushmans Contingent, Contents
Posted by Project Leader at 12:01 AM EADT
Updated: Friday, 5 August 2011 11:43 PM EADT