3rd Light Horse Brigade Signals, 11 August 1915 - Part 2
Topic: BatzG - Aug 1915
The August Offensive

Gallipoli, August 1915
3rd Light Horse Brigade Signals, 11 August 1915 - Part 2
Of all the battles that occurred at Gallipoli, those that occurred in August are the best preserved in terms of records. There is a profusion of signal traffic retained in the records which allows the historian to view history in its most immediate and unvarnished form.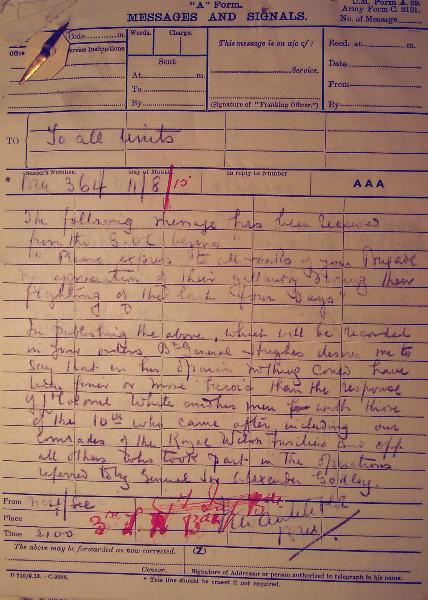 Signal sent by 3rd Light Horse Brigade, 2100, 11 August 1915
The Signal reads:
To all units

BM 364

11/8/15

The following message has been received from the GOC begins

"Please express to all ranks of your Brigade my appreciation of their gallantry during their fighting of the last four days"

In publishing the above, which will be recorded in your orders Brigadier General Hughes desires me to say that in his opinion notion could have been finer or more heroic than the response of Lieutenant Colonel White and his men with those of the 10th who came after including our comrades of the Royal Welch Fusiliers and of all the others who took part in the operations referred to by General Sir Alexander Godley.

JM Antill, Lieutenant Colonel
Brigade Major

No 4/Sec

2100
This signal from Colonel Antill is an addition to the signal sent by General Godley.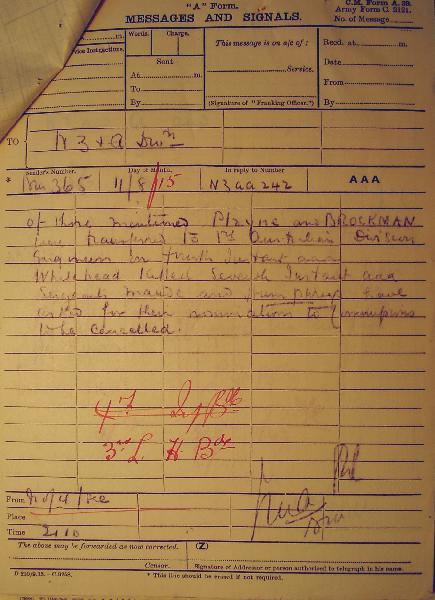 Signal sent by 3rd Light Horse Brigade, 2110, 11 August 1915
The Signal reads:
NZ & A Division

BM 365

11/8/15

Of those mentioned Playne and Brockman were transferred to 1st Australian Division Engineers on tenth Instant aaa Whitehead killed seventh instant aaa Sergeants Maude and Humphreys have asked for their nomination to Commissions to be cancelled.

JMA
BM

No 4/ sec

2110

This signal relates to filling in information about personnel. Interesting to note that 557 Sgt Cornwallis Charles Wyndham "Wallace" Maude, the son of General Cornwallis Oswald Maude and 551 Sgt Cyril Humphreys requested that their commissions be cancelled. Both were promoted to Second Lieutenant. For Maude, the request was never acted upon for he was shot in the head by a sniper's bullet on 13 August 1915 while Humphreys was missing in action at Hill 60 on 27 August 1915. Later a Court of Enquiry declared Humphreys Killed in Action on 29 August 1915.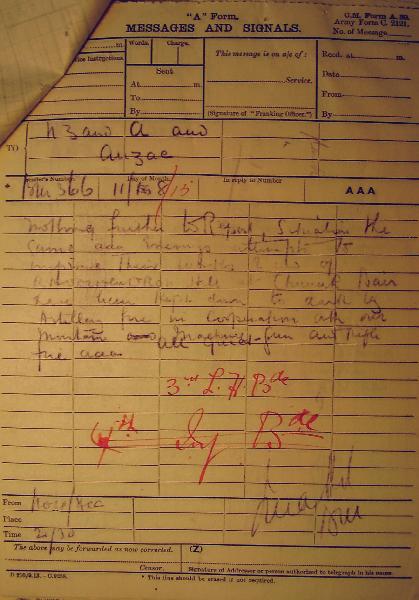 Signal sent by 3rd Light Horse Brigade, 2130, 11 August 1915
The Signal reads:
NZ & A and Anzac

BM 366

11/8/15

Nothing further to report, situation the same aaa Enemy's attempts to improve their works at ends of Rhododendron Hill and Chunuk Bair have been kept down to dark by artillery fire in cooperation with our monitors, machine gun and rifle fire aaa All quiet

JM Antill
BM

No 4/ sec

2130

This signal, sent at 11.30 p.m. indicates that harrassing fire has impeded Turkish entrenching works at Rhododentdron Hill and Chunuk Bair.
Further Reading:
The August Offensive, Gallipoli, August 1915
Battles where Australians fought, 1899-1920
---
Citation: 3rd Light Horse Brigade Signals, 11 August 1915 - Part 2
Posted by Project Leader at 1:14 PM EADT
Updated: Monday, 12 July 2010 10:45 PM EADT