3rd Light Horse Brigade Signals, 11 August 1915 - Part 1
Topic: BatzG - Aug 1915
The August Offensive

Gallipoli, August 1915
3rd Light Horse Brigade Signals, 11 August 1915 - Part 1

Of all the battles that occurred at Gallipoli, those that occurred in August are the best preserved in terms of records. There is a profusion of signal traffic retained in the records which allows the historian to view history in its most immediate and unvarnished form.
Note: TPD = Torpedo Destroyer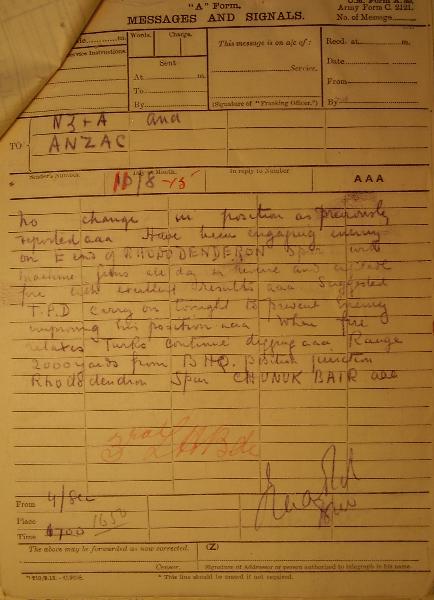 Signal sent by 3rd Light Horse Brigade, 1650, 11 August 1915
The Signal reads:
NZ & A

Anzac

11/8/15




No change in position as previously reported aaa Have been engaging enemy on E end of Rhododendron Spur with machine guns all day in Reverse and enfilade fire with excellent results aaa Suggested TPD carry on tonight to prevent enemy improving his position aaa When fire relaxes Turks continue digging aaa Range 2,000 yards from BHQ. Position junction Rhododendron Spur Chunuk Bair aaa

From 4/Sec

1650
The message aims to give a suggestion on suppressing the entrenching activities of the Turks in the sector through maintaining a strong fire rate with the machine guns from the 3rd Light Horse Brigade position. This proposition relied upon a limitless supply of ammunition.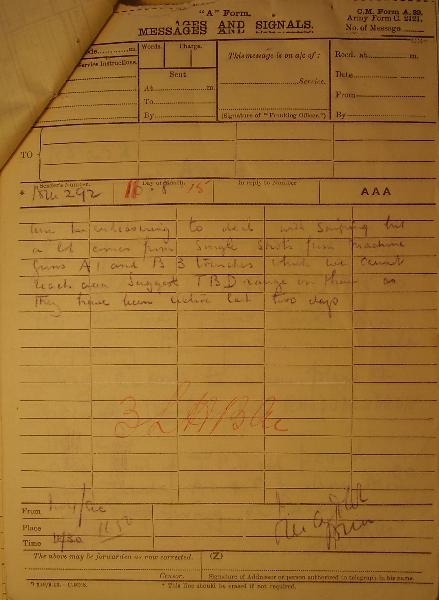 Signal sent by 3rd Light Horse Brigade, 1656, 11 August 1915
The Signal reads:
BN 292

11 . 8 . 15

Am endeavouring to deal with Sniping but a lot comes from single shots from machine guns A1 and B3 trenches which we cannot reach aaa Suggest TBD range on them as they have been active last two days.

No 4/Sec

1656
This signal highlights the problem of sniping and the inability of the 3rd Light Horse Brigade to suppress this Turkish activity.
Signal sent by 3rd Light Horse Brigade, 1915, 11 August 1915
The Signal reads:
NZ & A and Anzac

BN 293

11/8/15

Glad if "Chelma" TPD will keep searchlight on Chunuk Bair so that we may prevent Turks from improving their position aaa Right long CLOOF to above place and especially junction with Rhododendron Hill aaa Also glad if TPD will pound Turk Trenches A1 and B3 where MGs are firing on Beach.

No/4

1915

This series of signals is self explanatory in that the aim was to suppress the Turkish ability to develop their trenches at Chunuk Bair and Rhododendron Hill. These signals also indicate the tools at their command to undertake this task.
Further Reading:
The August Offensive, Gallipoli, August 1915
Battles where Australians fought, 1899-1920
---
Citation: 3rd Light Horse Brigade Signals, 11 August 1915 - Part 1
Posted by Project Leader at 12:06 PM EADT
Updated: Monday, 12 July 2010 10:46 PM EADT