Great War, Military Biographies, 1547 Driver Charles Burns
Topic: GW - Biographies
Great War
Military Biographies
1547 Driver Charles Burns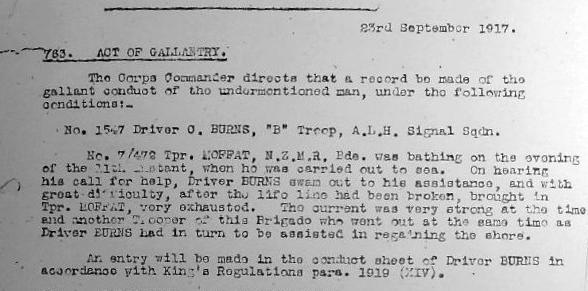 Desert Mounted Corps Routine Order No. 763
During the Great War, there were many unsung heroes who came to the fore from the most unlikeliest of sources. The story of 1547 Driver Charles Burns is one such illustration of a quiet hero.
The record transcribed:
23rd September 1917

763. Act of Gallantry

The Corps commander directs that a record be made of the gallant conduct of the undermentioned man, under the following conditions:-

No. 1547 Driver C Burns, "B" Troop, ALH Signal Squadron.

No. 7/472 Trooper Moffat, New Zealand Mounted Rifle Brigade was bathing on the evening of the 11th instant, when he was carried out to sea. On hearing his call for help, Driver Burns swam out to his assistance, and with great difficulty, after the life line had broken, brought in Trooper Moffat, very exhausted. The current was very strong at the time and another Trooper of this Brigade who went out at the same time as Driver Burns had in turn to be assisted in regaining the shore.

An entry will be made in the conduct sheet in Driver Burns in accordance with King's Regulations para. 1919 (XIV).

On 23 September 1917, he was mentioned in the Routine Orders of the Desert Mounted Corps for a singular act of bravery.
The person transcribing the story was a little bit careless with his work and mixed up some very important details. The person Burns rescued was 11/1472 Trooper George Shepherd Moffat from the Wellington Mounted Rifles, who came from Masterton in the Wairarapa region of New Zealand. The number allocated to Moffat in the RO actually belongs to 7/472 Trooper Charles Augustus Evans of the Canturbury Mounted Rifles, a man who came from Wairau Bar near Blenheim on South Island. It is a salutary lesson to realise that the contemporary records are also riddled with errors and thus should never be used without scrutiny. Despite the mistake, the heroism of Burns was recognised and well deserved. His other heroism, doing his duty to the best of his ability also finds recognition in other places.
During his work with the Signal Squadron, he is credited as never having missed a single day's duty. All through the campaign, he cared for a pair of heavy draught horses in the peak of condition.
Charles BURNS
| | |
| --- | --- |
| Regimental number | 1547 |
| Religion | Church of England |
| Occupation | Striker |
| Address | Bridgetown, Western Australia |
| Marital status | Single |
| Age at embarkation | 18 |
| Next of kin | Guardian, Frederick S Brockman, Bridgetown, Western Australia |
| Enlistment date | 21 August 1915 |
| Rank on enlistment | Private |
| Unit name | 10th Light Horse Regiment, 12th Reinforcement |
| AWM Embarkation Roll number | 10/15/2 |
| Embarkation details | Unit embarked from Fremantle, Western Australia, on board HMAT RMS Mongolia on 22 November 1915 |
| Rank from Nominal Roll | Driver |
| Unit from Nominal Roll | AMDS |
| Fate | Returned to Australia 3 July 1919 |
George Shepherd Moffat


Forename(s):
George Shepherd
Surname:
Moffat
War:
World War I, 1914-1918
Serial No.:
11/1472
First Known Rank:
Trooper
Next of Kin:
W. Moffat (brother),Craiglea, Southville Road, Thames Ditton, Surrey, England
Marital Status:
Single
Enlistment Address:
Care of Ogilvy and Sons, Masterton, New Zealand
Military District:
Wellington
Body on Embarkation:
6th Reinforcements
Embarkation Unit:
Wellington Mounted Rifles
Embarkation Date:
14 August 1915
Place of Embarkation:
Wellington, New Zealand
Further Reading:
Great War, Military Biographies
Battles where Australians fought, 1899-1920
---
Citation: Great War, Military Biographies, 1547 Driver Charles Burns
Posted by Project Leader at 1:27 PM EADT
Updated: Tuesday, 27 July 2010 8:14 PM EADT