The Battle for Hill 60, Gallipoli, 22 - 23, and 27 August 1915, 3rd LHB War Diary, 30th August 1915
Topic: BatzG - Hill 60
The Battle for Hill 60
Gallipoli, 22 - 23, and 27 August 1915
3rd LHB War Diary, 30th August 1915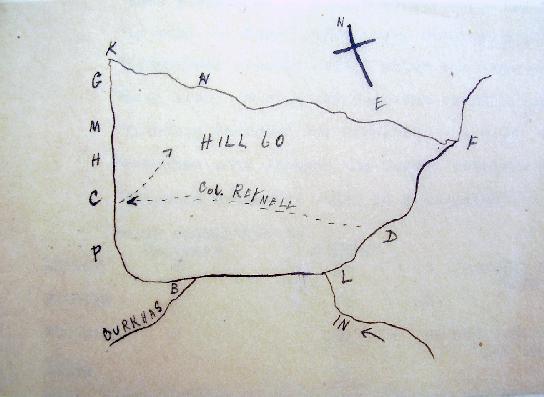 The trenches at Hill 60 mentioned in the War Diary
The story of Hill 60 is continued through the 3rd Light Horse Brigade War Diary.
30th August 1915
At 12.30 a. m. the Lt. Col. REYNELL, Capts. CALLARY and JAFFRAY and 2nd. Lieut. McDONALD with 75 men attempted to cross from D. to E to join the N.Zs. and fight their way along trench FG. from N to G. They appeared to lose direction in scrub and arrived at C in trench BG which Major PARSONS was holding and at once set out for E but came under a withering fire, rifles, M. G. and bombs and the party literally faded away - Lt. McDONALD - S. M. SHAW and three men got back and about 20 wounded crawled in - One Sergt. and 15 men on right were detached and finally reached our Trench at F -- Lieut. McDONALD after reaching safety then gallantly returned four times and brought in 4 wounded men. Major PARSONS party were then bombed back to P. but when day broke fought back to C - casualties 20. 27th was quiet but a few men were sniped -- at 10 a. m. 29th Lieut. McDONALD with a covering party fought his way with bombs to M and connected with 10th L. H. who had same time rushed Trench B G K and taken it - Bodies of Lt COL. REYNELL and Capt. JAFFRAY were received on 29th. -"
P.N.L.D.F.E.N. were held by N.Z.M.R prior to above.
Further Reading:
Hill 60, Gallipoli, 22 - 23, and 27 August 1915
The Battle for Hill 60, Gallipoli, 22 - 23, and 27 August 1915, Roll of Honour
Battles where Australians fought, 1899-1920
---
Citation:
The Battle for Hill 60, Gallipoli, 22 - 23, and 27 August 1915, 3rd LHB War Diary, 30th August 1915
Posted by Project Leader at 12:01 AM EADT
Updated: Friday, 30 July 2010 8:55 AM EADT