Report by Major Tunbridge about Elands River, 15 September 1900, page 7
Topic: BatzB - Elands
The Battle of Elands River, 4 August 1900
Report by Major Tunbridge, 15 September 1900, Page 7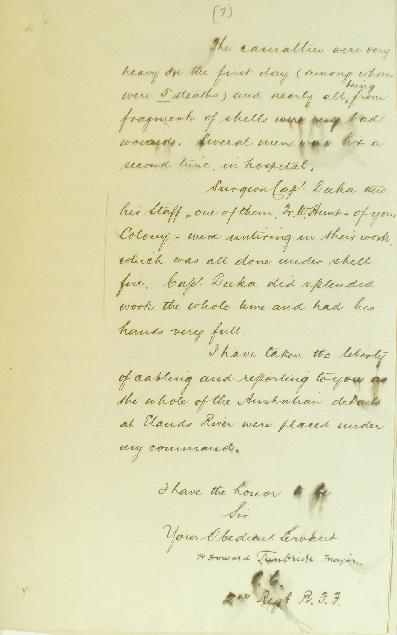 Report by Major Tunbridge about Elands River, 15 September 1900, page 7.
On 15 September 1900, Major Tunbridge wrote a report of the action at Elands River for the NSW General Staff of which page 7 is transcribed below.
(7)

The casualties were very heavy on the first day (among whom were 5 deaths) and nearly all being from fragments of shells were very bad wounds. Several men were hit a second time in hospital.

Surgeon Captain Duka and his staff - one of them, Trooper W Hunt - of your Colony - were untiring in their work, which was all done under shell fire, Captain Duka did splendid work the whole time and had his hands very full.

I have taken the liberty of cabling and reporting to you as the whole of the Australian details at Elands River were placed under my command.

I have the honor

Sir

Your Obedient Servant
W. Howard Tunbridge Major
O.C.
2nd Regiment R.F.F.


Previous: Report page 6
Next: Report on Casualties, page 8
Further Reading:
Battles where Australians fought, 1899-1920
---
Citation:
Report by Major Tunbridge about Elands River, 15 September 1900, page 7
Posted by Project Leader at 12:01 AM EADT
Updated: Sunday, 26 July 2009 11:39 PM EADT