Australian Horse, History Part 3
Topic: Militia - LHN - 3/11/7
AH
Australian Horse
History Part 3, 1901-12

1st (Volunteer) Australian Horse [1897 - 1903]
1st Australian Horse (Boer War) [1899 - 1901]
3rd (Australian Horse) Australian Light Horse [1903 - 1912]
11th (Australian Horse) Australian Light Horse [1912 - 1918]
7th (Australian Horse) Australian Light Horse [1919 - 1935]
7th/21st (Australian Horse) Australian Light Horse [1936-1937]
7th (Australian Horse) Australian Light Horse [1937 - 1942]
7th (Australian Horse) Australian Motor Regiment [1942 - 1943]
7th/21st (Australian Horse) Recce Regiment 1948 - 1937]
7th/21st Australian Horse [1949 - 1957]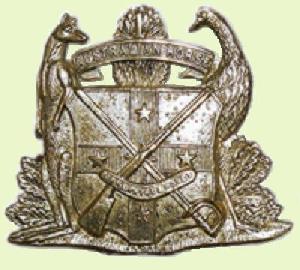 1st Australian Horse, Part 3
The following text is extracted from and article written by R. J. Marrion and R. L. Campbell called 1st Australian Horse which first appeared in the March 1981 edition of the magazine, Military Modelling.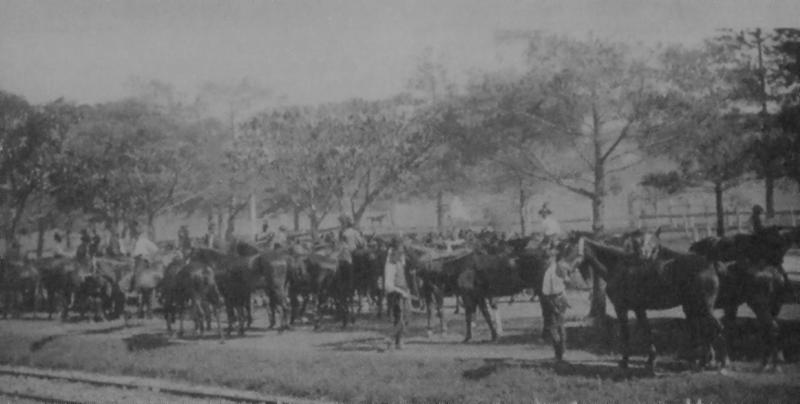 Australian Horse camp at Constitution Hill, 1899

[From: The Boys in Green, p. 11.]
FEDERATION 1901-12
The Regiment at various times provided mounted escorts to Lord Hampton, Lord Hopetown and Lord Beauchamp as visiting State Governors and on various other official occasions. On 1st January, 1901, the Regiment was present at the installation of Lord Hopetown at Sydney as Governor General of the United Commonwealth of Australia. A detachment were sent to Melbourne in May, 1901 to take part in the inauguration of the Federal Parliament by HRH The Duke of Cornwall and York and participated in the Prince's review. On 28th May 1901, whole Regiment marched past HRH and the Duchess in a big review held near Sydney, and on the following day two travelling escorts were furnished by the Regiment to the Royal Party, followed by two further periods of escort duties.
On 1st July 1903, C Squadron was transferred to the NSW Mounted Rifles and D and E Squadrons were detached to form a new unit styled the 6th Australian Light Horse (Australian Horse). A and B Squadrons, together with Headquarters and the band, were to continue in the Regiment which was redesignated the 3rd Australian Light Horse (Australian Horse); a squadron from the NSW Mounted Rifles was transferred to the Regiment to bring it up to four-squadron strength. Colonel Mackay remained in command of the Regiment and Lord Beauchamp was appointed Honorary Colonel of both the 3rd and 6th Regiments. Special permission was obtained for the 3rd Regiment to retain their Myrtle Green uniforms and, with the exception of the 1st New South Wales' Lancers and the 2nd New South Wales' Mounted Rifles, managed to evade the universal khaki uniforms of the light horse; although khaki was worn for field work.
On 14th November, 1904, the Regiment received the King's Standard which was presented by the Governor General at Melbourne; this was awarded by King Edward VII to all overseas regiments that had served in the Boer War; and it was in October of this year that Colonel Mackay retired. In May 1908, the Honour "South Africa 1899 - 1900" was granted to the Regiment and a machine-gun and "pom-pom" section was formed. On 1st July, 1912, the Regiment was again retitled being designated the 11th Light Horse (Australian Horse) and the old Myrtle Green uniform was finally discontinued, although the old regimental badge continued in use. The new uniform was the ubiquitous khaki, relieved only by a white puggarree on the slouch hat. The new Regiment had an establishment of 405 men, including 25 officers.
Previous: Australian Horse, History Part 2
Next:
No further entries
Further Reading:
3rd/11th/7th Australian Light Horse
Militia Light Horse, New South Wales
Australian Militia Light Horse
---
Citation:
Australian Horse, History Part 3
Posted by Project Leader at 12:01 AM EAST
Updated: Sunday, 4 July 2010 12:03 PM EADT