AH, Australian Horse, History Part 2
Topic: Militia - LHN - 3/11/7
AH
Australian Horse
History Part 2, 1899-1902
1st (Volunteer) Australian Horse [1897 - 1903]
1st Australian Horse (Boer War) [1899 - 1901]
3rd (Australian Horse) Australian Light Horse [1903 - 1912]
11th (Australian Horse) Australian Light Horse [1912 - 1918]
7th (Australian Horse) Australian Light Horse [1919 - 1935]
7th/21st (Australian Horse) Australian Light Horse [1936-1937]
7th (Australian Horse) Australian Light Horse [1937 - 1942]
7th (Australian Horse) Australian Motor Regiment [1942 - 1943]
7th/21st (Australian Horse) Recce Regiment 1948 - 1937]
7th/21st Australian Horse [1949 - 1957]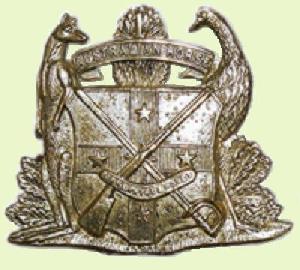 Hearth and Home
Allied with: King Edward's Horse (The King's Overseas Dominions Regiment).
1st Australian Horse, Part 2
The following text is extracted from and article written by R. J. Marrion and R. L. Campbell called 1st Australian Horse which first appeared in the March 1981 edition of the magazine, Military Modelling.


BOER WAR 1899-02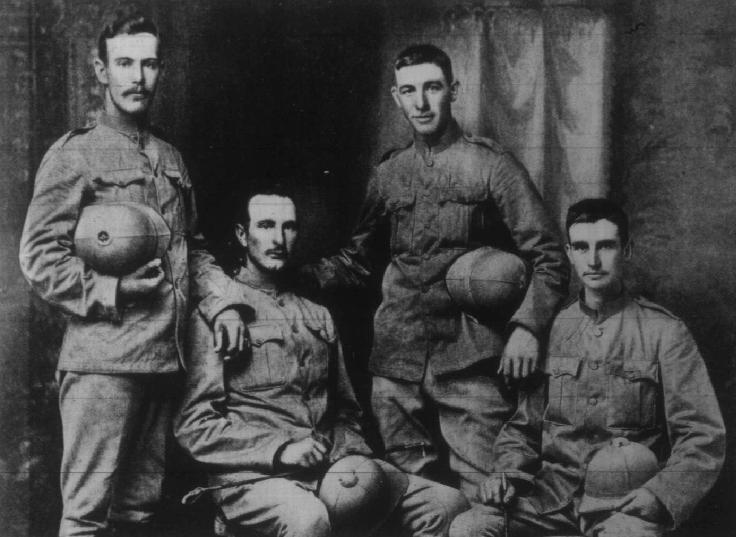 Men fron the 1st Australian Horse: [Left to Right] 1027 Tpr MR "Dick" Mecham, 1012 Tpr GH "Geoff" Harris, 1081 Tpr JW "Jack" Mecham, and 1098 Tpr Neville J Usher.

[From: Sydney Mail, 10 March 1900, p. 577.]


At the outbreak of the Boer War, in 1899, the State Government raised the New South Wales' Lancer Squadron to full strength, and then decided to send another mounted squadron drawn for the New South Wales' Mounted Rifles Regiment. Such was the outcry from the 1st Australia Horse, that it was decided include a troop from the Regiment and detachment of two officers and 32 men embarked from Australia on 12th November, 1899.

The Australian Horse suffered its first casualties on 16th January, 1900, when ambushed by Boers, two were killed and four taken prisoner. On 6th March, 1900, the Troop were reinforced by a further contingent of five officers and 100 other ranks, plus 112 horses - later being most welcome as the arduous campaigning conditions encountered in South Africa decimated the cavalry's horses after a few weeks.

The whole contingent were now attached to the Scots' Greys and the Cavalry Division under th command of General French. The whole squadron saw its last action at Heidelburg on the 26th October, 1900 before part of the squadron sailed for home the following month; the remainder left South Africa on the last day of March, 1901. In all, the contingent had taken part in 45 engagements throughout the campaign.

Although no further regimental contingents were sent to South Africa, men from the Regiment continued to be sent to other New South Wales' mounted units, until the end of the war in 1902, where from the beginning 206 men of all ranks saw service in South Africa. Total casualties included 12 dead, 10 wounded and 9 prisoners of war. The Regiment also gained a CB, two DSOs, a DCM and four mentioned in despatches; also five commissions into the regular cavalry were granted.

Colonel Mackay, assisted by six of his officers, raised and took out to South Africa the 6th or New South Wales' Regiment of Imperial Bushmen (for which he was awarded the CB). Meanwhile, the remainder of the Regiment at home were transferred from the Volunteer establishment to the Militia.
Previous: Australian Horse, History Part 1
Next:
Australian Horse, History Part 3
Further Reading:
3rd/11th/7th Australian Light Horse
Militia Light Horse, New South Wales
Australian Militia Light Horse
---
Citation:
Australian Horse, History Part 2
Posted by Project Leader at 12:01 AM EAST
Updated: Thursday, 12 May 2011 3:57 PM EADT