New South Wales Mounted Rifles, History, Part 10, 1899
Topic: Militia - LHN - 2/9/6
NSWMR
New South Wales Mounted Rifles
History, Part 10, 1899
New South Wales Mounted Rifles [1888 - 1903]
2nd (New South Wales Mounted Rifles) Australian Light Horse [1903 - 1912]
9th (New South Wales Mounted Rifles) Australian Light Horse [1912 - 1918]
6th (New South Wales Mounted Rifles) Australian Light Horse [1918 - 1941]
6th (New South Wales Mounted Rifles) Motor Regiment [1941 - 1943]
6th Australian Armoured Car Regiment [1941 - 1943]
6th (New South Wales Mounted Rifles) Motor Regiment [1948 - 1949]
6th New South Wales Mounted Rifles [1949 - 1958]
Royal New South Wales Regiment [1958 - 1960]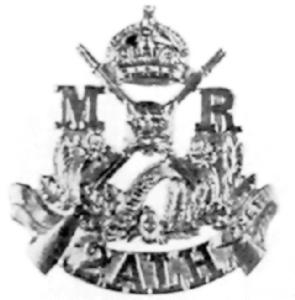 Toujours pret - Always Ready
Allied with: King Edward's Horse (The King's Overseas Dominions Regiment).
The following is the nineth extract from a manuscript written by an anonymous author. The hand written manuscript outlines the history of the 2nd ALHR NSW Mounted Rifles from commencement in 1888, until 5 April 1899, when history ceases. From the internal evidence of the manuscript, it appears to have been composed sometime from July 1903 to 1904.
The anonymous manuscript.

The nineth extract from the manuscript.
Camp 1899

On the 31st March 1899, the Regiment marched into Camp for eight days Continuous Training, under the Mobilization Scheme, the No. 2 Picton and Camden Half Companies, being stationed at Middle Head and Botany respectively, the remainder of the Regiment going under canvas with the Field Force at Rookwood. On Wednesday 5th April, the Picton and Camden Half Companies marched from their respective stations, and joined the remainder of the Regiment at Rookwood.

The following is an extract from Remarks by the General Officer Commanding, on the Easter Encampment, issued with General Order 48/99.
"The GOC notes with satisfaction, the conduct of Picton-Camden Company of Mounted Rifles, on 5th April, when their hired transport broke down, and their arrival in camp was delayed till 2 a.m.."


The camp terminated on the 5th April.
The history ceases at this point and is not taken up until a new hand made an attempt to revive the story in Orange, January 1922.
Previous: New South Wales Mounted Rifles, History, Part 9, 1898
Next: 2nd/9th/6th Australian Light Horse
Further Reading:
2nd/9th/6th Australian Light Horse
Militia Light Horse, New South Wales
Australian Militia Light Horse
---
Citation:
New South Wales Mounted Rifles, History, Part 10, 1899
Posted by Project Leader at 12:01 AM EAST
Updated: Friday, 2 July 2010 10:45 AM EADT