Bir el Abd, Sinai, 9 August 1916, 3rd LHR, AIF, War Diary Account
Topic: AIF - 1B - 3 LHR
Bir el Abd
Sinai, 9 August 1916
3rd LHR, AIF, War Diary Account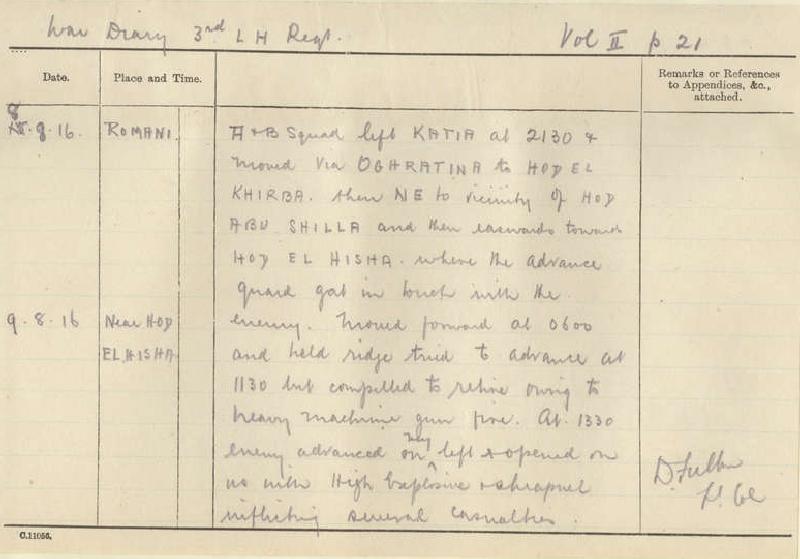 War Diary account of the 3rd LHR, AIF.
The transcription:
Moved forward at 0600 and held ridge. Tried to advance at 1130 but compelled to retire owing to heavy machine gun fire. At 1330 enemy advanced on my left and opened on us with high explosive and shrapnel inflicting several casualties.

Retired at 1600 to Oghratina arriving at 2400 on 9th. Moved to Hod el Negiliat and stayed till morning of 13th arriving back at Romani at 1400.

Roll of Honour
Benjamin David ALEXANDER
Gordon Silas FIDLER
Walter William Robert JONES

Alfred MELVILLE

Herbert Alexander WARD



Further Reading:
3rd Australian Light Horse Regiment, Roll of Honour
Battle of Romani, Sinai, August 4 to 5, 1916
Bir el Abd, Sinai, 9 August 1916
Battles where Australians fought, 1899-1920
---
Citation:
Bir el Abd, Sinai, 9 August 1916, 3rd LHR, AIF, War Diary Account
Posted by Project Leader at 12:01 AM EADT
Updated: Friday, 18 December 2009 4:56 PM EAST