The Battle of Anzac Cove, Gallipoli, 25 April 1915, 3rd Field Artillery Brigade War Diary
Topic: BatzG - Anzac
The Battle of Anzac Cove
Gallipoli, 25 April 1915
3rd Field Artillery Brigade War Diary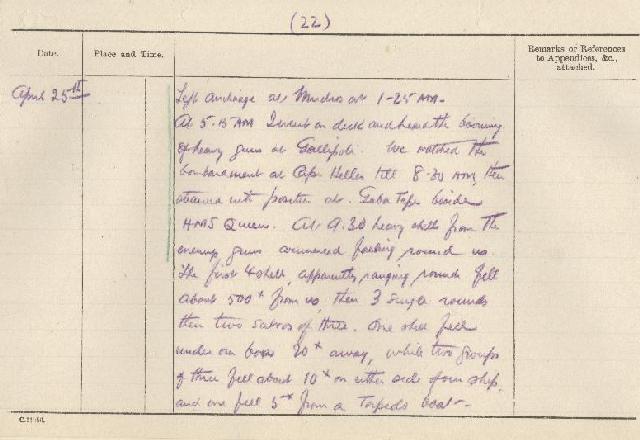 War Diary account of the 3rd Field Artillery Brigade, AIF.
The following is a transcription of the War Diary of the 2nd Field Artillery Brigade, AIF, of their role in the landings at Anzac on 25 April 1915.
24 April 1915

At anchor. Queen Elizabeth and another man o' war came out of Mudros Bay.

Special service for men from ship with evening. I said a few words of encouragement to them and wished them well in tomorrow's venture.


25 April 1915

Left anchorage at Mudros at 1.25 am.

At 5.15 am I went on deck and heard the firing of heavy guns at Gallipoli. We watched the bombardment at Cape Helles till 8.30 am then steamed into position at Gaba Tepe beside HMS Queen. At 9.30 heavy shells from the enemy guns commenced falling round us. The first four shells, apparently ranging rounds, fell about 500 yards from us, then three single rounds then two salvos of three. One shell fell under our bow 20 yards away, while two groups of thee fell about 10 yards on either side of our ship and one fell 5 yards from a torpedo boat.

No damage was done but anchor was lifted and we steamed out at 10.15 and stood under way till 12 noon - HMS Triumph and Bacchaute carried on a heavy bombardment of Gaba Tepe. We moved into anchorage at 1 pm. I at once disembarked in a ships boat (not waiting for a naval picket boat) with 18 NCO's and men of my Headquarters staff, my Medical Officer and Orderly Officer. The Adjutant had gone ashore earlier with Colonel Hobbs. Heavy rain of shrapnel fell round us but no one was hit. One of the boat party however on returning to the ship was wounded by shrapnel.

I reported to Officer Commanding Divisional Artillery on landing and was informed no artillery was to land during the day. Colonel White, General Staff then commandeered me, gave me an officer as adjutant and instructed me to collect all Infantry stragglers of whom where were some hundreds and form them up. This I did and with them unloaded ammunition from barges and sent it forward to firing line. At 5 pm I reconnoitred the right flank and at 8 pm made a special artillery reconnaissance reporting to Officer Command and General Bridges that I could use two batteries effectively on right flank. General agreed to give me two batteries but later instructed me I could only have two guns. I waited with my Adjutant on the beach all night for the guns to land and during the night my Headquarters Staff made a road from the beach to admit of ready moving of guns.


26 April 1915

This morning I got one gun of 1st Battery under Major Sweethead and one gun of 4th Battery under Lieutenant Siddall into action on Low Scrub Hill (now known as Rosenthal Point). 4th Battery gun did excellent work against Infantry targets firing around 400 rounds. Later in the day four guns and wagons of 7th Battery came ashore and I got two of that Battery's guns in position. There also came ashore two guns of 3rd Battery and four guns of 8th Battery. These had evidently come ashore in error and were ordered back to their ship by Colonel Hobbs as also 1st Battery gun and 4th Battery gun. I replaced them with two remaining guns of 7th Battery then having the Battery complete on the position. Infantry very happy to see Artillery. Spent night digging gun emplacement. Flank bombarded enemy's position during the evening. I am in a tactically unsound position, by guns being actually in the infantry firing line - factors of country would not permit of guns being placed behind infantry.


Further Reading:
The Battle of Anzac Cove, Gallipoli, 25 April 1915
The Battle of Anzac Cove, Gallipoli, 25 April 1915, AIF, Roll of Honour
Battles where Australians fought, 1899-1920
---
Citation:
The Battle of Anzac Cove, Gallipoli, 25 April 1915, 3rd Field Artillery Brigade War Diary
Posted by Project Leader at 12:01 AM EAST
Updated: Tuesday, 6 April 2010 10:28 PM EADT