The Battle of Anzac Cove, Gallipoli, 25 April 1915, 9th Infantry Battalion War Diary
Topic: BatzG - Anzac
The Battle of Anzac Cove
Gallipoli, 25 April 1915
9th Infantry Battalion War Diary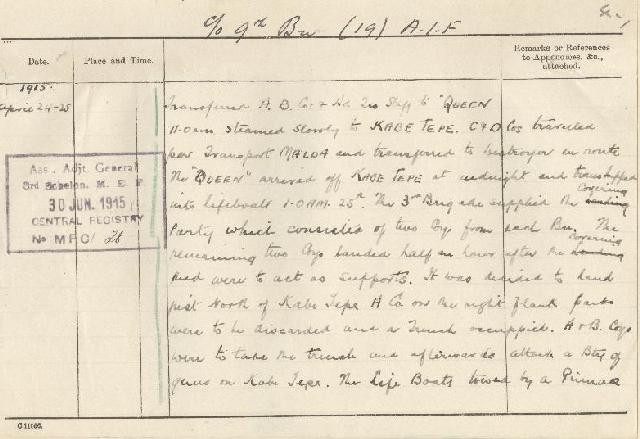 War Diary account of the 9th Infantry Battalion, AIF.
The following is a transcription of the War Diary of the 9th Infantry Battalion, AIF, of their role in the landings at Anzac on 25 April 1915.
24 - 25 April 1915

Transferred "A", "B" Companies, and Headquarters Staff to "Queen" 11.0 am. Steamed slowly to Kabe Tepe. "C" and "D" Companies travelled per Transport Malda and transferred to destroyer en route. The Queen arrived off Kabe Tepe at midnight and transhipped into lifeboats 1.0 am.


25 April 1915

The 3rd Infantry Brigade supplied the covering party which consisted two companies from each Battalion. The remaining two companies landed half an hour after the covering and were to act as supports. It was decided to land just north of Kabe Tepe, "A" Company on the right flank. Packs were to be discarded and a trench occupied. "A" and "B" Companies were to take the trench and afterwards attack a Battery of guns on Kabe Tepe. The life boats towed by pinnace moved slowly towards the shore and it was apparent that the Naval people has missed their direction. It was discovered afterwards that we were two miles north of the position intended. The landing was affected under rifle fire and the troops pressed forward. The enemy gave way and the advance continued. Turkish reinforcements saved the rush and our troops were driven back and hastily entrenched on a commanding position. Turks attacked again about midnight but were repulsed. The Australians displayed great bravery and held on tenaciously. False orders were issued by German Officers. Attempts were made to reorganise the 3rd Infantry Brigade. 100 men and 7 Officers mustered. The Battalion detailed at dusk as covering party for troops entrenching. Major JC Robertson, Captains Milne, Jackson, Ryder, Fisher, Melbourne, Lieutenants Chambers, Paterson, Jones, Boase wounded. Major SB Roberson, Lieutenants JP Roberts, Haymew, Costin and Rigby killed.


26 April 1915

Whole Division considerably mixed, under heavy rifle and shell fire all day and night all busy digging in under fire. Further attempt to reorganize Battalion. About 1,000 3rd Infantry Brigade collected remained above beach till 1.0 pm. Battalion detailed as No. 2 Section of Defence under Colonel MacLagan. Lieutenant Ker wounded.


Further Reading:
The Battle of Anzac Cove, Gallipoli, 25 April 1915
The Battle of Anzac Cove, Gallipoli, 25 April 1915, 9th Infantry Battalion, Roll of Honour
The Battle of Anzac Cove, Gallipoli, 25 April 1915, 3rd Infantry Brigade, Roll of Honour
The Battle of Anzac Cove, Gallipoli, 25 April 1915, AIF, Roll of Honour
Battles where Australians fought, 1899-1920
---
Citation:
The Battle of Anzac Cove, Gallipoli, 25 April 1915, 9th Infantry Battalion War Diary
Posted by Project Leader at 12:01 AM EAST
Updated: Saturday, 10 April 2010 11:34 PM EADT