The Battle of Anzac Cove, Gallipoli, 25 April 1915, 10th Infantry Battalion War Diary
Topic: BatzG - Anzac
The Battle of Anzac Cove
Gallipoli, 25 April 1915
10th Infantry Battalion War Diary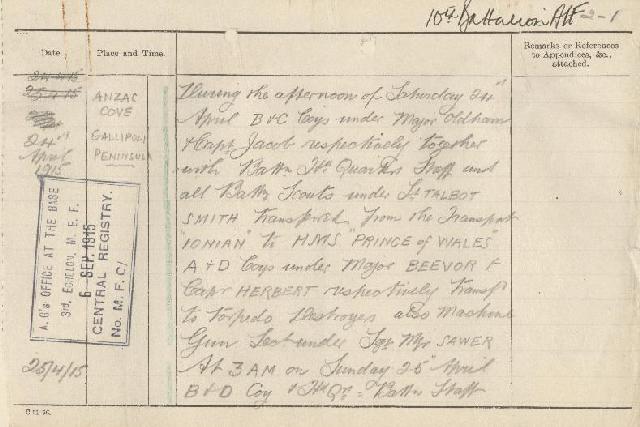 War Diary account of the 10th Infantry Battalion, AIF.
The following is a transcription of the War Diary of the 10th Infantry Battalion, AIF, of their role in the landings at Anzac on 25 April 1915.
24 April 1915

During the afternoon of Saturday 24th April, "B" and "C" Companies under Major Oldham and Captain Jacob respectively together with Battalion Headquarters Staff and all Battalion Scouts under Lieutenant Talbot Smith transferred from the Transport Ionian to HMS Prince of Wales. "A" and "D" Companies under Major Beevor and Captain Herbert respectively transferred to torpedo destroyers, also Machine Gun Section under Sergeant Major Sawer.


25 April 1915

At 3 am on Sunday 25th April "B" and "D" Companies and Headquarters Battalion Staff, Signallers and Scouts left the Prince of Wales in cutters, life boats etc being towed to within 50 yards of shore by steam boats. Absolute silence was maintained by all in our boats and directly the boats were cast off by the steamers we quietly rowed towards the shore dawn was just breaking 4.15 and no sound was heard except the splash of oars, we thought that our landing was to be effected quite unopposed, but when our boats were within about 30 yards of the beach, a rifle was fired from the hill in front of us above the beach, right in front of where we were heading for, almost immediately heavy rifle and machine gun fire was opened upon us, we had to row for another 15 yards or so before we reached water shallow enough to get out of boats, this was at about 4.15 am - we got out of boats into about 3 feet of water and landed on a stony bottom the stones were round and slimy and man officers and men slipped on them and fell into the water, but all bravely and silently made all haste to reach the beach, under a perfect hail of bullets, many men fixed their bayonets before reaching the shore. I ordered men to lay down, fix bayonets and remove packs this was done in a couple of minutes the men of 9th 10th and 11th Battalion were all mixed up on the beach, but there was no time to reorganise so I ordered all to advance, the men sprang to their feet at once and with a cheer charged up the hill held by the Turks and drove them off it. Following up their success by firing on the quickly retreating foe. Shortly after this the two Companies, "A" and "B" off the Torpedo Destroyers reached the beach, they were subjected to heavy shrapnel and machine gun fire, these companies pushed on quickly and soon joined up in a general advance.

By about 8.30 we were about a mile inland and were holding big hill and ridge in front of it, we then pushed on to Shrapnel Hill and I reported to the Brigadier Colonel MacLagan, he was anxious for us to push on to the next ridge but as the enemy just then developed a strong counter attack he decided that we should "dig in" on the forward slope of Shrapnel Ridge. The Battalion Headquarters did our best to reorganise the companies in the following order "D" Company on left, "C" next facing same direction and portions of "A" and "B" farther around to south and in advance of section of defence held by 1st Brigade. The line held at this time was the forward edge of Plateau Wheatfield now known as the Pimple.

A section of defence from about 100 yards west of head of Shrapnel Gully to 50 yards east, thence about 100 yards south east was reorganised and orders issued to "dig in for all you are worth!" At this time - men of all Battalions in Brigade being mixed up - "D" Company was on the left - "C" Company Centre, "A" and "B" on right - our machine gun section was in the firing line in a position which enfiladed the Gully. Two officers and about 10 men of 11th Battalion one officer and about 15 men of Canterbury Rifles New Zealand were in our lines. The position taken up was consolidated and strengthened as much as possible and was held by us until relieved by Marine Division on Wednesday night, 28th April. In order to give confidence and support to Marines I remained in support just in rear of Shrapnel Ridge at the head of Shrapnel Gully and only withdrew at 8.30 am on Thursday, 29th April.

On Sunday afternoon 25th April we repelled two counter attacks made by the enemy one of these attacks was made at about 4 and the second at about 5, both attacks were made in considerable force, minor attacks were made during Sunday night and on Monday morning following a heavy bombardment by enemy's artillery.

On Tuesday morning 27th April am attack was made by a force of dismounted cavalry, on our right front. The cavalry came forward and dismounted, then without covering fire, charged dismounted. This attack was carried forward to within 500 yards of our trenches, when our fire was opened upon them, after a number of casualties on their side they retreated at the double.

At 7.30 pm on Tuesday an attack was again made, but the attacking force appeared to lose direction. When the attackers got within 200 yards of our position, they moved obliquely across our front under our heavy fire, they suffered considerable losses and retired in great disorder.

During the whole of these four anxious days the Headquarters of the Battalion was in close touch with all the Companies and kept them well supplied with ammunition, food and water in the connection the Headquarters Signallers did excellent work. Battalion Headquarters was dug in, in centre of our section of defence at head of Shrapnel Gully.


29 April 1915

Our men were thoroughly exhausted and their nerves shattered after 96 hours continuous fighting in the trenches with little or no sleep, the dreadful anxiety of not knowing how the battle was progressing, especially on our left, every night just before dark the enemy shelled our trenches and fired heavy bursts of rifle fire at our trenches which gave us the impression that they intended to rush our position , at no time during the 96 hours did their firing cease, although it raised in volume at times the fusillade was simply deafening but fortunately it did little damage for our men by this time were well dug in. The enemy on several occasions threatened to make a bayonet charge but our rifle and machine gun fire evidently prevented them from doing so. Our men behaved themselves splendidly.

War Diaries
All War Diaries cited on this site should be read in conjunction with the Australian Light Horse Studies Centre, AIF War Diaries of the Great War, Site Transcription Policy which may be accessed at:
Australian Light Horse Studies Centre, AIF War Diaries of the Great War, Site Transcription Policy
Further Reading:
The Battle of Anzac Cove, Gallipoli, 25 April 1915
The Battle of Anzac Cove, Gallipoli, 25 April 1915, 10th Infantry Battalion, Roll of Honour
The Battle of Anzac Cove, Gallipoli, 25 April 1915, 3rd Infantry Brigade, Roll of Honour
The Battle of Anzac Cove, Gallipoli, 25 April 1915, AIF, Roll of Honour
Battles where Australians fought, 1899-1920
---
Citation:
The Battle of Anzac Cove, Gallipoli, 25 April 1915, 10th Infantry Battalion War Diary
Posted by Project Leader at 12:01 AM EAST
Updated: Sunday, 11 April 2010 12:44 PM EADT