The Battle of Anzac Cove, Gallipoli, 25 April 1915, 11th Infantry Battalion War Diary
Topic: BatzG - Anzac
The Battle of Anzac Cove
Gallipoli, 25 April 1915
11th Infantry Battalion War Diary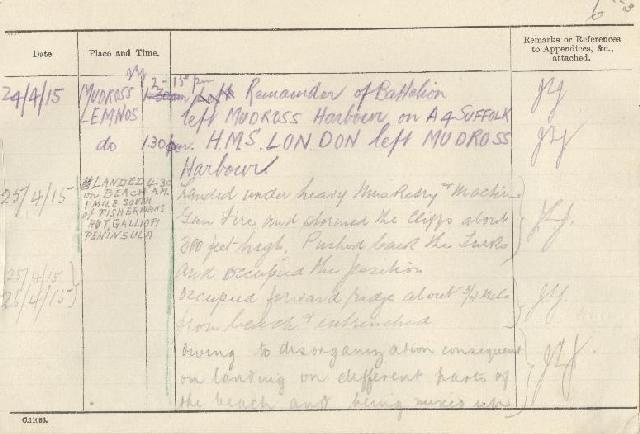 War Diary account of the 11th Infantry Battalion, AIF.
The following is a transcription of the War Diary of the 11th Infantry Battalion, AIF, of their role in the landings at Anzac on 25 April 1915.
24 April 1915

Mudros Lemnos

1.30 pm - HMS London left Mudros Harbour.

2.15 pm - Remainder of Battalion left Mudros Harbour on A4 "Suffolk".


25 April 1915

Landed on beach one (1) mile south of Fisherman's Hut, Gallipoli Peninsular.

4.30 am - Landed under heavy musketry and machine gun fire and stormed the cliffs about 200 feet high. Pushed back the Turks and occupied the position.

Occupied forward ridge about 3/4 mile from beach and entrenched.

Owing to disorganisation consequent on landing on different parts of the beach and being mixed with other units it was impossible to get the battalion together as the men were engaged in small parties right along the whole line of trenches.

Captain RW Annear was killed on the morning of the 25th whilst storming the cliffs.

During Sunday and Monday trenches were dug under heavy fire from the enemy but a line of defence was established.

Casualties were very heavy but it was impossible to ascertain the number as the mixed units were fully employed on the defensive works and could not be withdrawn.

War Diaries
All War Diaries cited on this site should be read in conjunction with the Australian Light Horse Studies Centre, AIF War Diaries of the Great War, Site Transcription Policy which may be accessed at:
Australian Light Horse Studies Centre, AIF War Diaries of the Great War, Site Transcription Policy
Further Reading:
The Battle of Anzac Cove, Gallipoli, 25 April 1915
The Battle of Anzac Cove, Gallipoli, 25 April 1915, 11th Infantry Battalion, Roll of Honour
The Battle of Anzac Cove, Gallipoli, 25 April 1915, 3rd Infantry Brigade, Roll of Honour
The Battle of Anzac Cove, Gallipoli, 25 April 1915, AIF, Roll of Honour
Battles where Australians fought, 1899-1920
---
Citation:
The Battle of Anzac Cove, Gallipoli, 25 April 1915, 11th Infantry Battalion War Diary
Posted by Project Leader at 12:01 AM EAST
Updated: Sunday, 11 April 2010 1:19 PM EADT