9th LHR AIF War Diary, August 10
Topic: AIF - 3B - 9 LHR
9th LHR, AIF
9th Light Horse Regiment
War Diary, 10 August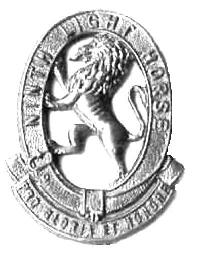 Pro Gloria et Honore - For Glory and Honour
Regimental March - Marching Through Georgia
The following entries are extracted and transcribed from the 9th Light Horse Regiment War Diary, the originals of which are held by the Australian War Memorial. There are 366 entries on this site. Each day has entries as they occurred from 1914 to 1919. In addition to the 9th Light Horse Regiment War Diary, when appropriate, entries from the 3rd Light Horse Brigade War Diary and other regiments with the Brigade will also appear. Entries from the unit history, Darley, TH,
With the Ninth Light Horse in the Great Wa
r, Adelaide, Hassell Press, 1924 will also appear from time to time. The aim is to give the broadest context to the story and allow the reader to follow the day to day activities of the regiment. If a relative happened to have served in the regiment during the Great War, then this provides a general framework in which the individual story may be told.
The Diary
1914
Monday, August 10, 1914

See 4th Military District, South Australia for militia activities.
1915
Tuesday, August 10, 1915

9th Light Horse Regiment Location - Walkers Ridge

9th Light Horse Regiment War Diary - Bursts of fire continued in support of troops on our left.

Carew Reynell Diary - After four days continuous scrapping there has been a lull today and both sides seem fairly tired. Our Brigade made an attack on the trenches in front of us at 0430 on the morning of the 7th. It failed and the 8th Regiment which found the first line was wiped out - all the officers on the spot with the exception of the 2nd in Command and a couple subalterns being killed or wounded, mostly the former. The Regiment lost 240 out of 400 and most of them were killed. The 10th Regiment were to follow but when the first line were cut down they remained on the edge of the trenches and although their casualties were heavy they were light in comparison. We were to cover the attack on the first trenches with fire and then to attack the trenches further off which was really the worst job of the lot, but owing to the first failing our attack of course never came off and we have got off with only 30 killed and wounded in four days. The former included Colonel Miell and the latter Captain Code and Lieutenant McLoughry.
The night previous to this attack the New Zealanders and the 4th Infantry Brigade and two British Brigades had moved up to the Sari Bair ridge from No. 3 Outpost but didn't succeed in establishing themselves on the top and in the four subsequent days they have had a devil of a lot of scrapping and still haven't got there. In the evening preceding our attack, that is 6 August, the 1st Australian Infantry Brigade assaulted and took the trenches in their front and have since repulsed several counter attacks and consolidated themselves and opened their communications with the rear. The Turks have counter attacked all our new front and we have been expecting a counter attack here but it hasn't come yet. The 1st Light Horse Brigade attacked from Pope's and Quinn's and gained four lines but were driven out and their losses were very heavy - nearly 50%. The 2nd Light Horse Brigade attacked German Officer's Trench and failed and lost heavily. Our left column had no continuous line to take of course and operated over rough country which favoured the attackers and they succeeded well but lost heavily, but now seem to have come to a full stop some 5 or 600 yards below the ridge.

In spite of everyone's exhaustion I hoped for another effort would have been made to gain the ridge while it was still comparatively unfortified and the Turks must be also very exhausted and have lost very heavily. Also they appeared to have run short of gun ammunition yesterday and were doing no shelling to speak of.

I am afraid they will be receiving more reinforcements than we and in time make their position impregnable as it is naturally very strong. If our attack had been properly arranged and carried out it should not have failed so egregiously. In the first place the artillery bombardment was a joke and such as it was not made in cooperation with the attack. There was just a desultory bombardment and then an attack. Moreover the attack in my opinion ought to have got into part of the trenches and when it was glued I felt so strongly that it could get forward that I reported to the Brigade Major that if he gave me authority to do so I would guarantee to get the trenches with the men of the 8th and the 10th that were there. However an order was sent to them to rush the trenches but the officers on the spot considered it impossible and they were withdrawn. I am inclined to think the attackers had not satisfactorily reconnoitred their objective as their direction was wrong. They were making too much of their right and thus obliquely passing the nearest part of the trench. However, owing to the lay of the ground the reconnaissance of the trenches was most difficult and I was only able to get the lay of them by taking bearings and measurements and plotting out a plan of them. After six weeks of influenza and dysentery I wasn't very fit when the attack started and trusted to excitement to keep me going. However after five very strenuous days and nights we are still in the trenches and haven't had a wash or our boots or any other clothing off and I am feeling very limp with a headache, neuralgia, sore throat, cold in head and chest and pant like grampus with the least exertion. I have had to five it best today and just lay in a dugout and am afraid I shall have to five it best altogether soon. However, I want to see this out and believe that we ought to make a supreme effort now and get on to Sari Bair - some where. However, I expect mental and physical weariness will win the day as usual and that the Turks will be given time to consolidate. Today at any rate has been very quiet.

By the way I forgot to mention that the main cause of failure of our Brigade's attack was machine gun fire - some men's legs were completely severed by this fire.

The distance to be covered was approximately 30 feet and the machine gun was 200 feet in the rear and above and on flank in front of trenches.

The 9th Corps have occupied ground on our Corps left but we don't know much of what they are doing yet.
1916
Thursday, August 10, 1916

9th Light Horse Regiment Location - Hod Hasanein

9th Light Horse Regiment War Diary - 0100 "B" Squadron ordered up to support 10th Light Horse Regiment and at 0200 the remainder of the Regiment moved out and remained in support for the day.

Everything quiet but Turks still in strength.

1800 Took over line from 10th Light Horse Regiment, "C" Squadron on right and "B" Squadron on left and "A" Squadron in reserve.

No movement of enemy during night.
1917
Friday, August 10, 1917

9th Light Horse Regiment Location - Tel el Marakeb

9th Light Horse Regiment War Diary - Second party for Port Said Rest Camp left under Parsons, Major HM.
Syllabus of Training for week ending 16 August 1917 issued.
1918
Saturday, August 10, 1918

9th Light Horse Regiment Location - Madhbeh

9th Light Horse Regiment War Diary - Sentences of the following promulgated.
Lindsay, 439 Shoeing Smith Corporal [temporary Farrier Sergeant] B, 9th Light Horse Regiment who was charged with: "When on Active Service, absenting himself without leave." The Court found the accused "Guilty" and sentenced him to revert to substantive rank of Shoeing Smith Corporal.

Waldon, 827 Lance Corporal [Temporary Corporal] JW, 9th Light Horse Regiment who was charged with: "When on Active Service, absenting himself without leave." The Court found the accused "Guilty" and sentenced him to Temporary rank of Corporal.

Virgo, 916 Sergeant [Temporary Staff Sergeant Major] RA, 9th Light Horse Regiment who was charged with: "When on Active Service, absenting himself without leave." The Court found the accused "Guilty" and sentenced him to revert to the substantive rank of Sergeant.

General Officer in Command Brigade sent a letter of appreciation of work carried out by Lane, Lieutenant BGB.

1400 Regimental Order No 5 issued.

1930 Regiment moved out to F Section Defence to relieve 8th Light Horse Regiment as garrison. Relief completed by 2200. Led Horses under Ragless, Captain BB, returned to 3rd Brigade Led Horse Camp, Wadi Nueiameh.

3rd Light Horse Brigade War Diary - On 10th August No. 4 sub sector was added to command of General Officer in Command 3rd Light Horse Brigade. 1st Battalion, British West Indies Regiment took over the garrison from 9th and 10th Light Horse Regiments in F and G sections on night 13th August 1918.

9th Light Horse Regiment to Ain Ed Duk and 10th Light Horse Regiment to cover of high ground south west of El Madhbeh ridge as supports and 8th Light Horse Regiment as sector reserve.

The relief of the sub sector caused increased movement in the area and enemy - artillery was active day and night. El Musallabeh received special attention from enemy guns, but the trenches and dugouts of this position were so prepared that artillery effect was very slight.

The troops had been called upon for continuous night digging as well as for the garrisoning of the defences. The dust and heat was still great with temperatures averaging from 108 to 117 degrees Fahrenheit. From casualties and sickness the strength of all units of the Brigade was now considerably reduced.
1919
Sunday, August 10, 1919

9th Light Horse Regiment Location - Adelaide

9th Light Horse Regiment War Diary - 0900 All available original members of the Regiment were mustered on the forecastle and photographed. Total 39.

Pulled into wharf, Outer Harbour, Adelaide and commenced disembarking at about 1100.
There was a large crowd of welcomers including the State Commandant, Antill, Brigadier General JM, - one time General Officer in Command 3rd Light Horse Brigade. A band also helped proceedings.

1300 Disembarkation completed. Total disembarked 14 Officers 309 Other Ranks.
This leaves Parsons, Major HM; and, Darley, Major TH [Ship's Staff] to return on completion of duty in Eastern Ports. Two Officers 36 Other Ranks for repatriation in Victoria, three Other Ranks in NSW, and two Other Ranks in Queensland.
Leave was granted to all ranks of 4th Military District until 0900 following morning - Rendezvous at the Cheer Up Hut, Adelaide.
In evening "Welcome Home" by the Cheer Up Society and by the Women of the 9th and 11th Light Horse Regimental Club and St Peters 9th Light Horse Regiment Trench Comforts Fund, were well attended and very much appreciated.
Previous: 9th LHR AIF War Diary, 9 August
Next: 9th LHR AIF War Diary, 11 August
Sources:
See: 9th Australian Light Horse Regiment, Contents
Australian Light Horse Studies Centre, AIF War Diaries of the Great War, Site Transcription Policy

Further Reading:
9th Australian Light Horse Regiment, Roll of Honour
Battles where Australians fought, 1899-1920
---
Citation:
9th LHR AIF War Diary, 10 August
Posted by Project Leader at 12:01 AM EADT
Updated: Wednesday, 15 September 2010 10:22 PM EADT