"Bushie" and Battye
Topic: BW - NSW - NSWCBC
The story of "Bushie" and Battye.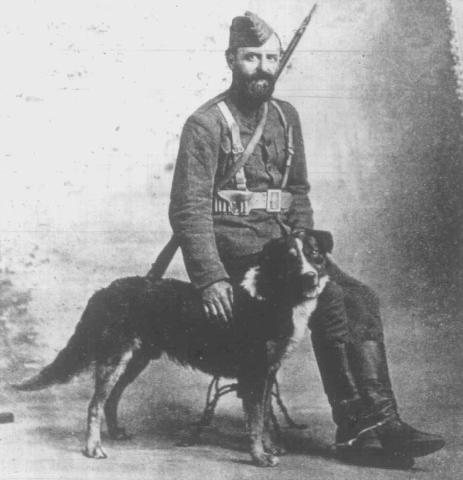 "Bushie" and Battye.
[Click on picture for larger version.]
The mutual affection that exists between a bushman and his dog is well known. Recognising this, the Animals' Protection Society decided to present to the Bushmen going to South Africa a contingent dog. On the advice of the President of the Kennel Club, a useful and companionable canine belonging to Mr. Chiplin, of Wentworth Falls, was selected. Last week in the Chief Justice Chambers the ceremony of christening the dog was performed by the Lieutenant Governor. Sir Frederick Darley said: "He is a very beautiful dog and I wish him a hearty return from South Africa I name him Bushie." Our picture represents "Bushie" and his custodian, Mr. A. Battye. Mr. F. Montague Bothery, Secretary of the Animal's' Protection Society, has been looking after the dog in Sydney. He informs us that it was intended to present to Her Majesty the Queen a photograph enlarged from that from which our illustration was taken. Photo by Grouzelle, 308 George Street, Sydney.

(Sydney Mail, 3 March 1900, p. 515.)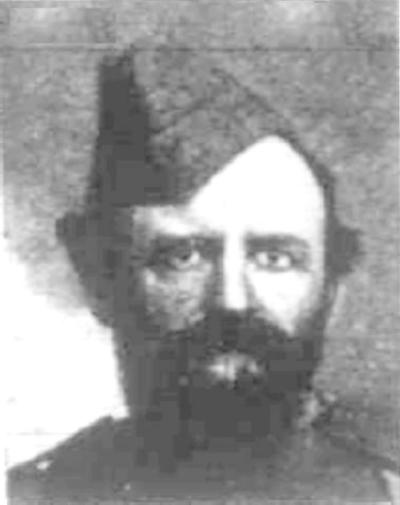 Here is what Murray says about Battye:
Arthur Frederick Battye
Number: 342
Rank: Trooper
Unit: NSW CITIZENS' BUSHMEN
State: NSW
Murray page number: 81
Notes: Invalided, Australia, 26/10/1900

Arthur Frederick Battye [b. 1845; d. 1924] married Susan Goodwin [b. 1847; d. 1914] at Forbes, 1869. They had 3 children.

Arthur EM Battye: b. 1869
Charles Herbert Battye: b. 1871
Leslie Norman Battye: b. 1875

He enlisted in the New South Wales Citizens' Bushmen January 1900 in the embarked from Sydney on the SS Atlantian, 1 March 1900. For the near utopian 2/3d per day he was given the task to keeping "Bushie" in good condition. After service in South Africa he was invalided back to Australia on 26 October 1900.

"Bushie" ended up with the King enjoying a rich retirement as a pet of the Royal Kennels. He also made it on a few post cards.
---
Citation:
"Bushie" and Battye
Posted by Project Leader at 12:01 AM EAST
Updated: Tuesday, 11 May 2010 9:20 PM EADT