New South Wales Citizens Bushmans Contingent (NSWCBC), Roll of Honour, Edward Brown Chesher
Topic: BW - NSW - NSWCBC
New South Wales Citizens Bushmans Contingent (NSWCBC)
Roll of Honour
Edward Brown Chesher
Edward Brown Chesher's name on the Roll of Honour, Australian War Memorial
Edward Brown Chesher
Service number: 333
Rank: Lance Corporal [L/Cpl]
Unit: NSW Citizens Bushmen, "C" Squadron
Service: Colonial Military Forces
Conflict: South Africa, 1899-1902
Date of death: 2 September 1900
Place of death: Kaneel Poort
Cause of death: Killed
Source: AWM142 Roll of Honour cards, War in South Africa, 1899-1902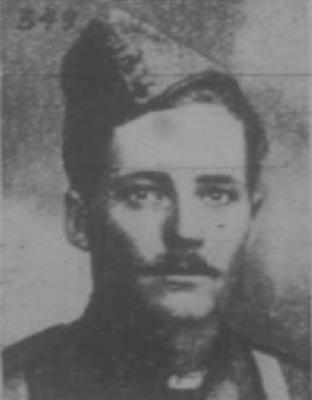 Edward Brown Chesher
[Sydney Mail, March 1900]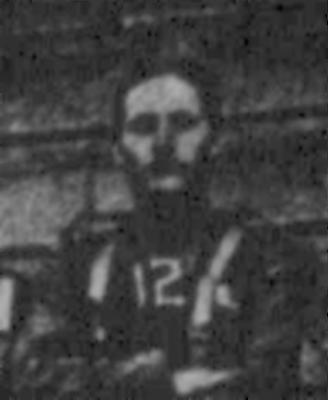 Edward Brown Chesher
[Town & Country, March 1900]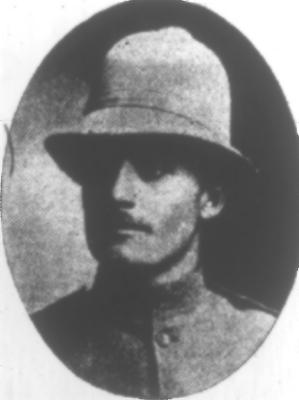 Edward Brown Chesher
[Town & Country, December 1900]
A brief military biography of Edward Brown Chesher
Regimental number
333
Religion
Church of England
Occupation
Farm Labourer

Address
Eugowra Springs, NSW

Marital status
Single
Date of Birth
3 June 1879

Age at embarkation
21
Next of kin
Father, Donald Chesher (1844 - 13 October 1908), Eugowra Springs, NSW
Other Family

Mother:
Isabel Mary neé Anderson (1850 - 13 February 1887)

Siblings:
Donald Chesher, born 14 November 1872 at Abercrombie River, Oberon NSW, Reg. Hartley, Certificate No. 11748, (D. 25 May 1910).
George Chesher, born 17 June 1874 at Trunkey Creek NSW, Reg. Hartley, Certificate No. 12195, (D. July 1942).
Annie Chesher, born 1876 at Eugowra, Reg. Molong, Certificate No. 14827, (D. 25 November 1940).
Christina Chesher, born 1877 at Eugowra, Reg. Molong, Certificate No. 15329, (D. 24 April 1919).
Edward Brown Chesher, born 3 June 1879 at Eugowra Springs, Reg. Molong, Certificate No. 17420, (D. 2 September 1900).
Arthur P Chesher, born 1881 at Eugowra, Reg. Forbes, Certificate No. 15033, (D. 1882).
Richard F Chesher, born 1883 at Eugowra, Reg. Forbes, Certificate No. 17129, (D. 1940).
John Douglas Chesher, born 1884 at Eugowra, Reg. Forbes, Certificate No. 18829, (D. 1969).
William M Chesher, born 1886 at Eugowra, Reg. Forbes, Certificate No. 20351, (D. 1886).

Enlistment date
February 1900

Rank on enlistment
Trooper
Unit name
NSW Citizens' Bushmen, "C" Squadron

Murray Reference
Murray page number - 81
Embarkation details
Unit embarked from Sydney, NSW, on board Atlantian on 28 February 1900
Final Rank
Lance Corporal
Unit
NSW Citizens' Bushmen
Fate
Died of Wounds, 2 September 1900

Burial
Badly wounded and captured by Boers during ambush at Elands River, 2 September 1900. Boer report of 22 September 1900 that Chesher died of wounds. Place of burial unknown. Memorialised at Petronella, 14 kms north of Pretoria, South Africa

Notification of Chesher's capture.

[Town & Country, September 1900]
Obituary in a local (unknown) newspaper.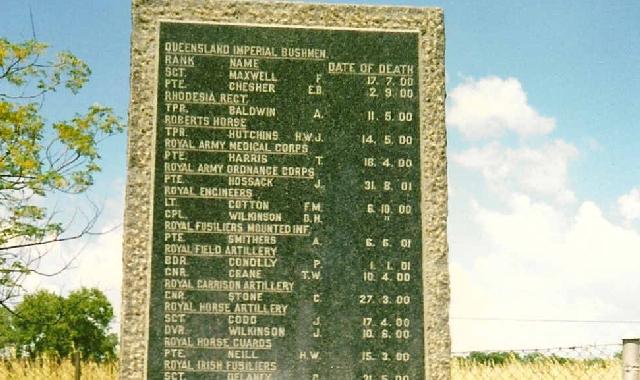 Under the African skies, the Petronella Boer War Memorial

[Chesher's name is third from the top although incorrectly listed with the Queensland Imperial Bushmen.]
Acknowledgement: Many thanks are given to Helen Reichenbach who has generously made available photographs, newspaper articles and other information about Edward Brown Chesher for this site.
Further Reading:
New South Wales Citizens Bushmans Contingent (NSWCBC)
---
Citation:
New South Wales Citizens Bushmans Contingent (NSWCBC), Roll of Honour, Edward Brown Chesher
Posted by Project Leader at 12:01 AM EAST
Updated: Monday, 10 May 2010 10:44 PM EADT