The Battle of Anzac Cove, Gallipoli, 25 April 1915, 2nd Infantry Brigade Landing Map
Topic: BatzG - Anzac
The Battle of Anzac Cove
Gallipoli, 25 April 1915
2nd Infantry Brigade Landing Map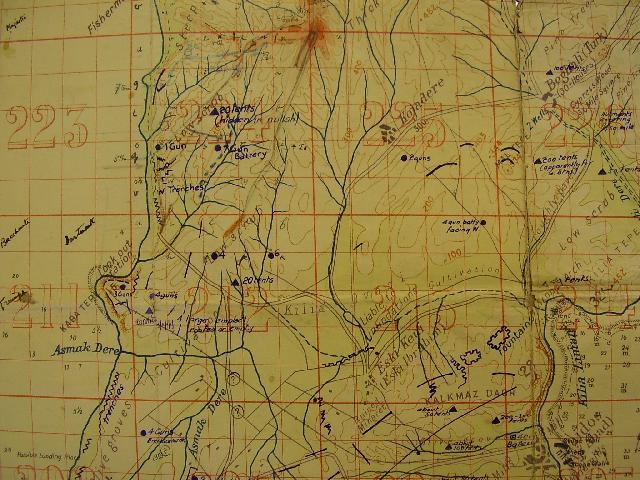 2nd Infantry Brigade Landing Map
[Click on map for larger version.]

The following map was prepared for CEW Bean by utilising the original map issued to the officers prior to landing. All references in the War Diaries of regarding the landings on 25 April 1915 refer specifically to this edition of the Gallipoli map.
The map section included here details the Turkish defences faced by the troops as they disembarked and went ashore on that morning. Displayed are the defences from Maidos to Anzac Cove, which gives a fair idea of the difficulties faced by the invading Australian force.
This particular map displays the routes taken by both the 5th Battalion and 7th Battalion on landing. It also places the Headquarters of the 2nd Infantry Brigade located in Square 224. Grid references have been inserted by hand for Bean to allow him to follow the movements of this Brigade as it unfolded on the day.
While the above map appears small, the larger version is on a separate sheet which may be accessed by clicking the mouse on the map.
Further Reading:
The Battle of Anzac Cove, Gallipoli, 25 April 1915
The Battle of Anzac Cove, Gallipoli, 25 April 1915, 2nd Infantry Brigade, Roll of Honour
The Battle of Anzac Cove, Gallipoli, 25 April 1915, AIF, Roll of Honour
Battles where Australians fought, 1899-1920
---
Citation:
The Battle of Anzac Cove, Gallipoli, 25 April 1915, 2nd Infantry Brigade Landing Map
Posted by Project Leader at 12:01 AM EADT
Updated: Thursday, 8 April 2010 12:14 PM EADT