Square Dinkum Tuker!
Topic: Egypt - Heliopolis
Australian Glory Cafe
Square Dinkum Tuker!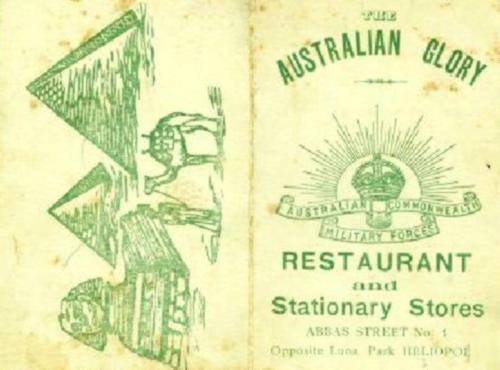 Australian Glory Cafe
Many Light Horsemen were based at Heliopolis Race Course from March 1915. Heliopolis was a satellite town to the east of Cairo and built as an investment by a Belgium consortium. It was quite stylish and designed to rival Monte Carlo with hotels and a casino. Sadly for the consortium, they did not have the right amount of money to bribe the Khedive and so the licence for the casino was never granted. The result was a very expensive but under utilised area which made a massive loss for the investors. That is, until the war. Then all the facilities were hired and everyone made money again.
Apart from all the princely buildings catering for the rich and famous, many local Egyptian traders set up to cater for the six bob a day tourists. One such cafe was the Australian Glory Cafe. Below is a copy of its menu.
The address at 1 Abbas Street, Heliopolis, opposite Luna Park, indicates that it was just over the road from the Race Course and within handy walking distance to the troops stationed there.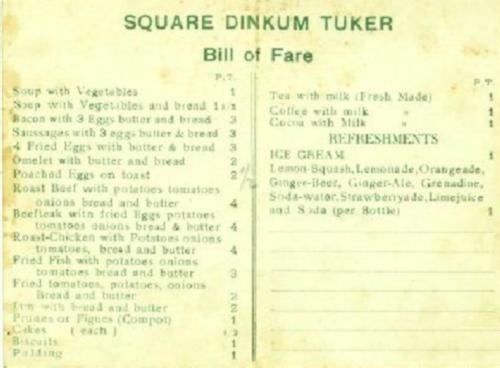 The Bill of Fare
Fair dinkum, it's Square Dinkum Tuker. The Bill of Fare reads like that of any Australian cafe of the period that was run by an Egyptian. To gain an appreciation of prices in AUD 2008 terms, 6 Piasters equalled 1 shilling and 1 penny was equal to about $1.70. So a piaster was the equivalent of AUD $3.40 in 2008 terms. The prices are about what would be paid for similar dishes in a similar style restaurant today. However, one would wonder on the number of places that serve jam with bread and butter and charge $6.80 for the treat.
Further Reading:
---
Citation:
Square Dinkum Tuker!
Posted by Project Leader at 12:34 PM EADT
Updated: Friday, 24 July 2009 1:59 PM EADT