Kaiser Kalendar for 1915
Topic: Gen - Australia
In any war, personalising the responsibility of the action relating to the foe is part of the propaganda output. Lampooning the Kaiser was an artform vigorously participated in by all antagonists. For the new year of 1915, a calendar was made available to remind everyone that the Kaiser was a madman.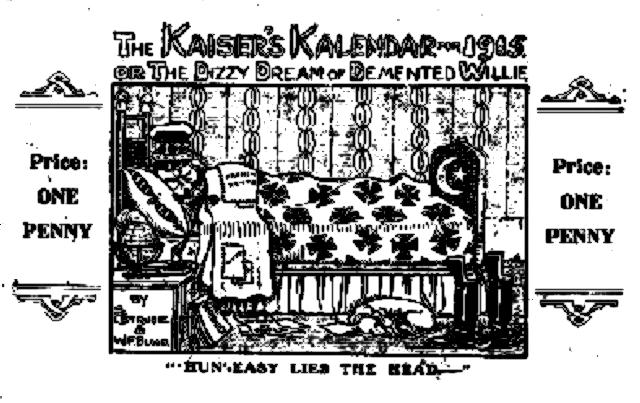 The Dizzy Dream of Demented Willy
This was the type of material available. For Australians at the beginning of 1915, casualties were not an issue. It was simple to lampoon the Kaiser as there was no national bitterness attached to the name. After the Somme in 1916, this all changed. The Kaiser was then portrayed as an ogre with the blood of innocents dripping from his hands. But that was yet to come. At this moment, war was still a big game.
---
Citation:
Kaiser Kalendar for 1915
Posted by Project Leader at 9:15 PM EADT
Updated: Wednesday, 16 July 2008 9:27 PM EADT