Encampment near Romani, August 1916
Topic: BatzS - Romani

Aerial surveillance was in its infancy although by the time the Battle of Romani began, the techniques were quite sophisticated with excellent fast lenses and film to allow the capture of quality terrain photographs. Below is an example.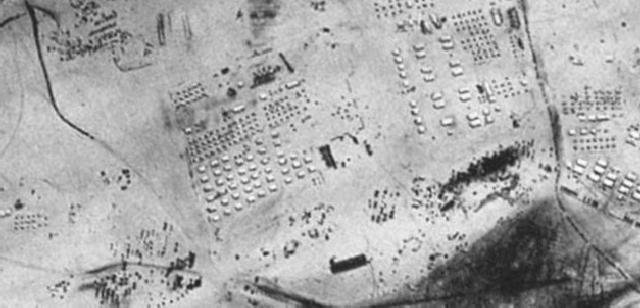 Allied encampment near Romani, August 1916
Counting the probable number of soldiers in the camp then becomes a matter of simple arithmetic. The bell tents usually hold 8 men, the smaller oblong tents hold about 16-20 men while the larger tents, up to 32 men. A quick survey indicates about two brigades of light horse or one brigade of infantry. The lack of horse lines is explained by the large horse stables at the edges of the encampments. This is the analysis that intelligence staff conducted when examining pictures of Ottoman dispositions.
---
Citation: Encampment near Romani, August 1916
Posted by Project Leader at 6:57 PM EADT
Updated: Thursday, 17 July 2008 7:01 PM EADT