Official map of the Beersheba Charge
Topic: BatzP - Beersheba
Below is the Official Map detailing the organisation of the 4th Light Horse Brigade prior to making the famous charge. The map was produced by the cartographic section of the Egyptian Expeditionary Force in Cairo.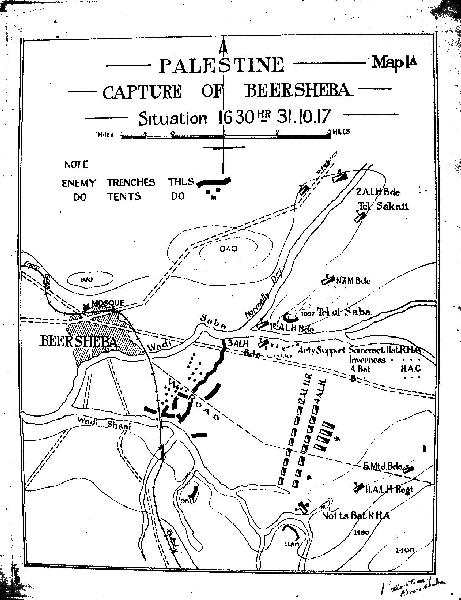 Official map of the Beersheba Charge
[Click on map for a larger version.]
The interesting item information in this map is the arrangements of the regiments in the charge formation. The 12th LHR is line abreast in the front line followed by the 4th LHR and then the Brigade support services of the Field Ambulance and Machine Gun Squadron. The good thing about this map is the display of topography which is accurate.
Students of history would know that the formation of the regiments is totally at odds with the post battle reports in the various formation War Diaries and more importantly, it bears little similarity to the Massie Map located at:
Hand draw map of the 4th LHB prior to charging into Beersheba, 31 October 1917
As with the Massie Map, the charge lines were formed in the shadows of Tel el Saba.
---
Citation:
Official map of the Beersheba Charge
Posted by Project Leader at 5:29 PM EADT
Updated: Saturday, 19 July 2008 5:32 PM EADT