Australian Army Service Corps (AASC), Walter John Watson's Letter
Topic: AIF - AASC
AASC
Australian Army Service Corps
Walter John Watson's Letter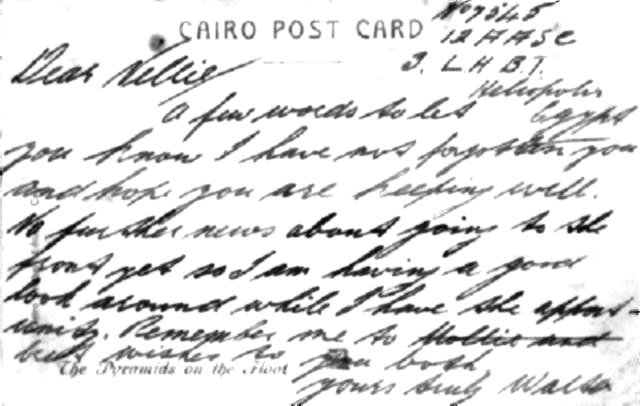 Post card sent by Walter John Watson
7545 Driver Walter John Watson
While in Egypt as part of the 12 Company Australian Army Service Corps, and allotted to the 3rd Light Horse Brigade Train, 7545 Driver Walter John Watson sent this hand coloured post card to a female friend in Australia by the name of Nellie who has a friend called Mollie.
The letter reads:
"Dear Nellie,

A few words to let you know I have not forgotten you and hope you are keeping well. No further news about going to the front yet so I am having a good look around while I have the opportunity. Remember me to Mollie and best wishes to you both.

Yours truely Walter"
7545 Driver Walter John Watson originally saw two years service prior to the Great War as a member of the 48th (Kooyong) Infantry Regiment. He enlisted on 10 July 1915 and embarked for Egypt later that year as part of the AASC. While the 3rd Light Horse Brigade was at Gallipoli, the Details Camp remained at Helioplis where Watson arrived. After the evacuation of Gallipoli, the Australian and New Zealand forces were re-organised for transfer to France. The bulk of Light Horse reinforcements at the time were transferred into mainly artillery formations although a few went into the infantry. Watson went to France and finally ended up as a driver with the 4th Field Artillery Brigade. His war ended early with a double hernia caused by war service which resulted in him being repatriated to Australia on 12 May 1918.
Further Reading:
Australian Army Service Corps (AASC), Roll of Honour
Battles where Australians fought, 1899-1920
---
Citation:
Australian Army Service Corps (AASC), Walter John Watson's Letter
Posted by Project Leader at 11:32 AM EADT
Updated: Wednesday, 9 March 2011 2:40 PM EAST