5th Australian Light Horse Regiment, AIF, 284 Trooper David Laing Clark
Topic: AIF - 2B - 5 LHR
5th LHR, AIF

5th Australian Light Horse Regiment
284 Trooper David Laing Clark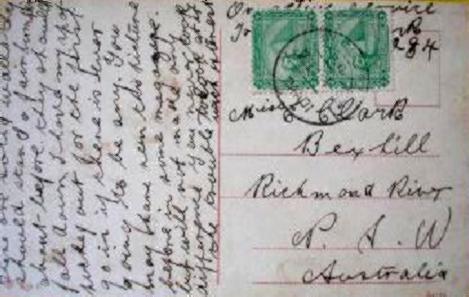 David Laing Clark's post card to his sister, Miss E Clark.
The letter written by David Laing Clark on the post card reads:
"These are solid walls they should stand a fair bumping about before they should fall down I have my spot marked out for the first go in if there is ever going to be any. You may have seen this picture before in some magazine but will not make any difference you never took the trouble to look at it with interest."
The card uses some very interesting expressions. "Bumping" seems to imply some form of artillery fire which would explain why he has a spot marked out for himself.
284 Trooper David Laing Clark, a dairy farmer from Bexhill, NSW enlisted in the 5th Australian Light Horse Regiment, "B" Squadron, on 20 October 1914. During the war he was promoted to Driver. He returned to Australia on 23 December 1918. His brother was Oliver George Clark who served with the 9th Field Artillery Brigade.
The following is a brief military biographical outline of 284 Trooper David Laing Clark.
| | |
| --- | --- |
| Regimental number | 284 |
| Religion | Presbyterian |
| Occupation | Dairy farmer |
| Address | Bexhill, Richmond River, New South Wales |
| Marital status | Single |
| Age at embarkation | 23 |
| Next of kin | Father, D Clark, Bexhill, Richmond River, New South Wales |
| Enlistment date | 20 October 1914 |
| Rank on enlistment | Private |
| Unit name | 5th Australian Light Horse Regiment, "B" Squadron |
| AWM Embarkation Roll number | 10/10/1 |
| Embarkation details | Unit embarked from Sydney, New South Wales on board HMAT A34 Persic 21 December 1914 |
| Rank from Nominal Roll | Driver |
| Unit from Nominal Roll | 5th Light Horse Regiment |
| Fate | Returned to Australia 23 December 191 |
Further Reading:
5th Australian Light Horse Regiment, AIF
5th Australian Light Horse Regiment, Roll of Honour
Battles where Australians fought, 1899-1920
---
Citation:
5th Australian Light Horse Regiment, AIF, 284 Trooper David Laing Clark
Posted by Project Leader at 11:34 AM EADT
Updated: Monday, 8 March 2010 8:07 PM EAST