Major Alexander Malius Lafone Victoria Cross Citation
Topic: BatzP - El Buggar
The Battle of El Buqqar Ridge, 27 October 1917
Major Alexander Malius "Laffy" Lafone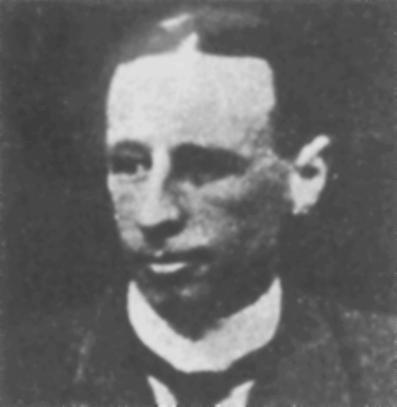 Major Alexander Malius "Laffy" Lafone

Major Alexander Malius "Laffy" Lafone was born on 19 August 1870 and died on 27 October 1917 at El Buggar Ridge.
The following notes are extracted from the Lafone entry in the Dulwich College Old Alleynians site:
While at Dulwich he played in the 3rd XV 1888-89 and 3rd XI 1888 and 1889. He trained as an engineer when he left and joined a firm in Gainsborough, before going out to Assam as an assistant manager on the Jokai Tea Estate in 1894. After three years he returned to London to work in his father's firm on Butler's Wharf. He fought in the South African War in various regiments, was invalided in 1901 and ended as a Lieutenant in the Hertfordshire Yeomanry. He then stayed on in Africa working for the Colonial Office as an Assistant Resident in Northern Nigeria. Recurrent attacks of fever forced him back to England where he worked for F A Roberts and Co., and kept up his connections with the Army. On the outbreak of the First World War he was a Major in the Middlesex Yeomanry, he sailed for Egypt with the London Mounted Brigade as commander of 'B' Squadron on the Suez Canal. He saw action in the Sinai desert and then during the great advance on Palestine, he showed enduring bravery and paid the ultimate price, winning the highest of all honours.
One of the best personal anecdotes about Major Lafone comes from the book by S. F. Hatton called The Yarn of a Yeoman, which was published by Hutchinson in London, 1930. The story is at p. 155:
And now to 720 - the post held by "B" Squadron under Major Lafone; but a word first of the Major " Laffy" always had that peculiar mannerism, possessed, I believe, in common with the Prince of Wales of fidgeting with his tie. He was exceptionally fond of his men and withal possessed a rather dry sense of humour. I remember on one occasion a new officer rather fancying " his weight'' had gone into "B" Squadron mess-hut at Geneffa and in a high-falutin modern-mannered voice had called, "Any complaey-ents." The tone of his voice struck the troopers as so affected, that they promptly gave him the "bird," "blew him out one," "cut him off a slice of cake," or "gave him a raspberry" - whichever expression you prefer. "Laffy" had ordered two or three offending ones before him and, after remonstrating fairly mildly, had finished up by saying : "You know, I really can't have my junior officers presented with the Order of the Royal Richard."
For his heroism, Major Lafone was recommended and received a posthumous Victoria Cross. Below is the gazetted citation:
Extract from the London Gazette, 14 December 1917 No. 30433, p.13222.

Maj. Alexander Malius Lafone, late Yeo. For most conspicuous bravery, leadership and self-sacrifice when holding a position for over seven hours against vastly superior enemy forces. All this time the enemy were shelling his position heavily, making it very difficult to see. In one attack, when the enemy cavalry charged his flank, he drove them back with heavy losses. In another charge they left fifteen casualties within twenty yards of his trench, one man, who reached the trench, being bayoneted by Maj. Lafone himself.

When all his men, with the exception of three, had been hit and the trench which he was holding was so full of wounded that it was difficult to move and fire, he ordered those who could walk to move to a trench slightly in the rear, and from his own position maintained a most heroic resistance. When finally surrounded and charged by the enemy, he stepped into the open and continued the fight until he was mortally wounded and fell unconscious. His cheerfulness and courage were a splendid inspiration to his men, and by his leadership and devotion he was enabled to maintain his position, which he had been ordered to hold at all costs.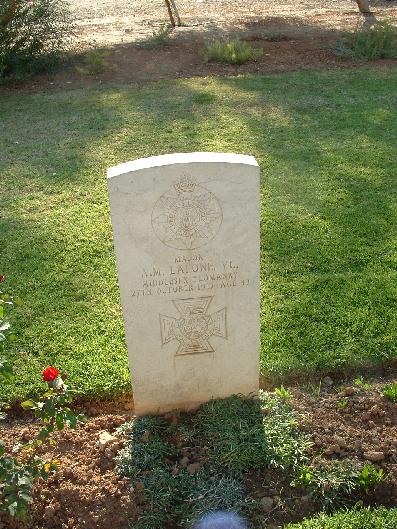 Major Alexander Malius Lafone's grave at Beersheba Cemetery
Photograph by courtesy of Gal Shane
[Click on picture for larger version.]
Further Reading:
Battles where Australians fought, 1899-1920
The Battle of El Buqqar (Buggar) Ridge, 27 October 1917
---
Citation:
Major Alexander Malius Lafone Victoria Cross Citation
Posted by Project Leader at 12:38 PM EADT
Updated: Saturday, 11 July 2009 11:12 PM EADT