Diaries of AIF Servicemen, Bert Schramm, 2 June 1918
Topic: Diary - Schramm
Diaries of AIF Servicemen
Bert Schramm
2 June 1918

Bert Schramm
Bert Schramm
2823 Private Herbert Leslie SCHRAMM, a 22 year old Farmer from Whites River, South Australia. He enlisted on 17 February 1916; and at the conclusion of the war Returned to Australia, 10 July 1919.
During part of the course of his military service with the AIF, Bert Schramm kept a diary of his life. Bert was not a man of letters so this diary was produced with great effort on his behalf. Bert made a promise to his sweetheart, Lucy Solley, that he would do so after he received the blank pocket notebook wherein these entries are found. As a Brigade Scout since September 1918, he took a lead part in the September Offensive by the Allied forces in Palestine. Bert's diary entries are placed alongside those of the 9th Light Horse Regiment to which he belonged and to the 3rd Light Horse Brigade to which the 9th LHR was attached. On this basis we can follow Bert in the context of his formation.
The Diaries
The complete diary is now available on the Australian Light Horse Studies Centre Site at:
Finding more about a service person. See: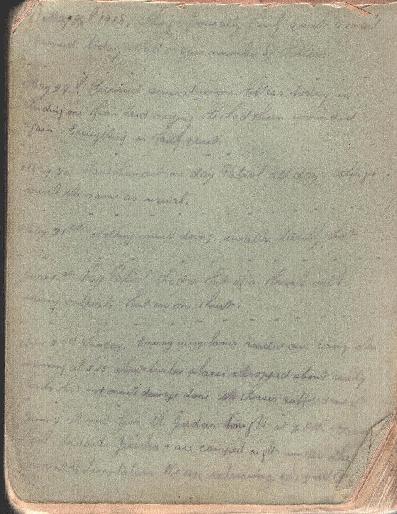 Bert Schramm's Handwritten Diary, 28 May - 3 June 1918
[Click on page for a larger print version.]
Bert Schramm's Diary
Sunday, June 2, 1918

Bert Schramm's Location - Auja bridgehead defences, Jordan River

Bert Schramm's Diary - Sun. Enemy aeroplanes raided one camp this morning at 5.15. About twelve planes dropped about sixty bombs but not much damage done. No losses suffered.
9th Light Horse Regiment War Diary
9th Light Horse Regiment Location - Auja bridgehead defences, Jordan River

9th Light Horse Regiment War Diary - 0520 from 12 to 15 enemy aeroplanes raided the Brigade area. They were flying at an altitude of from 800 to 1200 feet and were able to take advantage of thick low hanging clouds.

All ranks were immediately ordered to take shelter in bomb pits, a full complement of which had been constructed two days previously. Each pit was five feet deep 11/2 yard wide and accommodated two men.

Four Hotchkiss rifles specially mounted on sticks were immediately brought into action against the aeroplanes. The two B Squadron guns fired 500 rounds before the first bomb dropped. About 100 mostly 15lb bombs were dropped in the Brigade area. The Brigade units were fairly close and presented a fair target. The aeroplanes kept circling round and took deliberate aim for each bomb and when the bombs were finished they machine gunned the lines. The brigade casualties in personnel were very light. Total eight wounded. Horses total 102 killed and wounded. The regiments casualties were two Other Ranks wounded. Animals killed three rides wounded ten rides one pack. Raid lasted for 1/4 hour.

Just prior to the raid the Brigade anti malarial party had concentrated at 9th Light Horse Regimental Headquarters. These offered a good target but scattered quickly before any bombs fell. The bomb pits undoubtedly saved many casualties. Two Other Ranks wounded in Regiment were men who did not get into pits when ordered.

Orders received that 3rd Light Horse Brigade would take over No. 4 sub sector from 2nd Light Horse Brigade.
3rd Light Horse Brigade War Diary -
At 0530, 2nd June 1918, the enemy with two machines carried out a severe bombing raid and heavy casualties to horses, mules and donkeys were suffered, but by immediate occupation of the short trenches, comparatively light casualties to personnel. The casualties in the Brigade were: -

Personnel, ten other ranks.

Animals, 103.

The heat of the Jordan valley had now become intense and the dusty conditions were very trying. Cases of malaria began to appear.

During this period of garrison of the Auja bridgehead, a great amount of work was carried out and the defences were considerably improved and strengthened. Close contact with the enemy was maintained day and night. Much valuable information of the enemy was gained and many prisoners taken by our patrols.
Darley
Darley, TH, With the Ninth Light Horse in the Great War, Adelaide, Hassell Press, 1924.

No Entry.

Previous: Bert Schramm's Diary, 1 June 1918
Next: Bert Schramm's Diary, 3 June 1918
Sources Used:
Bert Schramm's Diary


National Archives Service File.

Embarkation Roll, AWM8.

Australian War Memorial Roll of Honour

Nominal Roll, AWM133, Nominal Roll of Australian Imperial Force who left Australia for service abroad, 1914-1918 War.
War Diaries and Letters

All War Diaries and letters cited on this site should be read in conjunction with the Australian Light Horse Studies Centre, War Diaries and Letters, Site Transcription Policy which may be accessed at:
Australian Light Horse Studies Centre, War Diaries and Letters, Site Transcription Policy
Further Reading:
9th Australian Light Horse Regiment, AIF
9th Australian Light Horse Regiment, War Diary, Day by Day Account
Battles where Australians fought, 1899-1920
---
Citation: Diaries of AIF Servicemen, Bert Schramm, 2 June 1918
Posted by Project Leader at 1:01 AM EADT
Updated: Saturday, 28 May 2011 4:48 PM EADT