Australian Light Horse Regiments, AIF, Full Marching Order Kit
Topic: AIF - Lighthorse
Australian Light Horse Regiments, AIF
Full Marching Order Kit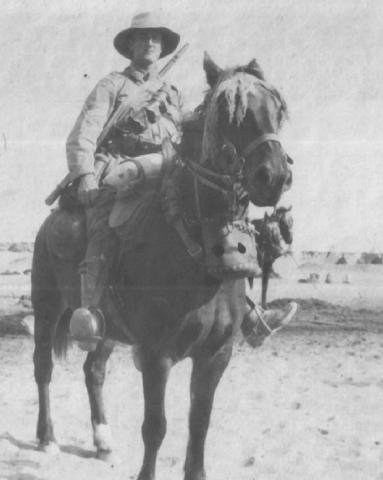 9th Light Horse Trooper in full Marching Order

The following Marching Order was adopted throughout the Australian Light Horse from March 1917.
FULL MARCHING ORDER - MOUNTED

On the Horse
Horse neck

Head Rope or Chain.


Muzzle.

Built up Rope.

Spare Bandolier. (90 rounds)



Saddle front

Wallets.


Sandbag (2 feeds).

Great Coat.

Oil Sheet.

Near Side.


Shoe Case (2 spare shoes)

Wire Cutters (on shoe case)

Mess Tin (on cantle of sddle)

Water Bucket (covering Mess tin & tied to cantle).


Off Side.


Nose Bag (one feed) tied short to Crupper D.)


Sursingle pad underneath on sursingle.


Body or Dandy Brush in Water Bucket.


Underneath


Horse Blanket - folded small


Sleeping Blanket - folded small



On the Man
Haversack - Left side, both straps under waist belt.

Water bottle - High up under right am with strap over both shoulders.

Field Dressing - Service jacket, in inside pocket. Drill jacket, pinned with safety-pin in improvised pocket as in Service jacket.

Belt Pouches - To the front.
Previous: Australian Light Horse Regiments, AIF, Marching or Service Order Field Kit
Next:
Further Reading:
The Australian Light Horse, AIF, Contents
---
Citation:
Australian Light Horse Regiments, AIF, Full Marching Order Kit
Posted by Project Leader at 12:01 AM EADT
Updated: Wednesday, 1 July 2009 10:39 AM EADT