9th LHR AIF War Diary, 8 June
Topic: AIF - 3B - 9 LHR
9th LHR, AIF
9th Light Horse Regiment

War Diary, 8 June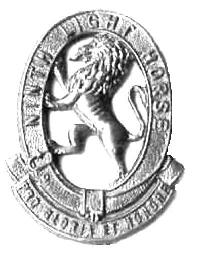 Pro Gloria et Honore - For Glory and Honour
Regimental March - Marching Through Georgia
The following entries are extracted and transcribed from the 9th Light Horse Regiment War Diary, the originals of which are held by the Australian War Memorial. There are 366 entries on this site. Each day has entries as they occurred from 1914 to 1919. In addition to the 9th Light Horse Regiment War Diary, when appropriate, entries from the 3rd Light Horse Brigade War Diary and other regiments with the Brigade will also appear. Entries from the unit history, Darley, TH,
With the Ninth Light Horse in the Great Wa
r, Adelaide, Hassell Press, 1924 will also appear from time to time. The aim is to give the broadest context to the story and allow the reader to follow the day to day activities of the regiment. If a relative happened to have served in the regiment during the Great War, then this provides a general framework in which the individual story may be told.
The Diary
1914
Monday, June 8, 1914

See 4th Military District, South Australia for militia activities.
1915
Tuesday, June 8, 1915
9th Light Horse Regiment Location - Walkers Ridge

9th Light Horse Regiment War Diary - No entry.

3rd Light Horse Brigade War Diary - Casualties: 8th Light Horse Regiment, one wounded; 9th Light Horse Regiment, Lieutenant Colonel Miell and four men wounded; Signals Troop, one man wounded. Made careful inspection of trenches to strengthen fire T Sector. Enemy strenuously strengthening positions to immediate front and left. W Gun has not fired in two days - apparently moved. Howitzer at Brigade Headquarters from new position shelled Turk gun moving behind T Trenches sector. Bombs thrown in our trenches at night.
Issued instruction regarding the maintenance of lines which are very dirty.
Lieutenant Collins and six men [10th Light Horse Regiment] returned to Cairo.

Carew Reynell Diary - Sergeant W Stuart of 16th Battalion came and saw me yesterday and told me that Douglas was in his platoon and was hit twice on the Sunday after landing and died while he, Stuart, was there and asked Stuart to remember him to May and myself. Sergeant Stuart was a cadet officer in Dave Fulton's area and I asked him if he lives through the war to see May. He says Douglas and his tent mates were the best lot in his platoon. They were all killed or wounded - six killed and three wounded.

The Colonel was wounded in the head, very slight, the night before last while asleep in his dugout. He and Weik have gone to Lemnos for a few days.

We are still doing nothing. I can't understand this absolute inactivity while the Turks are surrounding us with a ring of fortifications. I can't help thinking that our left flank could be pushed forward or even a general advance instead of which little isolated attacks are made which end in nothing..
1916
Thursday, June 8, 1916

9th Light Horse Regiment Location - Roadhead Serapeum.

9th Light Horse Regiment War Diary - Regiment inspected, dismounted, by General Officer Commanding, Brigadier General Antill.
1917
Friday, June 8, 1917

9th Light Horse Regiment Location - El Shellal

9th Light Horse Regiment War Diary - At daylight "B" Squadron pushed out through the party at Karm to the high ground east of Karm but no enemy were encountered. No enemy approached Karm during the night. The led horses of Linacre, Lieutenant FJ; and, his party were brought up and on arrival of the day outposts, the party and "B" Squadron withdrew to camp.
Four Non Commissioned Officers - Stephen, Staff Sergeant Major HH; Newnham, 461 Sergeant JH; Hine, Corporal; and, Gould, Corporal, transferred to 3rd Light Horse Brigade Training Squadron Cadre.
Woodall, 1897 Staff Sergeant Major JS; Johnson, 862 Sergeant SR; Bailie, 375 Corporal SJ; and, Steinwedel, 3731 Corporal HH, taken on strength of Regiment.
1918
Saturday, June 8, 1918

9th Light Horse Regiment Location - Ain Ed Duk

9th Light Horse Regiment War Diary - Tel el Truny patrol occupied that place without opposition and sent forward observation posts 300 yards in advance thereof. A few shots were fired from Tel el Museterah.
1919
Sunday, June 8, 1919

9th Light Horse Regiment Location - Tel el Kebir

9th Light Horse Regiment War Diary - 1100 ten Other Ranks proceeded to Cairo on leave.

2100, ten Other Ranks which went on leave to Cairo on the 5th June 1919 returned.
Previous: 9th LHR AIF War Diary, 7 June
Next: 9th LHR AIF War Diary, 9 June
Sources:
See: 9th Australian Light Horse Regiment, Contents
Australian Light Horse Studies Centre, AIF War Diaries of the Great War, Site Transcription Policy

Further Reading:
9th Australian Light Horse Regiment, Roll of Honour
Battles where Australians fought, 1899-1920
---
Citation:
9th LHR AIF War Diary, 8 June
Posted by Project Leader at 12:01 AM EADT
Updated: Saturday, 7 August 2010 2:45 PM EADT