9th LHR AIF War Diary, July 20
Topic: AIF - 3B - 9 LHR
9th LHR, AIF
9th Light Horse Regiment
War Diary, 20 July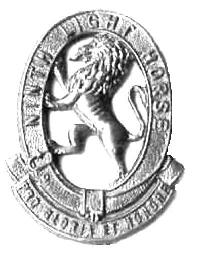 Pro Gloria et Honore - For Glory and Honour
Regimental March - Marching Through Georgia
The following entries are extracted and transcribed from the 9th Light Horse Regiment War Diary, the originals of which are held by the Australian War Memorial. There are 366 entries on this site. Each day has entries as they occurred from 1914 to 1919. In addition to the 9th Light Horse Regiment War Diary, when appropriate, entries from the 3rd Light Horse Brigade War Diary and other regiments with the Brigade will also appear. Entries from the unit history, Darley, TH,
With the Ninth Light Horse in the Great Wa
r, Adelaide, Hassell Press, 1924 will also appear from time to time. The aim is to give the broadest context to the story and allow the reader to follow the day to day activities of the regiment. If a relative happened to have served in the regiment during the Great War, then this provides a general framework in which the individual story may be told.
The Diary
1914
Monday, July 20, 1914

See 4th Military District, South Australia for militia activities.
1915
Tuesday, July 20, 1915
9th Light Horse Regiment Location - Walkers Ridge

9th Light Horse Regiment War Diary - No Entry.

3rd Light Horse Brigade War Diary - Preparing tunnel for search light Bully Beef Sap and emplacement for another mortar.

Confidentially informed to expect attack on 23rd - 100,000 reinforcements of Turks arriving. Colonel Hughes assumed command No. 1 Sub Sector.

Colonel Smyth to 2nd Infantry Brigade.

Turks tried to reconnoitre Second Sap last night. Two were killed.

Casualties:

8th Light Horse Regiment, one wounded.

9th Light Horse Regiment, two wounded.

Wellington Mounted Rifles, three wounded.

Total 6 wounded.

All warned and instructed to make every preparation for attack.

Carew Reynell Diary - No Entry.
1916
Thursday, July 20, 1916

9th Light Horse Regiment Location - Roadhead Serapeum.

9th Light Horse Regiment War Diary - Training and lectures carried out throughout the week. Patrols and outpost work continued as in previous details.

Major HM Parsons is taken on the strength of the Regiment (from Double Squadrons) and posted to command "A" Squadron.

Major RA McKenzie transferred to "C" Squadron to command.

System of Patrols to Mukshieb - Et Tassi and Et Tassa commenced.
Patrol of 1 Officer, 1 Sergeant and 12 Other Ranks to patrol daily to Mukshieb from Point "580" from 0430 to 1830 and on alternate days to Et Tassa or Et Tassi from No. 3 Patrol Post.
1917
Friday, July 20, 1917

9th Light Horse Regiment Location - El Gamli, Abu Yahia, Bir el Esani

9th Light Horse Regiment War Diary - At 0300 saddled up and stood to arms.
At 0430 the Regiment moved across the wadi as advance guard to the Brigade and advanced towards Beersheba.
"B" Squadron and one troop "A" Squadron formed the screen and pushed forward on a north to south line through Reshid Bek keeping well south of Beersheba - Karm Road.
In the vicinity of Abu Yahia enemy patrols were encountered but fell back on the screen being pushed vigorously forward. A line was taken up about one mile east of Point 840 - El Hathira and two troops from "A" Squadron were sent to make good the cross roads before the A of cultivAtion [Square F10] and to obtain touch with the Anzac Mounted Division on the left. This was done.
The enemy kept up intermittent rifle and shell fire but caused no casualties. One gun fired a number of rounds and the enemy were observed to leave several of their positions and retire.
At 1100 word was received to withdraw and the screen was first pulled in and then the withdrawal successfully carried out by squadrons in turn.
El Gamli was reached at 1500 and horses watered - the first drink since 1800 the previous night - and the column then moved back to the bivouac at Abasan el Kebir which was reached at 1830.
During this time the men had only two meals, 1100 on the 19th July and 1800 on the 20th July 1917, on the limbers with the rations for the 20th July not available.
Casualties - personnel, nil; horses, one slightly wounded.
1918
Saturday, July 20, 1918

9th Light Horse Regiment Location - Madhbeh

9th Light Horse Regiment War Diary - Aikman, Lieutenant GE; and, Stephen, Second Lieutenant HH, joined from Moascar.

Fletcher, 3012 Corporal GEP, died of wounds.
1919
Sunday, July 20, 1919

9th Light Horse Regiment Location - SS Oxfordshire

9th Light Horse Regiment War Diary - Routine.
Previous: 9th LHR AIF War Diary, 19 July
Next: 9th LHR AIF War Diary, 21 July
Sources:
See: 9th Australian Light Horse Regiment, Contents
Australian Light Horse Studies Centre, AIF War Diaries of the Great War, Site Transcription Policy

Further Reading:
9th Australian Light Horse Regiment, Roll of Honour
Battles where Australians fought, 1899-1920
---
Citation:
9th LHR AIF War Diary, 20 July
Posted by Project Leader at 12:01 AM EADT
Updated: Wednesday, 15 September 2010 6:29 PM EADT