Changing the Guard - 86th Infantry Regiment
Topic: Gen - St - WA
Here is a series of pix taken by Mr EL Mitchel and published in the Western Mail, 14 August 1914, p. 27.
The first pic shows a group of serious young men from the 86th Infantry Regiment beginning their guard duty shift. They all look so earnest and keen to do the right thing without fail. It looks like their first chance to tackle the "Hun" with their best and cleanest uniforms on.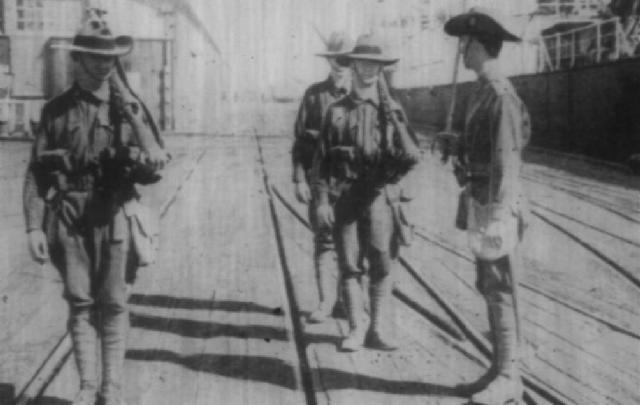 A couple comments.

The uniforms look like Militia and I strongly suspect the guards in this pic are from the 86th Infantry Regiment which was mobilised in the Fremantle area with the express purpose to ward off the expected German invasion from the secret German fleet lurking off the coast of Western Australia just waiting for an opportunity to pounce. This was the big scare that focused the minds of West Australians at the commencement of the war. As the days dragged onto weeks, months and finally years, it was realised that it was pure fantasy.

In the background lies the German freighter "Griefswald" which was seized at Fremantle at the commencement of hostilities. Below is a pic of the "Griefswald" tied up at Fremantle south wharf.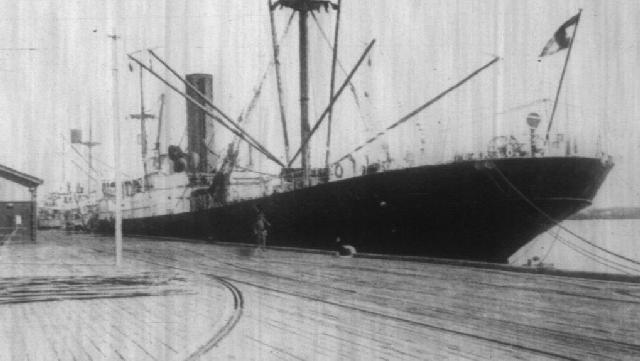 Personal Note: The wharf is instantly recognisable by any Fremantle visitor of the 60's - as kids, we used to go fishing off that very wharf - great for Perth Herring, whiting and trumpeter fish. The wharves remained unchanged until the advent of containerisation and live animal exports. It appears that nearby this wharf has arisen the E Shed Markets.
The guards in the above pictures came from the 86th Infantry Regiment's encampment at Fremantle Park where the formation was mobilised in early August 1914 for local defence activities.


Fremantle Park was commonly used over the previous decade for various militia activities. As the war progressed, it was also employed as a regular transit camp for AIF members as they anticipated their imminent embarkation for overseas service. Today, it is located near the Fremantle Arts Centre and still remains the regular playing field for Christian Brothers College in Fremantle.
---
Citation:
Changing the Guard - 86th Infantry Regiment
Posted by Project Leader at 6:08 PM EADT
Updated: Wednesday, 18 June 2008 2:16 PM EADT