The Love That Dare Not Speak Its Name
Topic: Gen - Legends
A Legend from Embarrassment
Homosexuality in the AIF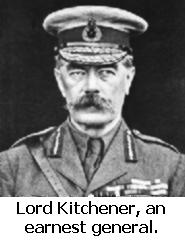 The Love That Dare Not Speak Its Name - Bill Woerlee

In the Edwardian era, when sexual issues were rarely discussed, even less was written to provide records of these attitudes. Society considered some practices, like homosexuality, as so heinous that imprisonment was the only answer. For survival in a hostile environment and in an effort to communicate their desires with each other, men invented various code words. The description of being "earnest", as popularised by Oscar Wilde in his play "The Importance of Being Ernest", had similar cache then as the word "gay" has now. "Confirmed bachelor" was another euphemism. Apart from a few sensational scandals, no one knew the real extent of this hidden behaviour.
When the AIF began recruiting men, no one addressed the issue of homosexuality or set out a policy to deal with its implications. To the average earnest man, the lure of an all-male institution would have been irresistible. There is every indication that such men would have been over represented within the AIF in relation to the broader community. Despite social disapproval, very few men were punished for homosexual behaviour, which seems to indicate an attitude of tolerance in the AIF so long as the conduct was not obvious. The key to understanding this attitude was embodied in the Empire's acceptance of the British Generalissimo, Lord Kitchener, a homosexual with an entourage of like-minded men. Turning a "blind eye" seemed the only sane policy.
For those few who were detected, action was swift. Two cases in the Light Horse, that of Pte Charles Hendrick, 9th LHR and Pte Norman Benjamin Marshall of the 7th LHR, outline the consequences of being noticed. Both were discharged from the AIF for the same reason but their motivations were entirely different.
Pte Charles Hendrick came from Wellington, New Zealand. He signed up for service in the 9th LHR on 14 December 1914 with the 1st Reinforcements. As a former stockman, he was short and wiry in build. His swarthy appearance was a result of miscegenation. During attestation, apart from all the usual detail, the medical examiner also noted a tattoo on his left buttock.
Hendrick left Melbourne for Egypt on 6 February 1915 with the "Surada". While military life in Egypt was always demanding, at Mena Camp and then Heliopolis, duties were usually over by early afternoon. Ample leave for the balance of the day was always available and only denied if the man was assigned to specific camp duties. For Hendrick, the offerings of Egypt became so spellbinding that he never wanted to leave. With the forced departure from Alexandria with the 9th LHR to take part in the Peninsular Campaign at Anzac, Hendrick disappeared. He hid around all the seedy bars and hotels of Alexandria as a vagrant to avoid capture. His task was not too difficult as there was a vigorous black market trade in fake identity papers for deserters. It took until 13 June and a tip-off for the Provos to find and arrest him. Within days he was put on board a ship for Anzac where he arrived on 16 June accompanied by 21 days' loss of pay and 10 days, No 2 Field Punishment, for his pains. At Anzac, Hendrick began to serve out his sentence. Unhappy with his circumstances, a couple days later Hendrick did something so rash on 18 June that it earned him 21 days, No 1 Field Punishment, a rarity for the AIF.
The Turkish attack on 30 June 1915 was enough for Hendrick. For him, Idriess summed up Anzac as: "Of all the bastards of places this is the greatest bastard in the world." Hendrick wanted out from Anzac. He had tried nearly everything but still remained. One last attempt. He had to go for the big one. On 1 July, Hendrick offered to sodomise another soldier in the trenches. It was an action that brought the reward of a quick arrest by the Brigade police, a rapid transfer to Alexandria on 7 July, and there, held in detention until taken under guard to Australia, where he was immediately discharged on the day of his arrival. For Hendrick, the war was over. The Army gave the bureaucratic equivalent of "flipping the bird" by stripping Hendrick of any medal entitlements despite having served, however unwillingly, in a declared war zone for two weeks.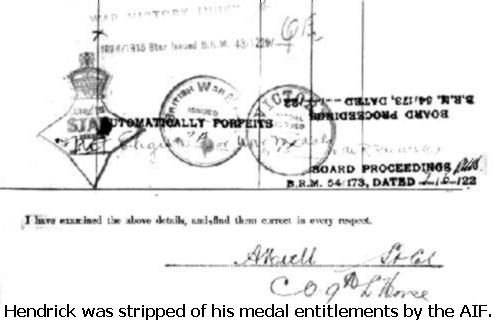 A few years later, on 25 October 1918, Hendrick rejoined the AIF. The war ended before he could serve overseas again. Hendrick was not beyond lying to the authorities. Upon signing the Attestation Papers in 1914, he put his age as being 35 and yet in 1918 claimed his age was 36, a truly miraculous feat. While Hendrick may have been discharged because of "gross indecency", the nature of his behaviour indicates it was less a consequence of any lifestyle choice and more a motivation to leave Gallipoli by any means possible provided that it did not include sustaining hideous wounds or dying.
The case of Pte Norman Benjamin Marshall from the 7th LHR is quantifiably different from Hendrick. Marshall was a 21 year old dealer from Ryde when he joined up with the 7th LHR on 24 April 1917. He stood at 1.63m and weighed 60kg, a thin man with blue eyes and light brown hair. It would also be fair to say that while Marshall might have been an enthusiastic soldier he could not be described as one of Australia's finest. He took a long time to be considered as an efficient soldier, indeed, it took seven months. The cohort in which he signed up with at the RAS Showgrounds in Sydney had already gone to Egypt with the 31st Reinforcements. By November he was considered to be efficient enough to be taken into the 7th LHR with the 34th Reinforcements.
When he arrived in Egypt, he spent a month at the Reinforcements camp before being transferred to the 2nd LH Bde Training Regiment. He stayed there for two weeks, when at the end of March 1918, he received an attachment to the Army's version of the no hoper squad, the Railway Construction Unit. It was hoped that by a regime of hard work and rough company, Marshall might be transformed from a "Mummy's Boy" into a man. A month of manly struggle later brought on a case of tonsillitis, which resulted in the hospitalisation of Marshall for over two months. After another spell in the Training Regiment, Marshall finally joined the 7th LHR on 9 July 1918, some 15 months after he enlisted.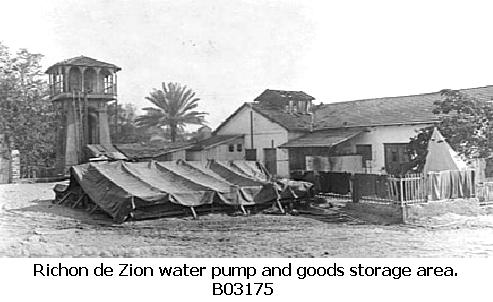 If Marshall thought he was a welcome figure, he soon found otherwise. Within three days he was sent off for yet more training, this time a month. He was a man who appeared to need a great deal of training. When Marshall returned to Richon de Zion, no more training schools prepared to take him on as a student. Reluctantly, the 7th LHR admitted him into its ranks. Finally Marshall was set to work albeit with the supporting echelon at Richon de Zion where the ANZAC Mounted Division's headquarters was located, rather than with the Regiment proper which at the resting at Bethlehem.
Within a week, Marshall had already found that there was a vibrant homosexual community at Richon de Zion. He participated in all its activities with the vigour of an enthusiastic young man. On the night of 24 July 1918, his enthusiastic participation came to the notice of the authorities when the Divisional Police caught him in the act of sodomising one of the local lads. Marshall was arrested. No one knew what to do with him. Chauvel interviewed Marshall and concluded that a trial would do no one any good. The last thing Chauvel needed was a scandal blowing up right at the moment when he was planning for the September break out. To avoid any inconvenience, Marshall was placed under guard, sent to Egypt and then Australia, where he was discharged on 3 October 1918. Unlike Hendrick, Marshall received his full medal entitlements.
In both these cases the men were returned to Australia and discharged on landing at the Military District of embarkation. They faced no trial, just rapid removal from the Army. If there was a policy on handling the problems of homosexuality in the AIF, it was to silently rid the institution of any known activity. The AIF appears not to have had the ability to cope with the fallout that might have arisen due to any Wilde like trial. It would appear as though there was very real ambivalence in the senior ranks towards this issue. No one really knew what actions to take due to the lack of official policy. Sending them home appeared to be the safest solution.
For the AIF, an absence of a formal policy meant doing nothing so long as no one said or did anything to bring homosexuality to the notice of the authorities. It was a policy that the Army took into this century some 90 years later. The legal barriers may be down but this issue is still controversial within the Army, with little progressing beyond Hendrick and Marshall. Maybe it is time for acceptance of social realities and some creative thinking and within the Army. It is a subject that people ignore at their peril.
Further Reading:
---
Citation:
The Love That Dare Not Speak Its Name
Posted by Project Leader at 4:25 PM EADT
Updated: Thursday, 10 February 2011 4:17 PM EAST