Western Frontier Force, Egypt, 1915 - 1916, Sydney Mail Pictures
Topic: AIF - WFF
Western Frontier Force
Egypt, 1915 - 1916
Sydney Mail Pictures

In Egypt: preparing for the Western Frontier Campaign
[From: Sydney Mail, 3 May 1916, p. 21.]
The transcription:
Australian Army Service men, mounted on Arab ponies, superintending the loading of transport camels with "tibbie" - that is chopped straw - the staple diet of the camel. The photograph was taken near Cairo. The Australians have greatly distinguished themselves in the western frontier campaign.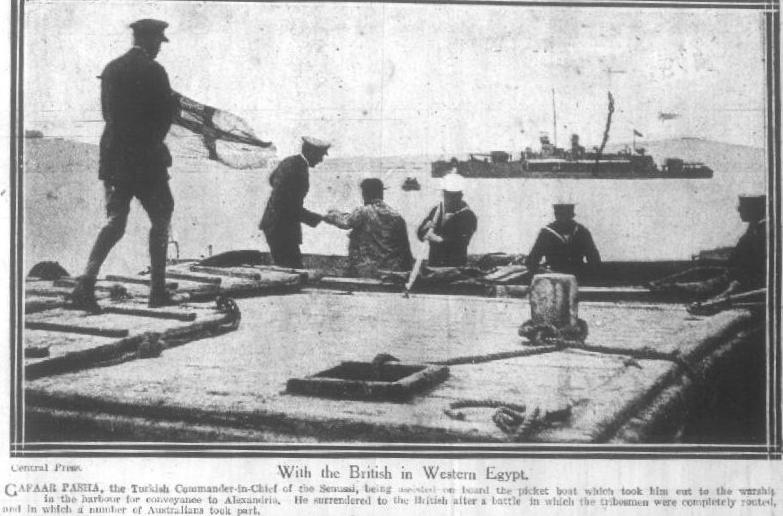 With the British in Western Egypt

[From: Sydney Mail, 7 June 1916, p. 13.]
The transcription:
Gafaar Pasha, the Turkish Commander in Chief of the Senussi, being assisted on board the packet boat which took him out to the warship in the harbour for conveyance to Alexandria. He surrendered to the British after a battle in which the tribesmen were completely routed and in which a number of Australians took part.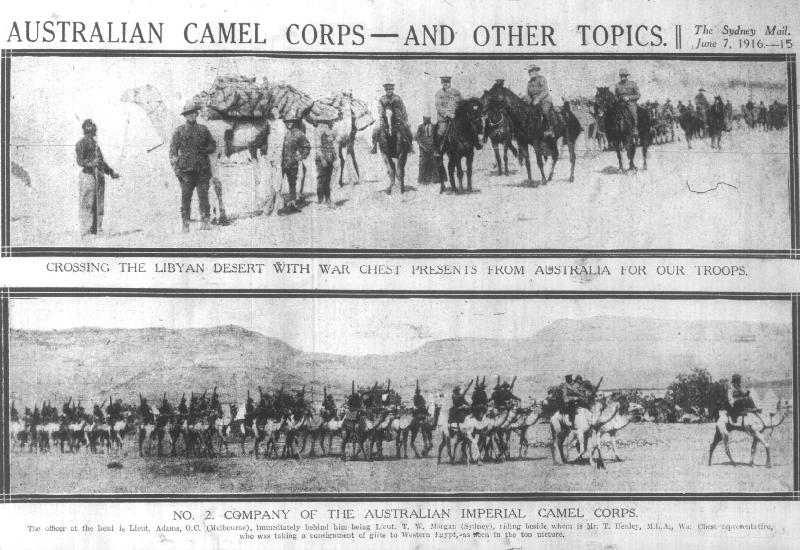 Crossing the Libyan Desert with War Chest Presents from Australia for our Troops.

and

No. 2 Company of the Australian Imperial Camel Corps.

[From: Sydney Mail, 7 June 1916, p. 15.]

The transcription:
The officer at the head is Lieutenant Adams, OC (Melbourne), immediately behind him being Lieutenant TW Morgan (Sydney), riding beside whom is Mr T Henley, MLA, War Chest Representative who was taking a consignment of gifts to Western Egypt, as seen in the top picture.
---
Posted by Project Leader at 3:04 PM EADT
Updated: Tuesday, 27 July 2010 1:22 PM EADT