9th LHR AIF War Diary, July 14
Topic: AIF - 3B - 9 LHR
9th LHR, AIF
9th Light Horse Regiment
War Diary, 14 July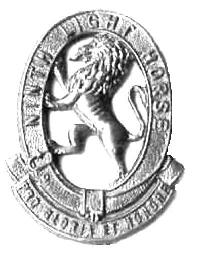 Pro Gloria et Honore - For Glory and Honour
Regimental March - Marching Through Georgia
The following entries are extracted and transcribed from the 9th Light Horse Regiment War Diary, the originals of which are held by the Australian War Memorial. There are 366 entries on this site. Each day has entries as they occurred from 1914 to 1919. In addition to the 9th Light Horse Regiment War Diary, when appropriate, entries from the 3rd Light Horse Brigade War Diary and other regiments with the Brigade will also appear. Entries from the unit history, Darley, TH,
With the Ninth Light Horse in the Great Wa
r, Adelaide, Hassell Press, 1924 will also appear from time to time. The aim is to give the broadest context to the story and allow the reader to follow the day to day activities of the regiment. If a relative happened to have served in the regiment during the Great War, then this provides a general framework in which the individual story may be told.
The Diary
1914
Tuesday, July 14, 1914

See 4th Military District, South Australia for militia activities.
1915
Wednesday, July 14, 1915
9th Light Horse Regiment Location - Reserve Gully

9th Light Horse Regiment War Diary - Owing to losses sustained and the large frontage occupied the men were practically worked out of the firing line or support trenches for the full period - to this is to some extent due to the excessive amount of sickness immediately following.

It was also discovered that the Rest Camp had become practically monopolised by the mules and Hindus of the 31st Mountain Battery. Flies soon became intolerable and in many cases men could not eat their food. Complaint had to made to superior authority that were rest away with minor ...$$ did not ...$$ to the Regiment.

3rd Light Horse Brigade War Diary - Brigadier saw Major Love, Major Scott and Sergeant Brown, 10th Light Horse Regiment regarding appeal of the latter against his punishment in reference to charge of cowardice by SM Love.

Captain J Campbell, Medical Officer, 8th Light Horse Regiment dangerously wounded by shell on beach. Both legs blown off. Howitzer shelled Nek in morning, trenches cleared.

Captain F Beamish, Field Ambulance, appointed temporarily in place of Campbell.

Canterbury Mounted Rifles, one killed, two wounded.
Carew Reynell Diary - No Entry.
1916
Friday, July 14, 1916

9th Light Horse Regiment Location - Roadhead Serapeum.

9th Light Horse Regiment War Diary - Training and lectures carried out throughout the week.

Patrols and outpost work continued as in previous details.
1917
Saturday, July 14, 1917

9th Light Horse Regiment Location - Abasan el Kebir

9th Light Horse Regiment War Diary - The Commanding Officer inspected the Regiment, men standing and their horses in the lines.
1918
Sunday, July 14, 1918

9th Light Horse Regiment Location - Wadi Auja

9th Light Horse Regiment War Diary - 0620, Urgent message received from Brigade that the Brigade would move to the Jordan Valley at once and reinforce Anzac Mounted Division who were being heavily attacked on El Musallabeh.

0750 The Regiment, less transport, moved via the Roman Road to the Jordan Valley, arriving at Mokam Imam Aly near Ain Ed Duk at 1115. Information was now received that the tactical situation at No 3 sub sector was good. About a battalion of Germans had attacked early in the morning, portion of whom reached Abu Tellul, where they were held and afterwards captured by a smart counter attack delivered by 1st Light Horse Brigade. German prisoners stated that their attack should have been supported by a large force of Turks, but these failed to come on.

1500 Orders were received for this Regiment to move to the rear of Wart Post, and remain in support to New Zealand Mounted Rifle Brigade who were making a minor operation in front of Vyse and View Posts. The Regiment reported to General Officer in Command, New Zealand Mounted Rifle Brigade near Wart Post at 1700. The New Zealanders moved out mounted and encountered very heavy artillery fire when crossing Wadi Auja.

By 2000 they had reconnoitred all ground for 2,000 yards west of Zeiss and Vyse Posts, reporting clear of enemy. Machine gun fire was encountered from the west. Five prisoners and one machine gun were captured here by New Zealanders.

2015 The Regiment moved back to Mokam Imam Aly and bivouacked for night.
1919
Monday, July 14, 1919

9th Light Horse Regiment Location - SS Oxfordshire

9th Light Horse Regiment War Diary - Routine.
Previous: 9th LHR AIF War Diary, 13 July
Next: 9th LHR AIF War Diary, 15 July
Sources:
See: 9th Australian Light Horse Regiment, Contents
Australian Light Horse Studies Centre, AIF War Diaries of the Great War, Site Transcription Policy

Further Reading:
9th Australian Light Horse Regiment, Roll of Honour
Battles where Australians fought, 1899-1920
---
Citation:
9th LHR AIF War Diary, 14 July
Posted by Project Leader at 12:01 AM EADT
Updated: Wednesday, 15 September 2010 2:18 PM EADT