9th LHR AIF War Diary, 17 May
Topic: AIF - 3B - 9 LHR
9th LHR, AIF
9th Light Horse Regiment

War Diary, 17 May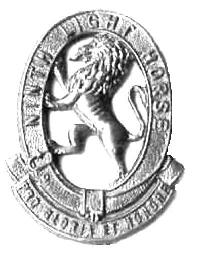 Pro Gloria et Honore - For Glory and Honour
Regimental March - Marching Through Georgia
The following entries are extracted and transcribed from the 9th Light Horse Regiment War Diary, the originals of which are held by the Australian War Memorial. There are 366 entries on this site. Each day has entries as they occurred from 1914 to 1919. In addition to the 9th Light Horse Regiment War Diary, when appropriate, entries from the 3rd Light Horse Brigade War Diary and other regiments with the Brigade will also appear. Entries from the unit history, Darley, TH,
With the Ninth Light Horse in the Great Wa
r, Adelaide, Hassell Press, 1924 will also appear from time to time. The aim is to give the broadest context to the story and allow the reader to follow the day to day activities of the regiment. If a relative happened to have served in the regiment during the Great War, then this provides a general framework in which the individual story may be told.
The Diary
1914
Sunday, May 17, 1914

See 4th Military District, South Australia for militia activities.
1915
Monday, May 17, 1915

9th Light Horse Regiment Location - Alexandria

9th Light Horse Regiment War Diary - Transport X2 sailed 0500.

3rd Light Horse Brigade Details Routine Orders No. 2

5. Native Syces. All orders to the native syces are to be issued to their Jemadar. In case of any misunderstanding the head Jemadar is always available at Brigade Headquarters. Non commissioned officers and men are especially warned not to ill treat these natives. Latrine accommodation for the natives will be supplied as soon as possible.
6. Reinforcements - 4th Reinforcements, 99th Light Horse Regiment 15 men.

7. Extract from General Order No. 20 - Discipline - The attention of the GOC has been drawn to cases in which officers have been consorting with NCOs and men in hotels, in the street, and other places. Such a practice is contrary to the regulations and customs of the service and is entirely subversive to discipline, and the GOC will hold Commanding Officers responsible that it is put a stop to. All ranks should be reminded that a strict observance of the proper relationship between officers and men reflects credit on a private soldier and his regiment, as much as on the Officers.

Carew Reynell Diary - There is every comfort for the majority of officers on this transport as she is a passenger boat but the men are terribly crowded as there are so many more than she is meant to carry.

We have our Regiment, the 8th Regiment, Brigade Headquarters, Royal Engineers, New Zealand dismounted Light Horse and a collection of various details most of whom are wounded men who have recovered and are returning.
Altogether 1700 men, 90 Officers and ships crew.

We have a guard posted on the upper deck day and night for aeroplane or submarine but at night they couldn't see 50 yards anyway - there is no moon.
1916
Wednesday, May 17, 1916

9th Light Horse Regiment Location - Roadhead, Serapeum.

9th Light Horse Regiment War Diary - No entry.
1917
Thursday, May 17, 1917

9th Light Horse Regiment Location - El Fukhari

9th Light Horse Regiment War Diary - The Regiment undertook routine work for the day.
Hotchkiss Rifle teams paraded from 0800 to 1000 and 1200 to 1500 for instructions under Farmer, Lieutenant MO.
Signallers training same hours.
Daily parade for junior Non Commissioned Officers commenced from 1400 to 1500.
1918
Friday, May 17, 1918

9th Light Horse Regiment Location - Auja Bridgehead defences

9th Light Horse Regiment War Diary - 0700 Two deserters, Turks, surrendered to "B" Squadron.
1800 Relieved by 10th Light Horse Regiment. Regiment moved by squadrons to led horses bivouac west of Jordan River. Orders received to supply daily two, day patrols, each strength of one troop and two night patrols each strength one Officer and nine Other Ranks.
2030 Brigade issued orders for practice turnout, the Regiment parading mounted in fighting order within 36 minutes.
1919
Saturday, May 17, 1919

9th Light Horse Regiment Location - Tel el Kebir

9th Light Horse Regiment War Diary - 0900 Took over camping ground lately occupied by 3rd Ghurkhas, 400 yards north of Tel el Kebir Railway Station.
1730 Transport and escort arrive.

Previous: 9th LHR AIF War Diary, 16 May
Next: 9th LHR AIF War Diary, 18 May
Sources:
See: 9th Australian Light Horse Regiment, Contents
Australian Light Horse Studies Centre, AIF War Diaries of the Great War, Site Transcription Policy

Further Reading:
9th Australian Light Horse Regiment, Roll of Honour
Battles where Australians fought, 1899-1920
---
Citation:
9th LHR AIF War Diary, 17 May
Posted by Project Leader at 12:01 AM EADT
Updated: Monday, 26 July 2010 10:31 AM EADT