9th LHR AIF War Diary, 25 May
Topic: AIF - 3B - 9 LHR
9th LHR, AIF
9th Light Horse Regiment

War Diary, 25 May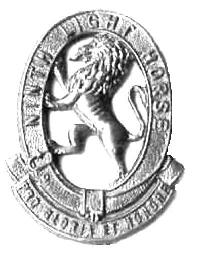 Pro Gloria et Honore - For Glory and Honour
Regimental March - Marching Through Georgia
The following entries are extracted and transcribed from the 9th Light Horse Regiment War Diary, the originals of which are held by the Australian War Memorial. There are 366 entries on this site. Each day has entries as they occurred from 1914 to 1919. In addition to the 9th Light Horse Regiment War Diary, when appropriate, entries from the 3rd Light Horse Brigade War Diary and other regiments with the Brigade will also appear. Entries from the unit history, Darley, TH,
With the Ninth Light Horse in the Great Wa
r, Adelaide, Hassell Press, 1924 will also appear from time to time. The aim is to give the broadest context to the story and allow the reader to follow the day to day activities of the regiment. If a relative happened to have served in the regiment during the Great War, then this provides a general framework in which the individual story may be told.
The Diary
1914
Monday, May 25, 1914

See 4th Military District, South Australia for militia activities.
1915
Tuesday, May 25, 1915
9th Light Horse Regiment Location - Walkers Ridge

9th Light Horse Regiment War Diary - No entry.

3rd Light Horse Brigade War Diary - 10th Light Horse Regiment Captain Millar, D Greenwood and Lieutenant Olden wounded.
HMS Triumph mined and sunk by German submarine.
8th Light Horse Regiment to trenches Walker's Hill.

Carew Reynell Diary - The night before last we fully expected an attack as in the evening things were unusually quiet and at about 2100 a small party of Turks were seen coming in the direction of our trenches. Our fire immediately sent them back but we all stood to arms till midnight. As a matter of fact all men in the trenches stand to arms from 0330 to 0430 - daylight - every morning and from 1930 till 2030 - dark - every night.


Yesterday the Turks were granted the request which they made for an armistice and all the dead were buried - the ground on which they were lying rotting still stinks badly but it's better and will no doubt be all right in a day or two. I had a good look round the general situation of our respective trenches and a rough plan. I am very much afraid Douglas [1245 Private Douglas Austin Byard, H Company, 16th Battalion, killed in action, 2 May 1915] is killed. A man who said he knew him well said he was killed on the Sunday after landing - that is to say on May 2. All his tent mates and about 600 out of the Battalion were killed, wounded or missing on the same days. They stormed and carried Pope's Hill and this was the terrible price paid. It seems to have been a most gallant and desperate charge and as I heard someone say 'Every man who fell on that hill was a real man and died a hero's death." The hill was taken by the 16th Battalion and another Battalion was ordered to support but, so tis said, couldn't be brought up. the hill was afterwards handed over to the Naval Brigade who allowed themselves to be turned out. The 16th Infantry and others of the 4th Brigade again stormed it and it was again left to the naval brigade to occupy it and again they failed. It has since been taken again and occupied by Australians and the useless Naval Brigade have been sent to Cape Helles to do fatigue work. It seems a pity that such a poor lot should be named Naval Brigade as it's a slur on the Blue Jackets - of course it may have just been one bad Brigade among many good ones but they have a bad name here. At present our 1st Light Horse Brigade occupy this hill, Pope's Hill.


The Turks attacked again on Tuesday last a week ago and the Auckland Regiment who were occupying the trenches we now hold lost fairly heavily - 40 or 50 killed I believe and the 1st Light Horse Brigade lost a few - half a dozen killed and 30 wounded. Dave Fulton was sniped three days ago - the day after we landed. He was hit in the shoulder - nothing much but he had, of course, to be sent back to hospital in Egypt.
Their artillery has been very quiet last night and today - I wonder whether it is a shortage of ammunition or what. We hope to get the job in a few days of taking the hill in front of us. There are no apparent difficulties but I expect we should come under machine gun fire after getting there. That's the trouble - they are all arranged so that if they are driven out of one trench enfilade fire from another point is immediately turned on the lost trench. However, we shall see.
1916
Thursday, May 25, 1916

9th Light Horse Regiment Location - Roadhead Serapeum

9th Light Horse Regiment War Diary - Routine patrol work.
Training as usual.
Weather too hot for work during midday hours.
1917
Friday, May 25, 1917

9th Light Horse Regiment Location - Tel el Marakeb

9th Light Horse Regiment War Diary - The Regiment undertook routine work for the day.
1918
Saturday, May 25, 1918

9th Light Horse Regiment Location - Auja Bridgehead defences

9th Light Horse Regiment War Diary - Smith, Lieutenant PT, with his troop, B Troop, "B" Squadron patrolled to Square 127F20. Small enemy patrol of five endeavoured to reach north east patrol but were prevented from doing so by Smith, Lieutenant PT and his patrol moving forward against their flank.
1900 Church Parade.
1919
Sunday, May 25, 1919

9th Light Horse Regiment Location - Tel el Kebir

9th Light Horse Regiment War Diary - 1000, voluntary church service in YMCA conducted by Turner, Captain Chaplain RC.
1200, four other ranks proceeded to strengthen post at Abu Sueir.
Four other ranks proceeded to strengthen post at El Rimal.
Previous: 9th LHR AIF War Diary, 24 May
Next: 9th LHR AIF War Diary, 26 May
Sources:
See: 9th Australian Light Horse Regiment, Contents
Australian Light Horse Studies Centre, AIF War Diaries of the Great War, Site Transcription Policy

Further Reading:
9th Australian Light Horse Regiment, Roll of Honour
Battles where Australians fought, 1899-1920
---
Citation:
9th LHR AIF War Diary, 25 May
Posted by Project Leader at 12:01 AM EADT
Updated: Monday, 26 July 2010 10:07 AM EADT