The Battle of Anzac Cove, Gallipoli, 25 April 1915, Canterbury Infantry Battalion War Diary
Topic: BatzG - Anzac
The Battle of Anzac Cove
Gallipoli, 25 April 1915
Canterbury Infantry Battalion War Diary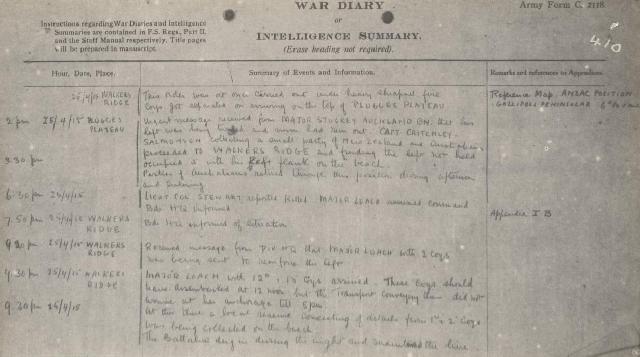 War Diary account of the Canterbury Infantry Battalion.

The following is a transcription of the War Diary of the Canterbury Infantry Battalion, of their role in the landings at Anzac on 25 April 1915.
24 April 1915

Lemnos

6.30 pm - HMT Lutzow left inner harbour and anchored outside. Leaving for Kaba Tepe at midnight 24/25.



25 April 1915

Anzac Cove

Battalion less 11th and 13th Companies landed under shrapnel fire. No casualties. Disembarkation completed at about 12.30 pm.

Received Brigade Orders to prolong left of Australian Division rendering whatever assistance possible. Auckland Battalion supporting.

Walker's Ridge

The order was at once carried out under heavy shrapnel fire. Companies got separated on arriving on the top of Plugge's Plateau.

Plugge's Plateau

2 pm - Urgent message received from Major Stuckey Auckland Battalion that his left was being turned and ammunition had run out. Captain Critchley-Salmonson collecting a small party of New Zealand and Australians, proceeded to Walker's Ridge and finding the left not held occupied it with his left flank on the beach.

Parties of Australians retired through the position during afternoon and evening.

6.30 pm - Lieutenant Colonel Stewart reported killed. Major Loach assumed command Brigade Headquarters informed.

Walker's Ridge

Received message from Divisional Headquarters that Major Loach with two Companies was being sent to reinforce the left.

9.30 pm - Major Loach with 12th and 13th Companies arrived. These companies should have disembarked at 12 noon but the transport conveying them did not arrive at her anchorage till 5 pm.

At this time a local reserve consisting of details from 1st and 2nd Companies was being collected on the beach.

The Battalion dug in during the night and maintained the line.

List of Casualties:

Officers -
Lieutenant Colonel D McB Stewart, killed.
Major D Grant, killed.
Lieutenant OH Mead, wounded slightly.
Lieutenant JC Hill, wounded.
Lieutenant Barclay, wounded and missing.

Other Ranks, 21 killed, 87 wounded, 100 missing.


26 July 1915

Walker's Ridge

Strengthened position and re-organised.

2 pm - Officer Commanding 2nd Battalion Australian Regiment which was holding a position on the left front ordered Major Loach to reinforce his left. The 12th Nelson Company was ordered to do this but were checked on account of two platoons 2nd Battalion Australian Regiment who were retiring from the ridge. Eventually the position was re-established at 6.30 pm. The whole position was strengthened during the night. Desultory firing lasted till 3 am 27 April 1915.

6 pm - Casualty - Officers - Lieutenant HF Fitch, killed.

Water and ammunition supply were the greatest difficulties which had to be contended with. This was chiefly due to the nature of the country and having to be man handled a long distance.


War Diaries
All War Diaries cited on this site should be read in conjunction with the Australian Light Horse Studies Centre, AIF War Diaries of the Great War, Site Transcription Policy which may be accessed at:
Australian Light Horse Studies Centre, AIF War Diaries of the Great War, Site Transcription Policy
Further Reading:
The Battle of Anzac Cove, Gallipoli, 25 April 1915
The Battle of Anzac Cove, Gallipoli, 25 April 1915, Canterbury Infantry Battalion, Roll of Honour
The Battle of Anzac Cove, Gallipoli, 25 April 1915, NZEF Roll of Honour
Battles where Australians fought, 1899-1920
---
Citation:
The Battle of Anzac Cove, Gallipoli, 25 April 1915, Canterbury Infantry Battalion War Diary
Posted by Project Leader at 12:01 AM EAST
Updated: Tuesday, 13 April 2010 9:33 PM EADT