The Battle of Anzac Cove, Gallipoli, 25 April 1915, New Zealand Field Company Engineers War Diary
Topic: BatzG - Anzac
The Battle of Anzac Cove
Gallipoli, 25 April 1915
New Zealand Field Company Engineers War Diary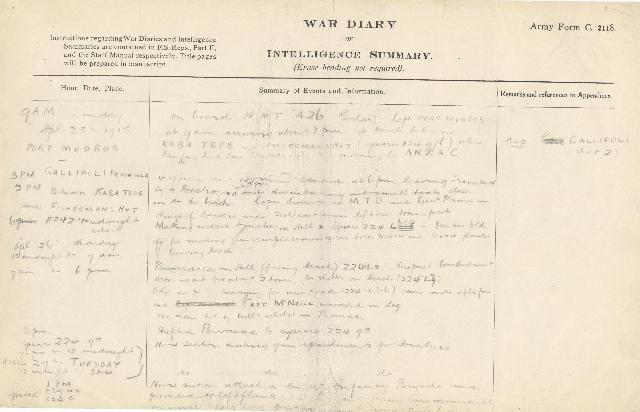 War Diary account of the New Zealand Field Company Engineers.

The following is a transcription of the War Diary of the New Zealand Field Company Engineers, of their role in the landings at Anzac on 25 April 1915.
25 April 1915

Port Mudros

9 am - On board HMT A26 Gostar. Left Port Mudros at 9 am arriving about 3 pm of beach between Kaba Tepe and Fisherman's Hut (Squares 224 G/L) where landing had been established this morning by ANZAC.

Gallipoli Peninsula

3 pm - 4 Officers and 14 Other Ranks landed at 6 pm leaving transport by destroyer at about 5 pm and disembarking into small boats close in to the beach. Captain Simon as MTO and Lieutenant Paine in charge of Drivers and Tools car - men left on transport.

6pm - midnight - making reserve trenches on Hill Square 224 L6-9.


26 April 1915

Midnight - 7am - Parties told off for making gun emplacements on both north and south flanks of landing beach.

7am - 6 pm - Bivouacked on hill (facing beach) 224 L1-L5. Shrapnel bombardment drove us out for about 2 hours to shelter on beach (224 L7)

Officer Commanding and party surveying for new road (224 L3-6) came under rifle fire and Captain McNeill wounded in leg. One man hit by bullet whilst in bivouac.

6 pm - Shifted bivouac to Square 224 G5.

7 pm - midnight - Now section making gun emplacements for Howitzers.


War Diaries
All War Diaries cited on this site should be read in conjunction with the Australian Light Horse Studies Centre, AIF War Diaries of the Great War, Site Transcription Policy which may be accessed at:
Australian Light Horse Studies Centre, AIF War Diaries of the Great War, Site Transcription Policy
Further Reading:
The Battle of Anzac Cove, Gallipoli, 25 April 1915
The Battle of Anzac Cove, Gallipoli, 25 April 1915, NZEF Roll of Honour
Battles where Australians fought, 1899-1920
---
Citation:
The Battle of Anzac Cove, Gallipoli, 25 April 1915, New Zealand Field Company Engineers War Diary
Posted by Project Leader at 12:01 AM EAST
Updated: Friday, 16 April 2010 12:46 PM EADT