The Battle of Magdhaba, Sinai, December 23, 1916, Mapping the Magdhaba Redoubts
Topic: BatzS - Magdhaba
The Battle of Magdhaba
Sinai, 23 December 1916
Mapping the Magdhaba Redoubts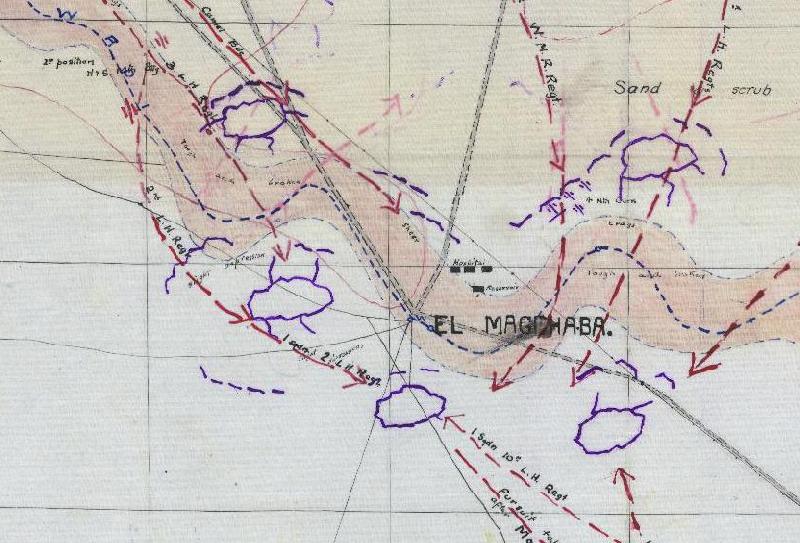 Map describing the action at Magdhaba from the Anzac Mounted Division War Diary, January 1917.
[AWM4, 1/60/11]
Until the ready availability of the Australian Light Horse War Diaries and the advent of Google Earth, the ability to gain a bird's eye view of the Magdhaba redoubt system built by the Ottoman Forces has been difficult indeed. Through the use of the technological tools available, it is possible to take the data from the hand drawn maps of the Magdhaba redoubts and place them upon a terrain profile provided by Google Earth. The results speak for themselves.
By courtesy of a fellow contributor, Dominic, the data regarding the redoubts was extracted and placed upon an actual satellite picture of the landscape provided by Gooogle Earth. The result allows the observer to visualise the physical terrain facing the Anzac Mounted Division as the Commanders planned their attack.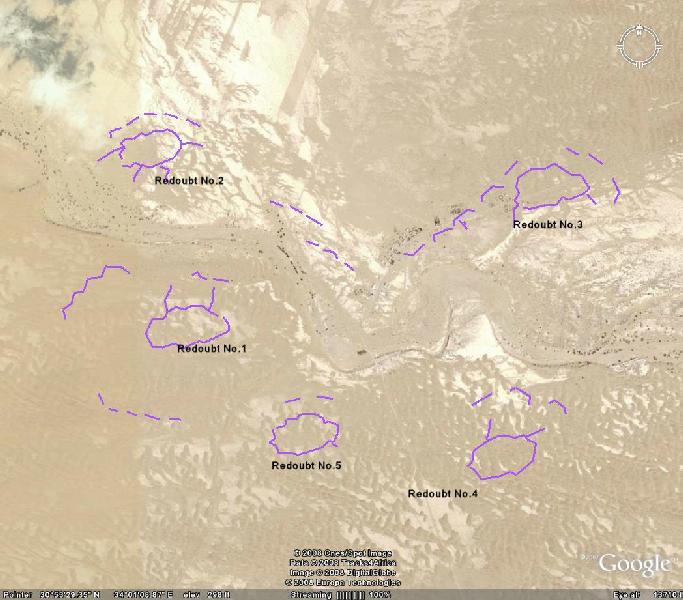 Magdhaba Garrison Redoubts as at 22 December 1916.
[Graphics by courtesy of Dominic]
One view of this terrain leads the observer to the conclusion that the Ottoman forces chose their site well. Over a flat surface which provided no cover whatsoever for an attacking force, they dug their trenches in such a way as to produce mutually supporting fire bases. These interlocking defenses meant that any attacking force was always at a vast disadvantage.
While interlocking fire support was its strength, paradoxically, this system of defence was also its weakness. By breaching one redoubt, the others would be exposed to enfilading fire and rendering their continued resistance untenable. This proved to be the downfall of the garrison.
One should never conclude that the taking of the Magdhaba garrison by Chauvel was a lay down mazere. It was not. Chauvel had already issued orders to call off the attack by 3 p.m.. Had his generals obeyed this order at that time, there would have been no victory to record. But one general refused to read the order and the rest was, as they say, history.
Further Reading:
The Battle of Magdhaba, Sinai, December 23, 1916, Roll of Honour, Australia and New Zealand
Battles where Australians fought, 1899-1920
---
Citation:
The Battle of Magdhaba, Sinai, December 23, 1916, Mapping the Magdhaba Redoubts
Posted by Project Leader at 12:01 AM EAST
Updated: Tuesday, 10 November 2009 10:23 PM EAST