Australian Service Personnel, Photograph Albums, 2nd Light Horse Regiment, AIF, Album Contents
Topic: AAC-Photo Albums
Australian Service Personnel
Photograph Albums
2nd Light Horse Regiment, AIF, Album Contents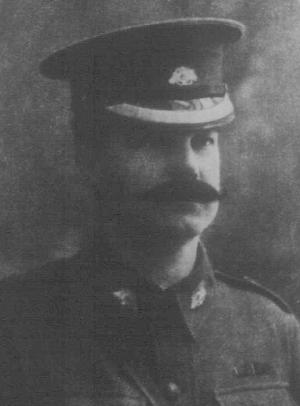 Lieutenant Colonel Robert Mackay STODART
The
2nd Light Horse Regiment, AIF, Album
contains the photographs of nearly all the men who were listed as having embarked for service as part of the 1st Contingent, AIF. The album primarily includes portraits of men from "A", "B" and "C" Squadrons with a few from the Headquarters Section but none from the Machine Gun Section.
The 2nd Light Horse Regiment, AIF, was allotted to the 1st Light Horse Brigade (1st LH Bde). The Regiment was raised in Queensland with men from that state and northern New South Wales. As soon as possible after the commencement of the Great War, recruiting began in August 1914 as part of the 1st Australian contingent. The Regiment embarked from Brisbane, Queensland on board HMAT A15 Star of England 24 September 1914.
During the Great War, the 2nd LHR saw service in Egypt, Gallipoli, the Sinai Peninsula, Palestine and Jordan. It returned to Australia in March 1919.
For full details of the 2nd LHR, see:
The photographs on this page are extracted from:
The Queenslander:

26 September 1914,

3 October 1914,

10 October 1914, and

17 October 1914.
Finding service information. See:
Notes about the Collection:
* The original images appeared in The Queenslander, and more specifically were obtained from microfilm slides. Consequently the photographs tend to be blurry and grainy and some barely able to present an image. That can't be helped but the images are presented as best as possible.

* The photographs are listed in order as they appeared in the pages of The Queenslander. Each page is produced at the beginning of a section allowing the reader to examine the photograph in situ as well as reference the individual.

* The presentation of each entry is as follows:

All men - listed with their rank on embarkation, their first names if known or if unknown, the initials followed by the family name which is capitalised. Each name is linked to the photograph entry in the album.

Officers - Since they were not issued with a Service Number, they have been listed by rank.

Other Ranks - Listed with their first issued Service Number, if given.

An alphabetical listing of Family Names follows the page listings.

* The photographs of nine unidentified men are listed. The reason for lack of identification comes from the obliteration of the name on the specific page. This is due to the lack of clarity in the original printed version.
Listings per Album Page
Page 1:

Page 2:

Page 3:

Page 4:

Page 5:

Page 6:

Page 7:

Page 8:

Page 9:

Page 10:

Page 11:

Page 12:

Page 13:

Page 14:

Page 15:

Page 16:

Page 17:

Page 18:

Page 19:

Page 20:

Page 21:

Page 22:

Page 23:

Page 24:

Page 25:

Page 26:

Page 27:

Page 28:

Page 29:

Page 30:

Page 31:

Page 32:

Page 33:

Page 34:

Page 35:

Page 36:

Page 37:

Page 38:

Page 39:

Page 40:

Page 41:

Page 42:

3784 Private Francis Claude Wynyard LOWRIE
Alphabetical Listing
Private William Harvey ADAMS
459 Corporal James Cyril ALEXANDER

293 Private Charles Beresford ALEXANDER

596 Private Arthur Ernest ANDERSON

291 Private Walter Claude ANDREWS

295 Corporal Herbert ARMSTRONG

292 Private Leslie Raymond ARTHUR

292 Private Leslie Raymond ARTHUR

115 Private James Cameron ASHTON

294 Private Ernest Joseph AYLWIN

303 Private Julius John BAARTZ

467 Shoeing Smith Harry Waddell BAIRD

120 Private John Frederick BALLINGER

482 Private Alexander Archibald BARBOUR

96 Sergeant Harold Joseph BARRY

128 Private Percy James Austin BARTLETT

129 Private Irvine Julius BARTON

300 Private Percy William BATTERHAM

481 Lance Corporal Robert BEATSON

305 Private Overton Benjamin BELL

483 Private James Albert BEYERS

483 Private James Albert BEYERS

474 Private Henry Richard BIGGS

475 Private Albert Frederick BIGGS

127 Private Arthur Herbert Vidgen BLISS

485 Corporal Charles Joseph BOND

466 Shoeing Smith Frederick Arthur BOND

612 Private Ernest Montague BOULTON

480 Private Charles Henry BOWES

479 Private Phillip BRACKENRIDGE

277 Sergeant Arthur Leslie Burrowes BRETT

302 Private Robert William BROWN

453 Sergeant Henry Theodore BRUCE

297 Private Charles William BUBKE

592 Private Cecil Gordon Gray BUCHANAN

472 Lance Corporal Albert Arthur BURTON

304 Private John Herbert BUTLER

309 Private Archibald Eric Gordon CAMPBELL

308 Private Kenneth Hugh CAMPBELL

498 Private John Edmund CARLYON

273 Squadron Quartermaster Sergeant Frank CARTWRIGHT

499 Private Ronald Tynsdale CHALLINOR

311 Shoeing Smith Corporal James Artemus CHAMBERS

487 Private Stanley Alfred James CHEERS

452 Farrier Sergeant Frederick CHEFFINS

283 Corporal Osborne Alexander Leslie CHILCOTT

488 Private Henry Alexander CLARK

497 Private Norman Grant CLARKE

138 Shoeing Smith Henry John CLARKSON

310 Private James Cuthbert COBAN

1010 Private Frederick Charles COE

486 Private Francis Joseph August COLLINS

132 Private Kevin John CONNOLLY

493 Private Arthur William COOKE

136 Private Reginald Hebor COPELAND

495 Private Eric Septimus CORNWELL

307 Private William Montague Bell CORY

492 Private Alexander Diamond COUTTS

135 Private Errol Claude COWLEY

274 Sergeant Ernest William CRAIN

282 Corporal Bertram William CURTIS

144 Private Edward John DAVIES

502 Private George Rupert DEARDEN

315 Private Bertram Barnard DELPRATT

313 Private Arthur Snowden DeMAINE

109 Corporal Gontran De TOURNOUER

594 Private Gordon Monroe DINGWALL

590 Private George William Robert DOREHILL

29 Sergeant George Edward DREWITT

503 Private John Strang DRYLIE

461 Lance Corporal George Russel DRYSDALE

139 Private Howard Gilbert DUNN

317 Private Francis Paul EASTON

148 Private Walter Herbert EDDINGTON

506 Private Clifford Edward EDWARDS

507 Private Horace Robert EDWARDS

318 Private William Alfred ELLIOTT

508 Sergeant Robert Edward ELLWOOD

411 Private Ernest Albert Stanley EMMERTON

510 Private Samuel Frederick FALLS

454 Sergeant Thomas Phillip FANNING

271 Private John Joseph FERGUS

511 Bugler John Hayter FERGUSON

149 Private William Stuart FERGUSON

319 Lance Corporal Alexander FERRIS-SCOTT

320 Private William George FORBES

106 Corporal Henry Laird Alexander FRANKFORD

152 Driver Arthur Henry FURNESS

156 Private Alexander GARDINER

514 Private Lawrence Patrick GARVEY

Private Francis Richard GAVEGAN

155 Private James Robinson GEDDES

451 Squadron Quartermaster Sergeant Matthew GEE

328 Private Arthur Michael Creagh GEOGHEGAN

Lieutenant Thomas William GLASGOW

275 Sergeant Alexander GLASGOW

322 Private Percy Ussher GOOCH

1474 Private Arthur Robert GOODRICH

412 Private Frederick Dundas Corbet GORE

157 Private Edmund Joseph GORMAN

Adjutant Captain Frederick Thomas Henry GOUCHER

462 Corporal Albert Christopher Julius GRAFFUNDER

Captain Dugald Maxwell Lockwood GRAHAM

327 Driver George Ernest Edward GRAHAM

290 Corporal George Selby GRAHAM

323 Private Robert Loye GRAYSON

325 Private Sydney Anderson GREENBURY

Group portrait of members of Regimental Staff, Gympie Light Horse

324 Private Leander de Lorme GROVE

513 Private Leslie Charles GUMLEY

154 Driver William Morrison GUNN

525 Private David Stewart HALLIDAY

526 Private Henry Seymour HANDLEY

337 Private Ernest Clifford HANNINGTON

158 Private Richard Stephen HANSON

330 Private Frederick Herbert Francis HART

163 Lance Corporal Denis HEENAN

336 Private Arthur Alexander HEFFLER

332 Private George Mcllwraith HENNESSEY

Second Lieutenant Herbert Gerald HINTON

39 Regimental Sergeant Major Frederick James HOCKEY

111 Lance Corporal Walter Stephen HODGES

162 Private Frank Bixton HOLDSWORTH

331 Private Joseph Henry HOLLIDAY

524 Private Frank Kenneth HOPKINSON

522 Lance Corporal Frederick Louis HORNBY

521 Private William John HUGHES

529 Private Patrick Ravenhill HULBERT

333 Private Robert Mason HUMPHRIES

159 Private Albert Ludwig HUMRICK

463 Corporal Ernest ILLINGWORTH

167 Private Bertram William JACKSON

168 Private William Edward JENNION

339 Shoeing Smith James Edward JOHNSTON

338 Private Arthur Frederick JONES

276 Sergeant Oliver Edwin JONES

532 Private Leicester Clive JURD

169 Private Marshall Vivian Henry JURY

286 Corporal Raymond Robert KEMP

417 Private Albert Cheeseman KEMP

533 Private John Douglas KENYON

341 Private James Henry KIMBER

343 Private Frederick George LAMKIN

346 Private Edward Sutton LANE

535 Private Joseph Sydney LAVERTY

344 Private James Bradley LAWTON

244 Private Frederick Charles Algy LEVER

172 Private Josey Matthew LOGAN

3784 Private Francis Claude Wynyard LOWRIE

Captain George William MACARTNEY

357 Private Richard Holdsworth MacFARLANE

358 Private Charles John MacFARLANE

353 Private Eric Henry MAKEHAM

546 Driver Gerald Joseph MALONEY

Captain William Ernest MARKWELL

Captain William Ernest MARKWELL

347 Private Cecil James MARSON

347 Private Cecil James MARSON

545 Private George Bernard MARTIN

351 Private William Henry MASSEY

356 Private Sydney George MASTERS

356 Private Sydney George MASTERS

542 Private Samuel Alcorn MASTERSON

176 Private William James Alexander McALLISTER

553 Private James Richard McANALLY

548 Sergeant Colin Telfer McDONALD

364 Private Clarence Frederick McDOUGALL

364 Private Clarence Frederick McDOUGALL

539 Private Herbert John McILRATH

538 Private Ernest John McINDOE

112 Lance Corporal William McLENNAN

363 Private Hugh Mackintosh McMARTIN

360 Private Robert Baker McMILLAN

406 Private John Thomas McNAMEE

362 Private John James McQUADE

107 Corporal James Anthony MENZIES

285 Corporal Thomas George Alexander MILLER

540 Private Charles Harold MILLS

280 Farrier Sergeant Arthur Edgar MOLESWORTH

543 Private John McNeill MONTGOMERY

348 Private William George MOREN

547 Private Ernest Leslie MUHLEISEN

184 Private William Knight MUIR

541 Private Frederick Christie MULVEY

537 Private Francis Andrew MURRAY

550 Private Morris Ernest MURRAY

552 Private James Archibald MURRAY

556 Private Alexander Webster NEIL

554 Private Milton James NEWTON

554 Private Milton James NEWTON

555 Private Clive Ashleigh NICHOLS

366 Private William Thomas NORTON

640 Private William Buckley O'BRIEN

370 Private William Henry O'CONNOR

368 Private Alexander John Rennick ORR

188 Private Reginald William O'SHEA

371 Shoeing Smith Phillip Joseph O'SULLIVAN

557 Sergeant Albert Edward OSWIN

113 Corporal James Edgar PACEY

198 Private Kenneth Alexander PARKER

190 Private Edward Charles Henry PEARCE

373 Private Albert Broader PETERSON

192 Lance Corporal George Marcus PEUT

199 Private Thomas Harold PHILLIPS

372 Private George William POWER

201 Private John William QUINN

560 Private Frank Walter RADCLIFFE

375 Shoeing Smith Phillip George RANAHAN

383 Private Colin Morgan READE

208 Shoeing Smith Corporal Charles REMINGTON

469 Shoeing Smith Corporal Charles Arthur RENOUF

209 Private D'Orient RICHARDSON

1413 Private Edward Arthur ROBERTS

378 Private Gordon Holmes ROBERTSON

380 Private William Hamilton Gibson ROBINSON

379 Private Sydney William ROBINSON

206 Private Albert George ROGERS

231 Sergeant Charles Henry RUDDLE

108 Corporal Charles Douglas Livingstone SCOTT

279 Sergeant Norman Travers SIMPKIN

287 Corporal Rolland Giffin SINTON

217 Private Charles Henry SMITH

566 Private George Frederick William Vincent SOMERVILLE

390 Private Thomas John STACEY

569 Private Walter Edward STAINES

387 Private James Leslie STARK

Lieutenant William Alan Beevor STEELE

Major-General William Alan Beevor STEELE

Lieutenant Colonel Robert Mackay STODART

567 Private Harry Fetchner STONE

416 Private Frederick Ernest STUMM

588 Private Richard William SWEETNAM

216 Private Alfred John SYMONS

571 Private Albert William John TALLENTIRE

The Queenslander, 26 September 1914, p. 23

The Queenslander, 26 September 1914, p. 24

The Queenslander, 26 September 1914, p. 25

The Queenslander, 3 October 1914, p. 26

The Queenslander, 3 October 1914, p. 27

The Queenslander, 10 October 1914, p. 24

The Queenslander, 10 October 1914, p. 26

The Queenslander, 17 October 1914, p. 21

The Queenslander, 17 October 1914, p. 28




458 Sergeant William Edward TAYLOR

393 Private James Alphonsus TEDIMANN

570 Private Francis Darvall TEMPLER

394 Private Walter Henry THOMPSON

220 Private Colin Richard THORNE

573 Private William Walter TRAIL

410 Private Clarence Joseph Henry TRANTER

391 Lance Corporal Henry George TUCKER

455 Sergeant Edward Harris TULK

102 Sergeant Edward Price TURLEY

572 Private Herbert Leslie TURNER

574 Private John James TURRALL

395 Private Edward James UBANK

399 Private George Malcolm WADDELL

456 Sergeant John Stanley WADE

575 Private Michael Percy WAKEFIELD

404 Bugler Denis Ramsay Needham WALKER

407 Private Frederick William WARD

396 Lance Corporal Aubrey Airlie WARDEN

450 Squadron Sergeant Major John WASSON

228 Private Maldwyn David WATKINS

578 Private John William Graham WATSON

577 Private Maurice Arthur WEEKS

402 Private William Frederick WEIDMAN

222 Private Frederick George WEST

226 Private Reginald Augustus WHIPHAM

229 Private Thomas Charles WHITE

576 Lance Corporal Francis WILCOX

585 Lance Corporal John Henry WILLENBROCK

288 Sergeant Ernest Spencer WILLOTT

586 Private Augustus George Maryon WILSON

230 Lance Corporal Graeme Lang WILSON

403 Private Charles Peter WILSON

398 Private David Douglas WOODROW

281 Corporal Percy Severn Roy WOODYATT

Grave of Lieutenant Percy Severn Roy WOODYATT

Second Lieutenant Sydney Herbert WORTHINGTON

Second Lieutenant Sydney Herbert WORTHINGTON, Letter

583 Private Thomas Charles WRIGHT

97 Sergeant Harold Sidney WRIGHT
Further Reading:
2nd Australian Light Horse Regiment, Roll of Honour
Australian Service Personnel, Photograph Albums
Battles where Australians fought, 1899-1920
---
Citation:
Australian Service Personnel, Photograph Albums, 2nd Light Horse Regiment, AIF, Album Contents
Posted by Project Leader at 12:01 AM EADT
Updated: Friday, 2 September 2011 12:28 PM EADT