The Jifjafa Raid, Sinai, April 10 to 14, 1916, New York Times Account, 16 April 1916
Topic: BatzS - Jifjafa
The Jifjafa Raid
Sinai, 10 - 14 April 1916
New York Times Account, 16 April 1916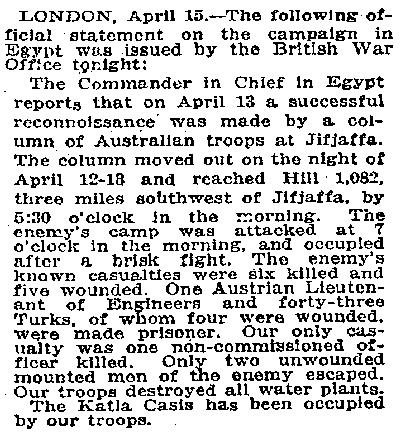 New York Times Account, 16 April 1916

The Transcription:
LONDON, April 13.-The following official statement on the campaign in Egypt was issued by the British War Office tonight:

The Commander in Chief in Egypt, reports that on April 13 a successful reconnaissance was made by a column of Australian troops at Jifjaffa. The column moved out on the night of April 12-13 and reached Hill 1,082, three miles southwest of Jifjaffa, by 5:30 o'clock in the morning. The enemy's camp was attacked at 7 o'clock in the morning, and occupied after a brisk fight. The enemy's known casualties were six killed and five wounded. One Austrian Lieutenant of Engineers and forty-three Turks, of whom four were wounded, were made prisoner. Our only casualty was one non-commissioned officer killed. Only two unwounded mounted men of the enemy escaped. Our troops destroyed all water plants.

The Katia Oasis has been occupied by our troops.



Further Reading:
The Jifjafa Raid, Sinai, April 10 to 14
Battles where Australians fought, 1899-1920
---
Citation:
The Jifjafa Raid, Sinai, April 10 to 14, 1916, New York Times Account, 16 April 1916
Posted by Project Leader at 12:01 AM EAST
Updated: Sunday, 29 November 2009 6:32 PM EAST