The Battle of Anzac Cove, Gallipoli, 25 April 1915, Auckland Infantry Battalion War Diary
Topic: BatzG - Anzac
The Battle of Anzac Cove
Gallipoli, 25 April 1915
Auckland Infantry Battalion War Diary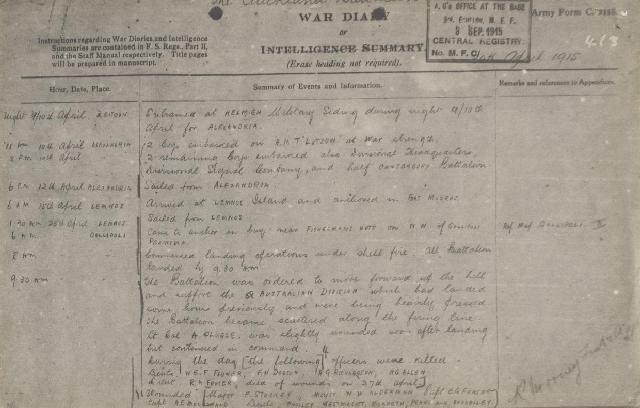 War Diary account of the Auckland Infantry Battalion.

The following is a transcription of the War Diary of the Auckland Infantry Battalion, of their role in the landings at Anzac on 25 April 1915.
25 April 1915

Lemnos

1.30 am - Sailed from Lemnos.

Gallipoli

6 am - Came to anchor in bay near Fisherman's Huts on north west Gallipoli Peninsula.

8am - Commenced landing operations under shell fire. All Battalion landed by 9.30 am.

9.30 am - The Battalion was ordered to move forward up the hill and support the Australian Division which had landed some hours previously and were being heavily pressed. The Battalion became scattered along the firing line. Lieutenant Colonel A Plugge was slightly wounded soon after landing but continued in command.

During the day [the following] officers were killed - Lieutenants WEF Flower, FH Dodson, HG Richardson, HG Allen, Lieutenant RH Frater died of wounds on 27th April.

Wounded Major F Stockey, Major WW Alderman, Captain EG Fraser, Captain McDonald, Lieutenants Wooley, Westmacott, Morpeth, Peake and Bodrelley.

Casualties in Other Ranks -
Killed - 37,

Wounded - 211,

Missing - 36.


Packs were left on the beach when the Battalion moved up the hill and they were not seen again for two days. Three days rations were carried on the man; all transport remaining on the troopships. Troops landed in lighters and small boats and in the majority of cases were obliged to jump into the sea waist deep.

26 April 1915

Position gained on 25th inst. was held.

Orders received for Auckland Battalion to congregate and entrench Plugge's Plateau.


War Diaries
All War Diaries cited on this site should be read in conjunction with the Australian Light Horse Studies Centre, AIF War Diaries of the Great War, Site Transcription Policy which may be accessed at:
Australian Light Horse Studies Centre, AIF War Diaries of the Great War, Site Transcription Policy
Further Reading:
The Battle of Anzac Cove, Gallipoli, 25 April 1915
The Battle of Anzac Cove, Gallipoli, 25 April 1915, NZEF Roll of Honour
Battles where Australians fought, 1899-1920
---
Citation:
The Battle of Anzac Cove, Gallipoli, 25 April 1915, Auckland Infantry Battalion War Diary
Posted by Project Leader at 12:01 AM EAST
Updated: Tuesday, 13 April 2010 10:13 AM EADT