605th Machine Gun Company War Diary - 17 to 19 May 1916
Topic: Gm - Bk - 605 MGC
German 605th Machine Gun Company (MGC)
War Diary, 17 May to 19 May 1916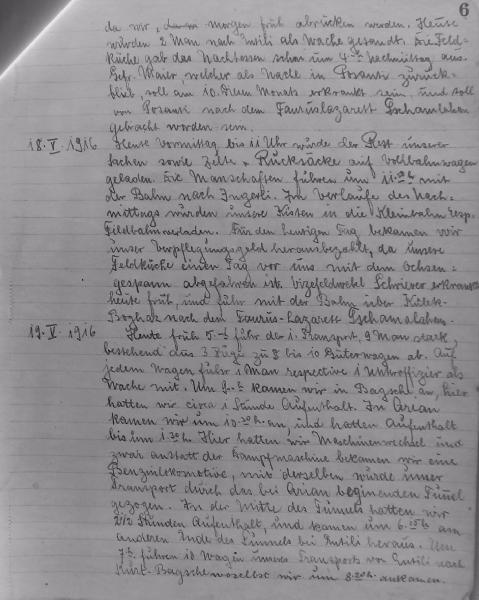 605th Machine Gun Company War Diary - 17 to 19 May 1916

The entries
17.V.16:
Today we received orders that everything was to be packed up as us are to move off early tomorrow. Today two men were sent on guard duty to Ensili. The field kitchen issued evening dinner early at 4 p.m. Pte. Maier, who remained on guard at Posanti, reported sick on the 10th inst. and was taken from Posanti to the Taurus ambulance-hospital Tschamlahan.


18.V.16:
By 11 this morning the remainder of our things with tents and peaks were loaded on the main line trucks. The men travelled by train at 11.30 a.m. to Ingerli. During the course of the afternoon our boxes were loaded on to the field railway (narrow gauge). We draw cash in lieu of rations for to-day as our field kitchen, drawn by oxen, left one day ahead of us. Acting Serjt. Major Schriever fell sick early to-day and went by rail Kulek-Boghaz to the Taurus hospital at Tschamlahan.


19.V.16:
Early this morning 5 a.m. our first troop trains, 9 men, consisting of 3 trains of 8 to 10 trucks, were despatched. On every track there was one N.C.O. or man as guard. At 9 am. we arrived at Bagsche and halted there for about an hour. We arrived at Arian at 10.30 a.m. and stopped till 1.30 p.m.. Here we changed engines, the steam engines being replaced by petrol engines. The latter took our train through the tunnel which begins at Arian. In the middle of the tunnel we stopped for 2½ hours and arrived at Entili at the other end at 6.15 p.m. At 7 p.m. 10 trucks of our train proceeded from Entili to Kulek Bagsche which we reached at 8.20. Here we spent the night in the temporary station buildings. At 6 p.m. the mounted men under the company commander rode from Mamure to Kassan Bey which they reached at midnight. The remainder of the company travelled at noon by the field railway (narrow gauge) to Airan, which they reached at 5.30 p.m. and spent the night at the entrance to the tunnel.
Previous Page: 605th Machine Gun Company War Diary - 8 to 17 May 1916
Next Page: 605th Machine Gun Company War Diary - 19 to 26 May 1916
Further Reading:
German 605th Machine Gun Company (MGC) , Contents
Battles where Australians fought, 1899-1920
---
Citation: 605th Machine Gun Company War Diary - 17 to 19 May 1916
Posted by Project Leader at 12:01 AM EADT
Updated: Wednesday, 15 April 2009 6:48 PM EADT