605th Machine Gun Company War Diary, 3 to 13 July 1916
Topic: Gm - Bk - 605 MGC
German 605th Machine Gun Company (MGC)
War Diary, 3 to 13 July 1916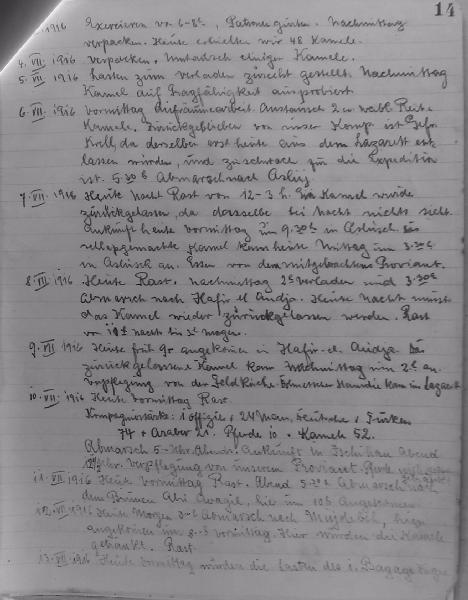 605th Machine Gun Company War Diary, 3 to 13 July 1916

The entries
3.VII.16:
Drill from 6 to 8 am., belt filling. Afternoon - packing up. To-day we drew 48 camels.


4.VII.16:
Packing up. A few camels exchanged.


5.VII.16:
Loads got ready for loading. Afternoon - camels tested an to carrying capacity.


6.VII.16:
Morning - cleaning up. Exchange of 2 female riding camels. L.Corpl. Krell left behind as he was only discharged from hospital today and is too weak for the expedition. 5.30 p.m. move off to Asluj.


7.VII.16:
This night 12 to 3 a.m. halt. One camel had to be left behind as it could not see at night. Arrived at 9.30 a.m. in Asluj. The camel left behind came in at 3.30 p.m. at Asluj. Rations from the supplies taken with us.


8.VII.16:
Rest day today. At 2 p.m. loaded up and marched at 3.30 p.m. to Hafir El Auja. This night the camel had to be left behind again. Halt from 11 p.m. to 3 a.m.
9.VII.16:
Arrived at Hafir El Auja at 9 a.m. The straggler camel came in at 2 p.m. Rations from the field kitchen. Interpreter Hamidie sent to hospital.


10.VII.16:
Resting this morning. Strength of the company 1 officer, 24 O.R. Germans; Turks 74; Arabs 21; horses 10; camels 52. Moved off at 5 p.m., arrived at Um Shihan at 12.30 p.m. Rationed from our own supplies. The horses were not watered.


11.VII.16:
Resting this morning. Moved off at 5.30 p.m. to the wells at Abu Aweigila where we arrived at 10 p.m.


12.VII.16:
Marched at 3 a.m. to Magdhaba, arrived at 8 a.m. The camels were watered here. Rest.


13.VII.16:
This morning the loads of the first baggage section were tested and in the afternoon those of the 2nd section. Rations from our German supplies.
Previous Page: 605th Machine Gun Company War Diary, 24 June to 2 July 1916
Next Page: 605th Machine Gun Company War Diary, 13 to 20 July 1916
Further Reading:
German 605th Machine Gun Company (MGC) , Contents
Battles where Australians fought, 1899-1920
---
Citation: 605th Machine Gun Company War Diary, 3 to 13 July 1916
Posted by Project Leader at 12:01 AM EAST
Updated: Wednesday, 15 April 2009 1:51 PM EADT