Query Club, 23 June 1915
Topic: Gen - Query Club
The Query Club
23 June 1915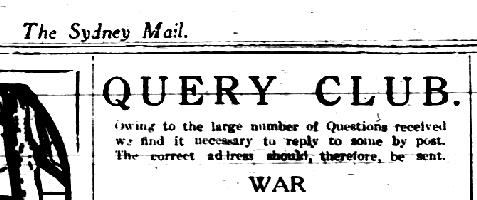 The large scale of the Great War often gave people a sense of alienation from the activities of the government and the army. To overcome this, newspapers of the day commenced columns called Query Club or similar names, where ordinary people could clarify their understanding of the complex processes. They also provide us, the historians, an insight into witnessing first hand, the responses of the various bodies to public concerns. The end product is a window into a society now almost out of living memory.
This is the Query Club from the Sydney Mail, 23 June 1915, p. 41.
DEFERRED PAY

"Widow"

You are entitled to draw deferred pay up to the time of your husband's death, notwithstanding that he died of sickness, not of wounds.
CQMS

"Goulburn"

The duties of a company quartermaster sergeant are principally to look after the food and equipment of the men in his company. His pay is 11s 6d per day, including 2s deferred.



FIT FOR SERVICE

"Wayback"

The fact of a man having been operated on for appendicitis some months ago would not in itself be a bar to his acceptance as a volunteer; the doctors could tell quickly enough if the operation had left any permanent weakness.



THE SWORD

"Student"

The sword is very little used in modern warfare. It is stated that our officers at Gallipoli were not permitted to wear it, because of the fact that it singled them out from the rank and file. Two edged swords have not been used for generations. Any military bookseller will supply you with a book of the regulation sword exercises.



THE WOUNDED

"Tyro"

When our wounded men are invalided home they will be taken in charge by the military authorities, who will have the assistance of local medical men, nurses, etc. Some of them will be looked after privately. The Army Medical Corps and the Red Cross will assist, but their principle sphere of work is on the field of battle and in the base and field hospitals. You cannot join the AMC and hope to remain home. If you are prepared to go abroad, however, there are still vacancies in the medical corps. you should apply at the Barracks.



MEN WANTED

"Old Buffer"

The defence authorities time and again have emphasised the fact that they are prepared to accept every suitable recruit who offers himself. There is no limit: as more men come forward, new battalions will be formed. At present we are little more than maintaining the number necessary for reinforcing those at present at the front - replacing the killed, injured, and missing. It is not true that Australia has done more than her share compared to Britain; we much treble our efforts to approach the British proportion. The statement that, per head of population, we have already spent more on the war than the mother country is ridiculous.
Further Reading:
---
Citation:
Query Club, 23 June 1915
Posted by Project Leader at 12:01 AM EADT
Updated: Sunday, 12 April 2009 9:12 AM EADT