Query Club, 30 June 1915
Topic: Gen - Query Club
The Query Club
30 June 1915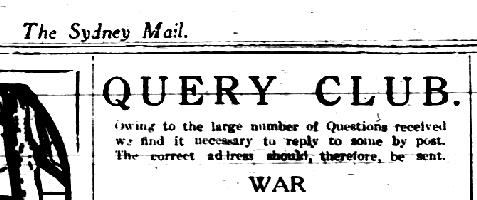 The large scale of the Great War often gave people a sense of alienation from the activities of the government and the army. To overcome this, newspapers of the day commenced columns called Query Club or similar names, where ordinary people could clarify their understanding of the complex processes. They also provide us, the historians, an insight into witnessing first hand, the responses of the various bodies to public concerns. The end product is a window into a society now almost out of living memory.
This is the Query Club from the Sydney Mail, 30 June 1915, p. 30.
PAY STOPPED

"Gaba Tepe" asks what steps she should take in regard to the sudden stoppage, without explanation, of the allowance her husband instructed to be paid to her while he is away on active service.

You should call on or write to the Paymaster at Victoria Barracks, Sydney. There may be some misunderstanding, or there may be a reason; in any case, you have a right to know the cause.



ASHMEAD BARTLETT

"G.A." asks if the Ashmead Bartlett who is acting as official British press representative at the Dardanelles is a British or an American subject.

He is a British subject, but was born in America (in 1851). He has been a member of the British Parliament for Westminster for twenty years. He first came to prominence in 1877, when he went to the Russo-Turkish war as special commissioner of the Baroness Burdett-Coutts Compassionate Fund. Four years later he married the Baroness and assumed her name. In the South African war he acted as the "Times" special correspondent with regard to the sick and wounded, his work leading to the appointment of a Royal Commission of Inquiry and the institution of a drastic reform of the Army Medical Service. His full name is William Lehman Ashmead Bartless-Burdett-Coutts.



POISONOUS GASES

"Queenslander"

It is absolutely untrue that the British used poisonous gases during the Boer War; it is equally untrue that they used them against the Germans prior to the latter's use of them in the present campaign. The Germans certainly stated in a report issued before the gases had been hear of that the British were using them: but that was done only to satisfy their own people and to delude the neutrals who they knew would be shocked at the diabolical innovation. It is questionable if, even now, the British have resorted to their use. All shells used by the combatants, especially lyddite, give off fumes or gases which are more or less poisonous; but they are approved munitions of war; gases as employed by the Germans are expressly banned by the Hague Convention. In regard to the French asphyxiating Turpinite shells, which were used early in the war, but for some reason have been discontinued, the difference between them and the German was that Turpinite caused instantaneous death; the other causes a painful, lingering death.
Further Reading:
---
Citation:
Query Club, 30 June 1915
Posted by Project Leader at 12:01 AM EADT
Updated: Sunday, 12 April 2009 9:13 AM EADT