North Russian Campaign, 3153 Private Ernest Gaffey
Topic: BatzO - Emptsa
North Russian Campaign

Australian Casualties
3153 Private Ernest Gaffey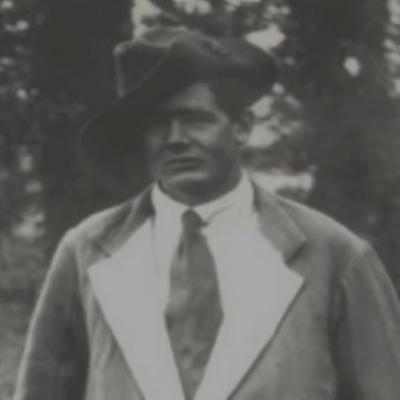 3153 Private Ernest Gaffey at Netley in hospital uniform, October 1919.
Ernest Gaffey, a brief military biography from The AIF Project:
Regimental number
3153
Religion
Roman Catholic
Occupation
Labourer
Address
Bundarra, New South Wales
Marital status
Single
Age at embarkation
19
Next of kin
Mother, Mrs Jane Gaffey, Copeton via Inverell, New South Wales
Enlistment date
14 September 1916
Rank on enlistment
Private
Unit name
53rd Battalion, 8th Reinforcement
AWM Embarkation Roll number
23/70/4
Embarkation details
Unit embarked from Sydney, New South Wales, on board HMAT A29 Suevic on 11 November 1916
Rank from Nominal Roll
Private
Unit from Nominal Roll
53rd Battalion
Fate

Discharged 6 July 1919

Enlisted as 133035 Private Ernest Gaffey, 45th Royal Fusiliers

Wounded at the Battle of Emptsa, 29 August 1919

Transferred to Royal Victoria Hospital, Netley, 7 October 1919

Other details

War service: Western Front

Date of death
28 January 1940
Age at death
42
Place of burial
Anglican Cemetery, Inverell, New South Wales
Additional information:
Ernest Gaffey was born in Bundarra, N.S.W., 18 February 1898 to Patrick James Gaffey (b. 1860 - d. 1917) and Jane Helen Gaffey (neé Young (b. 1876 - d. 1952?)), the parents being married at Bundarra in 1897. Ernest was the oldest of eight children, the others being Arnold, Harold (b. 1901), Marjorie, Clifton (b. 1907), Charlie (who had a disability of some kind), Ethel and Reati (who died very young as a result of falling into a fireplace).

Patrick Gaffey (the father of Patrick James Gaffey) took up his selection on Saveall Creek in 1871 in the Parish of Bundarra. Patrick James Gaffey (Patrick Gaffey's son and Ernest's Father) supposedly had cut his own throat on his own selection next to his Fathers.


Ernest had signed up with the AIF when he was underage, then aged 17 on 13 November 1915 and was allotted to the 1st Reinforcements for the 33rd Infantry Battalion. He was discharged at parents request on the 27 March 1916 and taken home by his parents.

With the recruitment drive of 1916, Ernest again enlisted at Armidale on 4 September 1916 stating that his parents were deceased. He was allotted to the 8th Reinforcements with the 53rd Infantry Battallion


The following year, 1917, Ernest's father, Patrick James, died as a consequence of a supposed suicide.

After service on the Western Front in France, at the end of the war, Ernest was discharged at his own request in England. The newly formed Norforce was a British formation and the Australian Government refused to release serving AIF members to participate in the action. So it was agreed that Australian volunteers would be demobilised in England for the express purpose of enlisting with the British Army and more specifically with the 45th Royal Fusiliers.

During the Battle of Emptsa, Ernest Gaffey was wounded although it is unknown what form the wounding took or which part of his body sustained the injury. My Father is Norman Gaffey who served in the merchant navy in WW2. He still has in his posession the bullet that was removed from his Father that he received in northern Russia.



Ernest was refused a pension by the Australian government as well as the British government, each saying the other was responsible for his welfare therefore leaving him responsible for himself.

Ernest did it tough during the depression and lost his wife and 2 daughters to influenza. He was left broken and penniless and was left with no option but to place his son (my father Norman Gaffey) into an orphanage in Eastwood (Dalmar) the day the Sydney Harbour Bridge was opened.


Ernest Gaffey died from heart failure at age 42 at "Bookoolo" on Bannockburn Road near Inverell N.S.W on 27 January 1940. A Coroner's Inquest was held at Inverell on 1 February 1940 to establish the circumstances leading up to and causing the death of Ernest Gaffey. It was determined that heart disease, "Mitral Stenosis", was the cause of death. This finding was entered onto his death certificate. Subsequent to the inquest, Ernest Gaffey was buried by the RSL.


My Father had no idea of his fathers history and had thought he had served in the lighthorse at Galipoli. He actualy served in the 53rd battalion AIF in France and then with the 45th Royal Fusiliers.

Information kindly supplied by Mark Gaffey, the Grandson of Ernest Gaffey.
3153 Private Ernest Gaffey at Netley in hospital uniform, October 1919.
Further Reading:
Posted by Project Leader at 12:01 AM EADT
Updated: Friday, 8 May 2009 4:21 PM EADT