The Battle of Baku, Azerbaijan, August 26 to September 14, 1918, Area Map
Topic: BatzO - Baku
Baku
Azerbaijan, 26 August - 14 September 1918
Area Map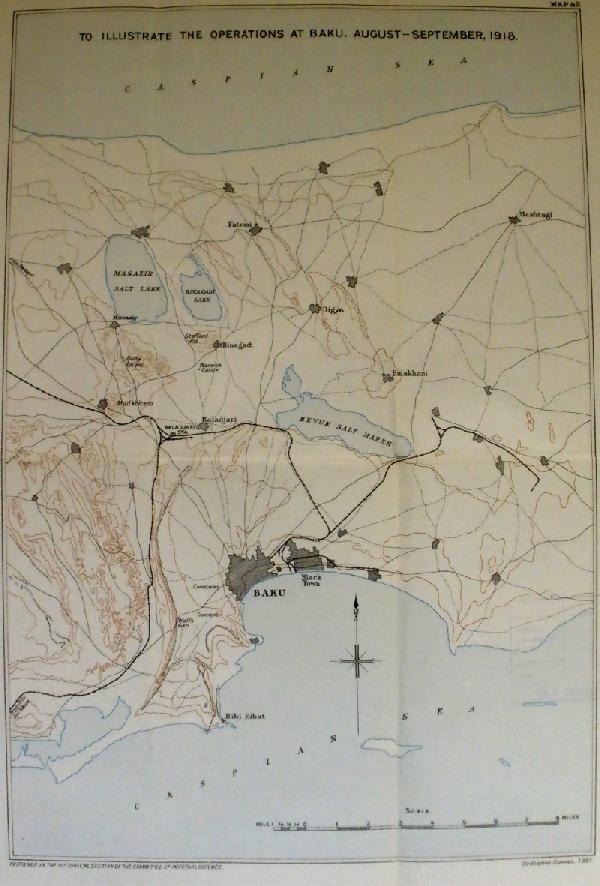 The above map details the region around Baku where Dunsterforce was engaged in the Battle of Baku, Azerbaijan, 26 August - 14 September 1918.
Map extracted from Brig.-Gen FJ Moberly, The Campaign in Mesopotamia 1914 - 1918, Volume 4, Map 42.
[Click on map for larger version.]
The above map was drawn up by the Historical Section of the Committee of Imperial Defence, 1927. This map illustrates the area surrounding Baku where the Dunsterforce and Ottoman forces fought each other from the period of 26 August - 14 September 1918. The nature of the terrain is well demonstrated as well as the emerging mapping skills derived from aerial photography, a skill in its infancy but becoming increasingly sophisticated. The map enables a reader to follow the details given in the various accounts to pin point accuracy.
Further Reading:
The Battle of Baku, Azerbaijan, August 26 to September 14, 1918
Battles where Australians fought, 1899-1920
---
Citation:
The Battle of Baku, Azerbaijan, August 26 to September 14, 1918, Outline
Posted by Project Leader at 12:01 AM EADT
Updated: Monday, 28 September 2009 6:47 PM EADT