605th Machine Gun Company War Diary - 26 to 30 May 1916
Topic: Gm - Bk - 605 MGC
German 605th Machine Gun Company (MGC)
War Diary, 26 May to 30 May 1916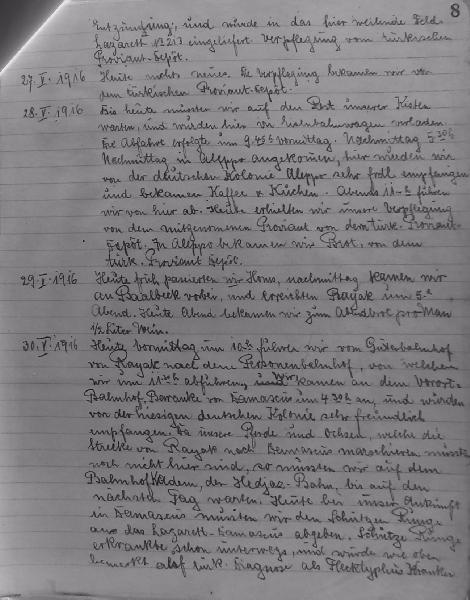 605th Machine Gun Company War Diary - 26 to 30 May 1916

The entries
26.V.16:
Pte. Reinhardt fell sick of tonsillitis and was handed over to the 213th Field Ambulance here. Supplies from the T.S. Depot.


27.V.16:
Nothing new to-day. supplies from the T.S. Depot.


28.V.16.
We had to wait till to-day for the rest of our boxes which we loaded here on railway trucks. We moved off at 9.45 a.m. At 5.30 p.m. we arrived at Aleppo. Here we were welcomed in a very friendly Banner by the German Colony of Aleppo and got coffee and cakes. At 11 p.m. we journeyed on. To-day our supplies were furnished by stores taken from the Turkish Supply Depot. In Aleppo we got bread from the Turkish Supply Depot.


29.V.16:
We passed Homs early this morning. In the afternoon we passed by Baalbek and reachedRayak at 5 p.m. This evening, we got ½ litre of wine per man for supper.


30.V.16:
At 10 a.m. we moved from the goods station at Rayak to the passenger station from which we left at 11.30 a.m. We arrived at the suburban station Baranke of Damascus at 4.30 p.m. and were welcomed in a very friendly manner by the local German Colony. Since our horses and oxen, which had to march the section from Rayak to Damascus, had not arrived here we had to wait till next day at Kadem station on the Kedjas line. On our arrival at Damascus today we had to send Pte. Runge to the Damascus hospital. Pte. Runge had fallen sick en route and, as referred to above, was sent to hospital on Turkish diagnosis as a case of "spotted typhus".
Previous Page: 605th Machine Gun Company War Diary - 19 to 26 May 1916
Next Page: 605th Machine Gun Company War Diary - 30 May to 1 June 1916
Further Reading:
German 605th Machine Gun Company (MGC) , Contents
Battles where Australians fought, 1899-1920
---
Citation: 605th Machine Gun Company War Diary - 26 to 30 May 1916
Posted by Project Leader at 12:01 AM EADT
Updated: Wednesday, 15 April 2009 4:34 PM EADT