605th Machine Gun Company War Diary - 30 May to 1 June 1916
Topic: Gm - Bk - 605 MGC
German 605th Machine Gun Company (MGC)
War Diary, 30 May to 1 June 1916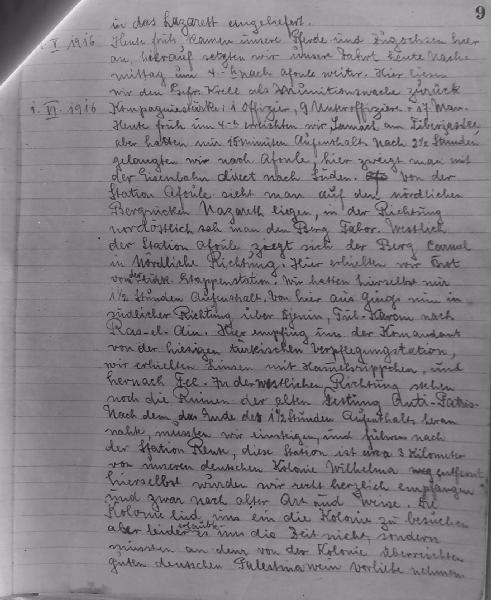 605th Machine Gun Company War Diary - 30 May to 1 June 1916

The entries
30.V.16:
Pte. Runge had fallen sick en route and, as referred to above, was sent to hospital on Turkish diagnosis as a case of "spotted typhus".


31.V.16:
Our horses and draught oxen arrived here early to-day, whereupon we continued our journey this afternoon to Afoule at 4 p.m. To detached Pte. Krell as ammunition guard.


1.VI .16:
Strength of the company - 1 officer, 9 N.C.O's, 17 men. We reached Samach on Lake Tiberias at 4 a.m. to-day, but only had a 15 minutes halt. After 2½ hours we reached Afoule. Here the railway branches due south. From Afoule station one can see Nazareth lying on the ridge to the north. Tabor mountain is visible to the northeast. West of Afoule station Mount Carmel extends in a northerly direction. We got bread here from the Turkish L. of C. We had a halt here of only 1½ hours. From here we travelled in a southerly direction via DJenin, Tul Karem to Ras-El-Ain. Here the Commandant of the local Turkish supply depot received us. We got lentils and mutton cutlets and afterwards tea. To the N.W. there are still the ruins of the old fortress of Anti Patrie. As the end of our 1½ hour halt approached we had to entrain, and proceeded to Rente station. This station is about 3 kilometers from our German Colony of Wilhelma, where we were received in the warmest fashion in accordance with old customs and ways. The colony invited us to visit the settlement, but unfortunately time did not allow this and we had to rest content with the good German Palestine wine given by the colony. On the whole of our travels we saw no fields so well cultivated as they were here with German industry and labour.
Previous Page: 605th Machine Gun Company War Diary - 26 to 30 May 1916
Next Page: 605th Machine Gun Company War Diary - 1 to 4 June 1916
Further Reading:
German 605th Machine Gun Company (MGC) , Contents
Battles where Australians fought, 1899-1920
---
Citation: 605th Machine Gun Company War Diary - 30 May to 1 June 1916
Posted by Project Leader at 12:01 AM EADT
Updated: Wednesday, 15 April 2009 4:17 PM EADT