605th Machine Gun Company War Diary - 1 to 4 June 1916
Topic: Gm - Bk - 605 MGC
German 605th Machine Gun Company (MGC)
War Diary, 1 June to 4 June 1916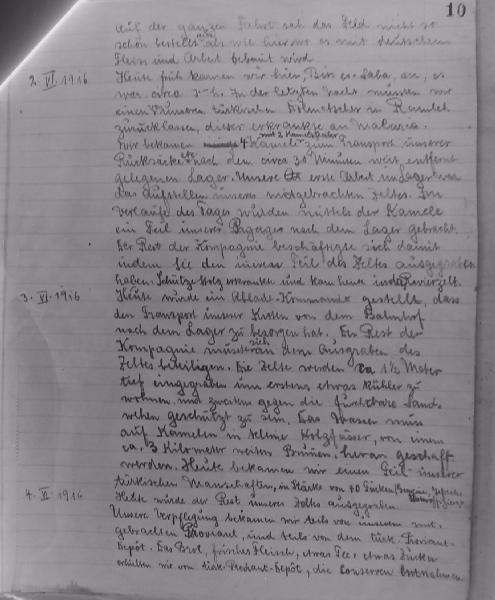 605th Machine Gun Company War Diary - 1 to 4 June 1916
The entries
1.VI.16:
On the whole of our travels we saw no fields so well cultivated as they were here with German industry and labour.


2.VI.16:
Early to-day we arrived at Bir-Es-Saba about 3 a.m. Last night we had to leave one of our Turkish interpreters at Ramleh. He was sick with malaria. We got 4 camels and 2 camel drivers for the carriage of our knapsacks, etc. from the camp some 30 minutes away. Our first work in camp was to pitch the tents we had brought with us. During the course of the day a portion of our baggage was brought into camp by camel. The rest of the company occupied themselves in digging out the inside of the tents. Pte. Stolz fell sick and was sent to the observation tent.


3-VI .16:
To-day a baggage fatigue was furnished which has to see to the movement of our boxes from the station to the camp. The rest of the company had to take part in digging out the tents. The tents have to be dug out about 4'6", first in order to be cooler, and secondly for protection against the awful sand drifts. Water has to be brought on camels in little wooden casks from a well 3 k.m. away. Today we received a portion of our Turkish ranks, 40 in all (privates, lance-corpls, and N.C.O.'s).


4.VI.16:
To-day the remainder of our tents were dug out. Our rations came in part from the supplies we brought with us, in part from the Turkish supply depot. Bread, fresh meat, some tea, some sugar, we got from the Turkish supply depot. Preserved supplies we took from our own supply.
Previous Page: 605th Machine Gun Company War Diary - 30 May to 1 June 1916
Next Page: 605th Machine Gun Company War Diary - 5 to 16 June 1916
Further Reading:
German 605th Machine Gun Company (MGC) , Contents
Battles where Australians fought, 1899-1920
---
Citation: 605th Machine Gun Company War Diary - 1 to 4 June 1916
Posted by Project Leader at 12:01 AM EADT
Updated: Wednesday, 15 April 2009 4:07 PM EADT